We are so close to being finished with our Foothill Ranch project! Our final styling session will be taking place soon, but I couldn't wait to share the built-in storage under stairs in my client's entryway. We started with a pre-existing cut-out space under the stairs. I must be honest. I've never seen this type of wall cut-out before! My client was using the space as best she could, however it was an awkward space and not being used to its fullest potential.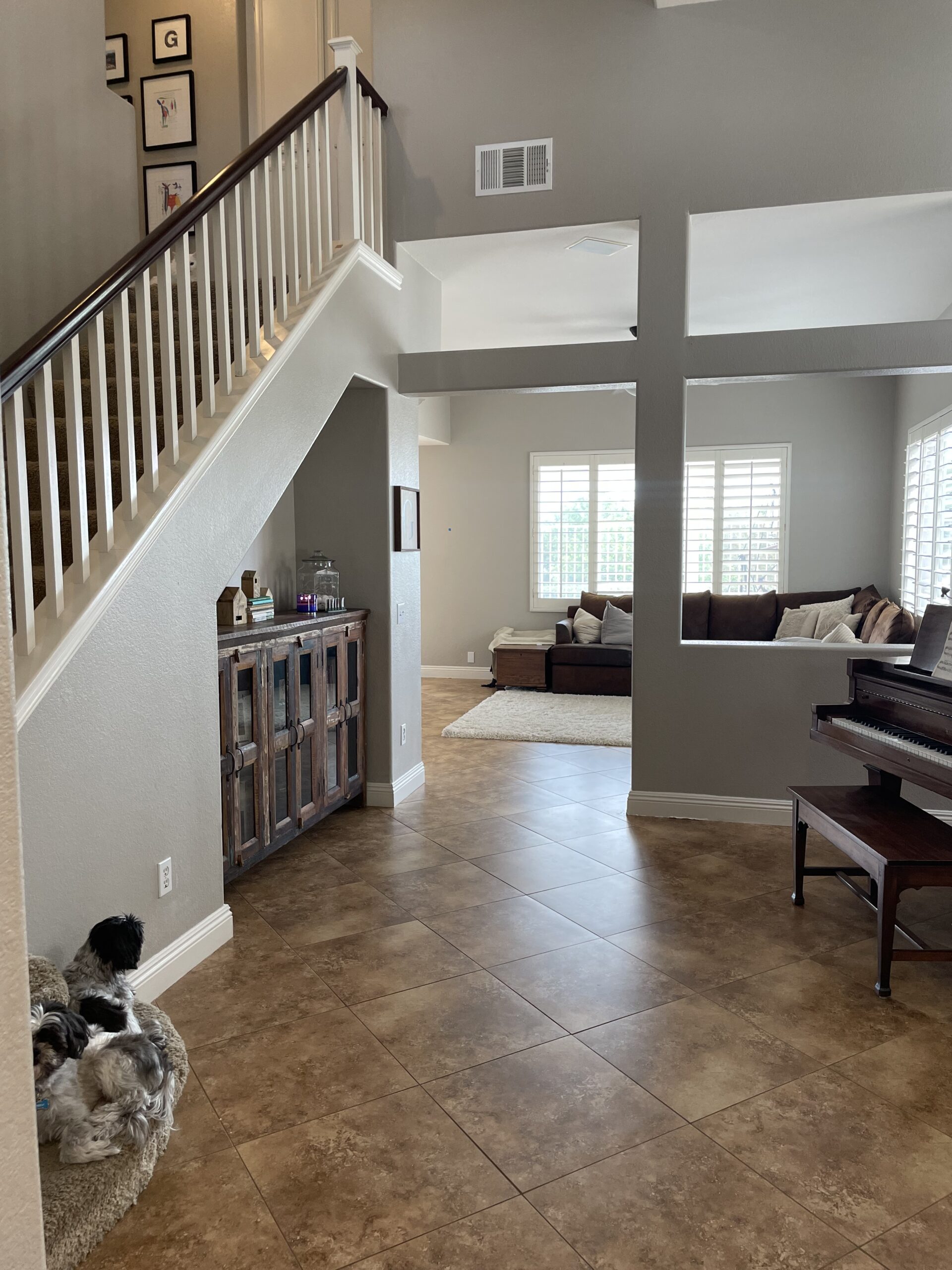 My client was interested in the idea of a built-in cabinet, and I thought it was a great idea! We decided on a built-in with a large, enclosed space on the bottom and open shelves above. It turned out beautifully! The bottom section allows for items to be hidden away and the shelves above offer just enough space for showing off a few special treasures.
For reference, the original opening was about 5.5 feet wide x 18 inches deep x 6 feet high. In order to accommodate a double cabinet below, the cut-out space was extended to the right just a few inches. We also removed the partial wall between the two rooms in order to achieve a more open floorplan. One of the reasons this project turned out so nicely is because the wood panels actually cover the back, side and ceiling parts of the built in, giving it a nice finished look.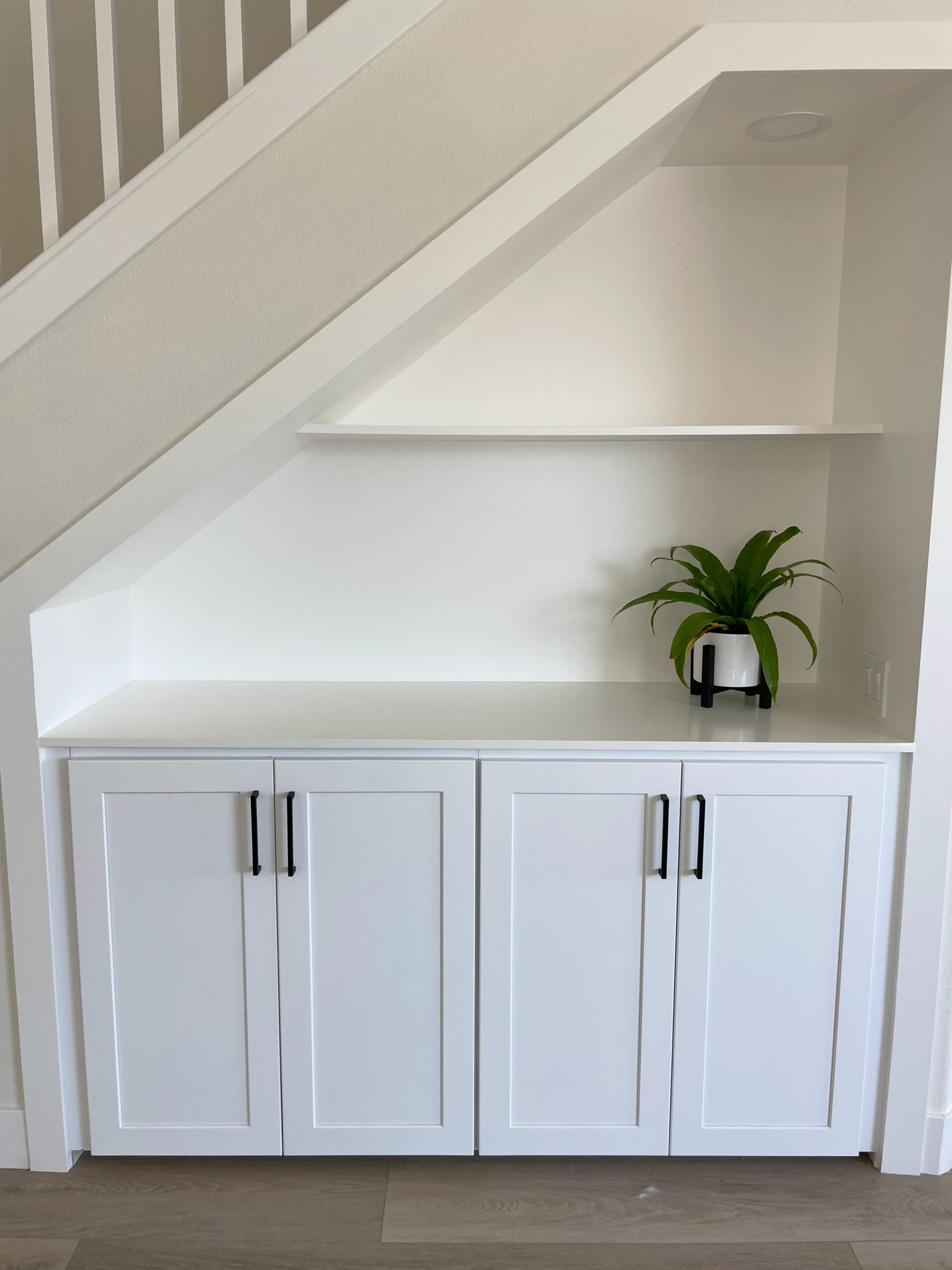 For the paint color we used Dunn Edwards, Swiss Coffee on both the walls and the woodwork. It's one of my favorite soft whites to use for interiors. On the walls we have a flat finish and for the woodwork we used semi-gloss. The floors are the Pikes Peak Collection from Christina Collection Flooring. I absolutely LOVE this composite flooring brand and will show you more of it in my final project wrap-up post.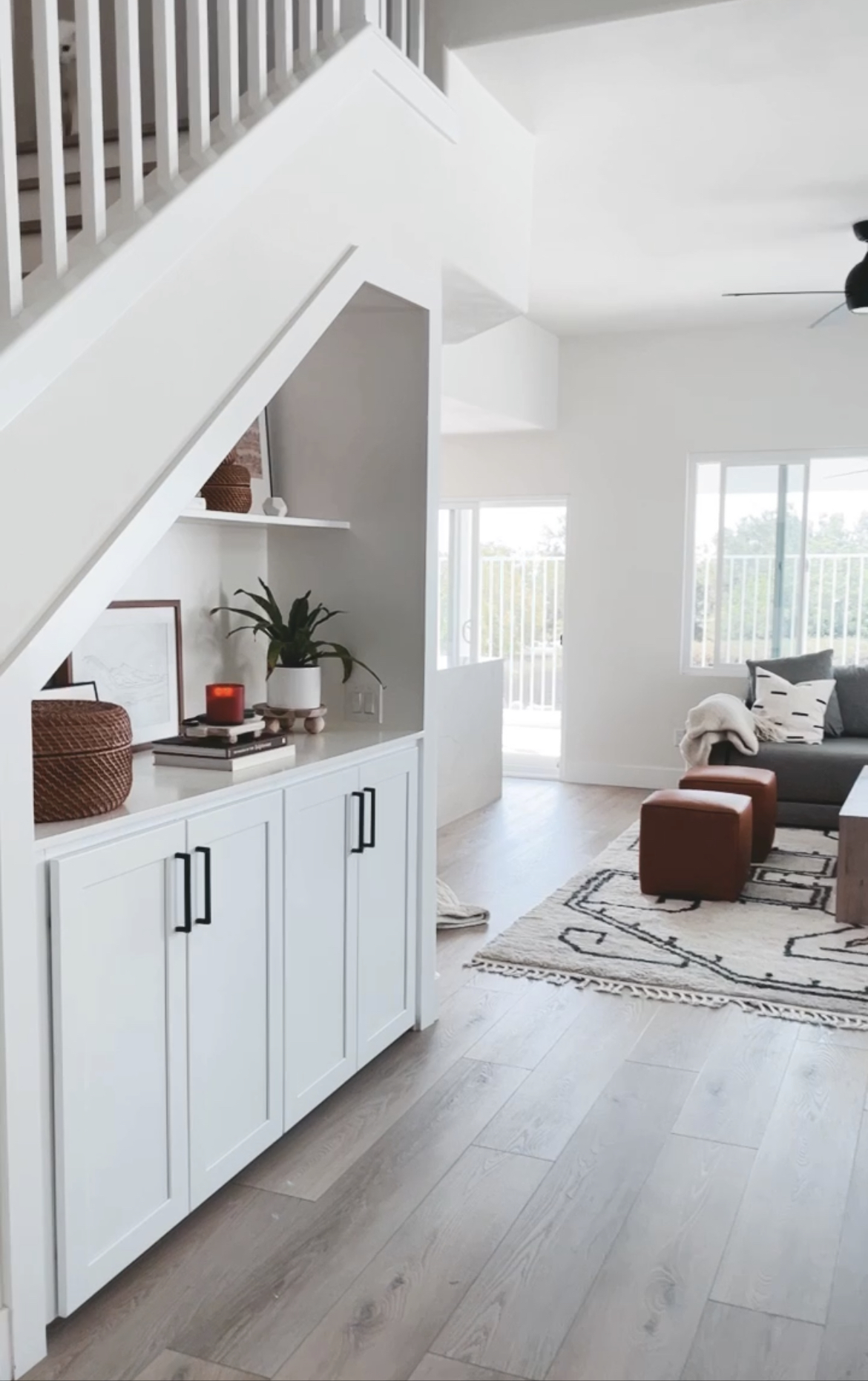 This project has been completed primarily online and the process has worked ideally. For built-ins like this, I offer technical line drawings that will help your contractor visualize the look we are going for. After this built-in was complete, my client sent me a photo with all the final open-shelf measurements. From there, I created the design board below, and she was able to purchase the items and implement the styling on her own!
My client decided to use her own contractor for this project but if you are local to the Southern California area and need a good contractor, I recommend checking out Alfredo with Stains & Co. I have worked with him on other projects and he does a good job.
For the open shelf accessories I chose items that were both functional and added style. My client uses the baskets for things she wants hidden but easily accessible, like doggie bags and leashes. This entryway area also doubles as a music room, so I selected artwork that represented the use of the space.
SHOP THIS DESIGN
You can scroll through and click on the images below to shop.
This post contains affiliate links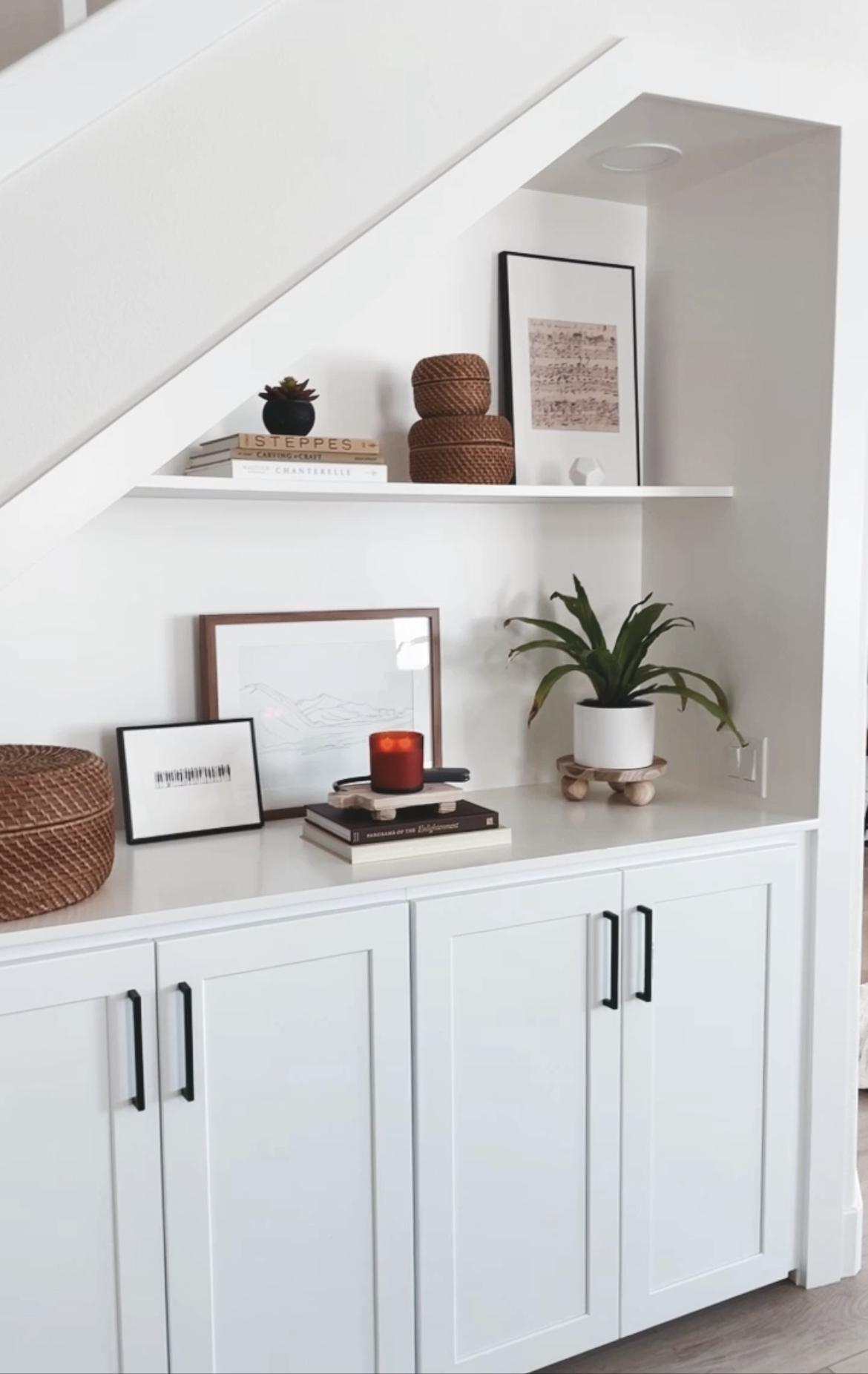 If you are interested in more ideas for built-in storage under stairs, check out some of our original inspiration here. It's a great solution even if you don't already have the wall cut-out like my client did. Often there's space under the stairs that can be accessed for some sort of built-in storage.
It's so nice that this client is local! She has added a few on-site consults to go along with her design packages and each one has been very beneficial. We are getting ready for a final styling session in a few weeks and I can't wait to share everything shortly. This project was whole house renovation that included new designs for the entryway, family room, kitchen, powder room, master bedroom/bath, and outdoor patio space. Stay tuned for a final update. Oh, and fun fact…I posted a reel of this built-in storage on Instagram and it went viral with more than 400K views! You can check it out here.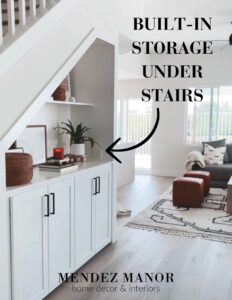 Project Details: Built-In Storage Under Stairs
Design package purchased: 2D Petite Design Package
Approx time start to completion: 2 months
Approx size of built-in: 6'w x 18″d x 6'h
Approx. Costs: 
Designs $499
Materials & Labor: $2500
Accessories for styling: $475
Online Interior Design
Like what we did with this space? We offer flat rate online interior design packages and would love to help with your space too. Check out our Get Started page to see how we can work together!
You will have direct access to lead designer, Nicole Mendez throughout the whole process. Multiple revisions are included with each package to ensure you are completely happy with the end result!