Shop The Look
Click the images above to shop each item. This post contains affiliate links.
As summer winds down, it's the perfect moment to start thinking about your fall porch decor for 2023. Or any spot in your home that could use a touch of autumn feels, really! With the plethora of fall decor options out there, narrowing down the exact vibe you want for your home can feel like a bit of a challenge. But no worries, help is here! Take a look at these three fall porch styles to guide you toward the one that syncs perfectly with your taste.
Let's kick things off with the "Fall Florals" look, pictured above! This wildflower wreath from Kirkland's is a total showstopper – its earthy tones and fall jewel-like shades are pure autumn goodness. I think it's a great complement to this faux grass urn filler form Grandin Road! Even though it's not explicitly "fall," it's like a versatile canvas that can suit many seasonal looks. The warm, grassy vibes and the pop of purple leaves make it a go-to fall choice. Plop them into these vintage-style metal planters from Gracie Oaks, and you've got a recipe for full on fall feelings. And of course, no fall porch is complete without a pumpkin, right? This deep plum one is a winner – versatile enough for both Halloween and Thanksgiving. These jewel-toned combos may be the autumn must-haves you never knew you needed!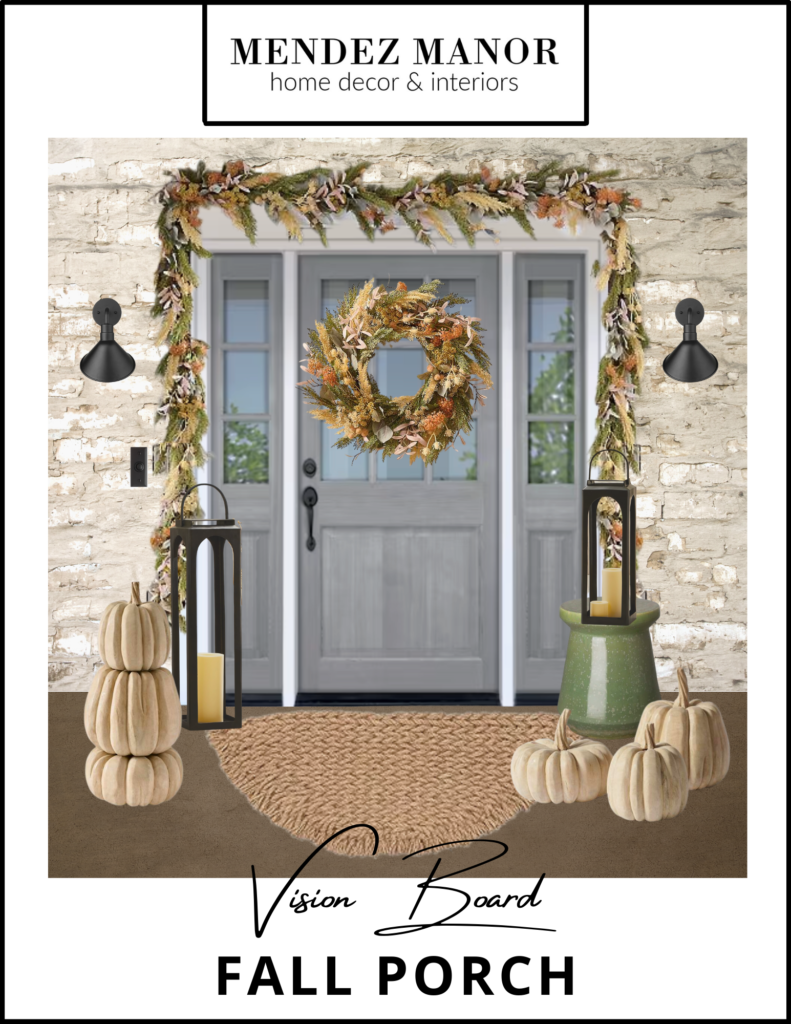 Shop The Look
Click the images above to shop each item. This post contains affiliate links.
Now, if you're leaning toward a more laid-back feel, our "Soft Neutrals" porch setup might just steal your heart. It's all about that boho vibe, and this grassy wreath and garland set from Grandin Road lends itself perfectly to the look. Think soothing beige and sage shades that bring out those cozy fall feels! They pair like a dream with those cute wooden pumpkins. And how about that sage ceramic garden stool? It's a handy landing spot for those times when you're juggling a bit too much. Last but not least, let's not forget the half-round fringe door mat. The neutral tones and tasseled edges make for an effortless welcoming feel.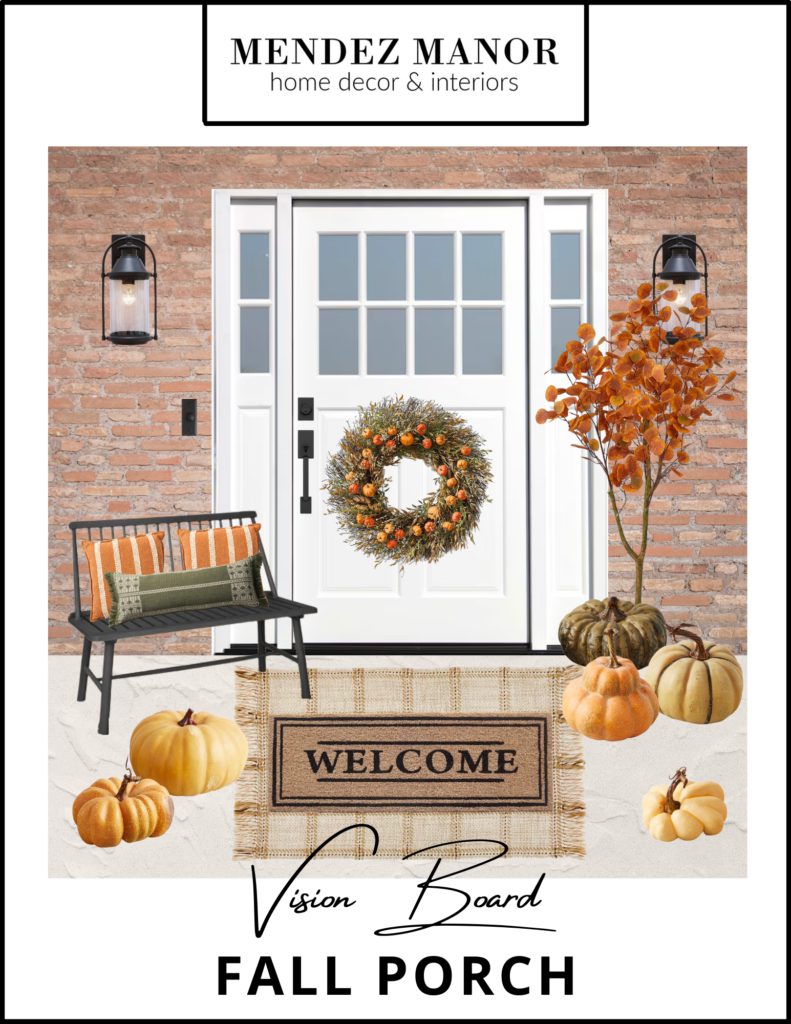 Shop The Look
Click the images above to shop each item. This post contains affiliate links.
Lastly, let's dive into the "Classic Cozy" look. Benches are the unsung heroes of outdoor decor, practical and stylish in equal measure. And the best part? Swapping out pillows on a bench is an instant facelift for your decor! Those striped orange and graphic green pillows are quite the dynamic duo – stripes and patterns play off of each other and the colors pop! Layering door mats brings in a touch of depth that's hard to resist. With a classic plaid rug and the simple graphic upper mat, you've got a fall welcome that's as warm as a cup of cocoa. Finishing off this cozy entrance is the Le Potiron Faux French Pumpkins from Williams and Sonoma. Their heirloom look and variated colors brings in some perfect organic charm.
Whether you're ready to go all out with a full-on decor makeover or just want to sprinkle a bit of fall magic around, your front porch is the place to begin. Snag those early Labor Day deals and get ahead of the fall rush. Your entryway is waiting for that warm autumn hug!
Online Interior Design
Like what we did with this space? We offer flat rate online interior design packages and would love to help with your space too. Check out our Get Started page to see how we can work together!
You will have direct access to lead designer, Nicole Mendez throughout the whole process. Multiple revisions are included with each package to ensure you are completely happy with the end result!