Shop The Look
Click the images above to shop each item. This post contains affiliate links.
As a designer, designing for children's bedrooms can be a fun and creative challenge. It's important to incorporate whimsy into the design, and I've had so much fun pulling together this fishing themed boy's bedroom design with rustic accents! However, it's equally important to choose furniture and rugs that are durable and versatile for transitioning into different looks as kids grow up.
For this specific look, we've opted for these geometric iron twin sized beds. Great for a shared room or a fun sleepover, they add an elegant touch to the room and complement the rustic/fishing theme perfectly. To tie the theme together, we incorporated vintage-look fishing posters and the cutest fish pillow!
One product that I love to recommend for kids spaces is a Ruggable. They have so many different colors and designs, and the Verena Sapphire rug is great for this space! Not only is it stylish, but it's also washable, making it an excellent investment for any kid's room. This rug can withstand spills and accidents, which is perfect for children who love to play and have fun in their space.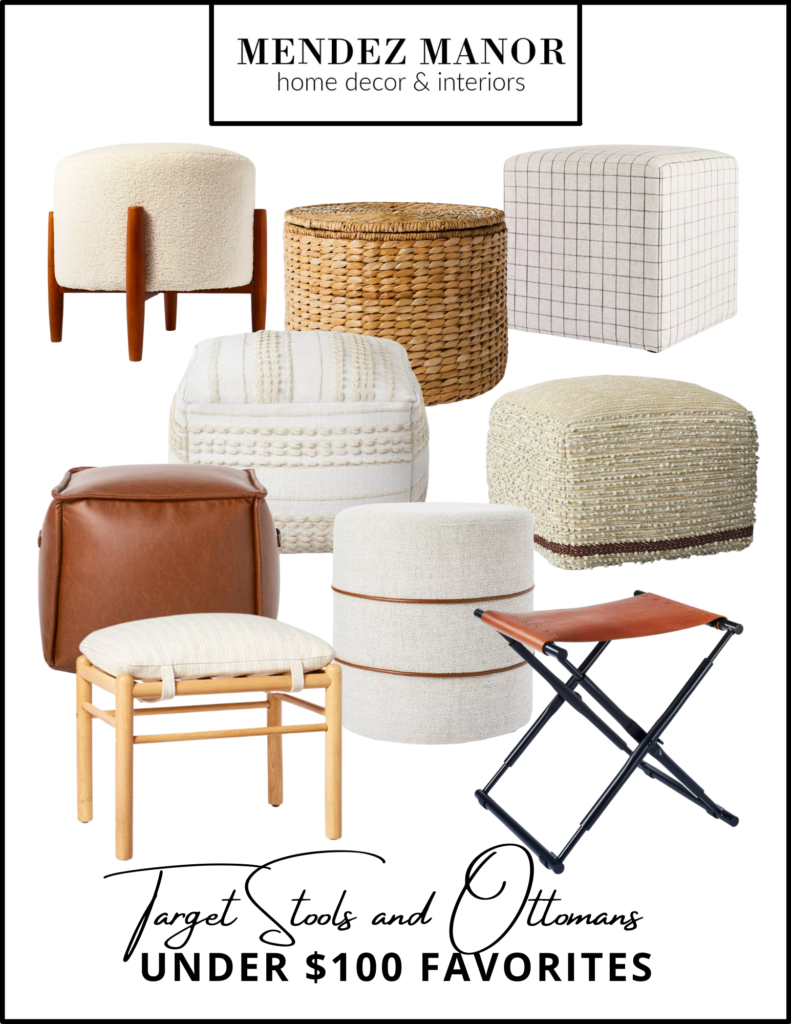 Shop The Look
Click the images above to shop each item. This post contains affiliate links.
To add extra seating, we chose this faux-leather cube pouf from Target. It's not only affordable, but versatile too! You can use it as a footrest, extra seating, or even as a small side table. Target has a wide range of poufs and ottomans under $100 on their website, making it easy to find the perfect piece for any kid's room. Check out some more of our favorites, linked above!
When it comes to storage, I love to recommend a larger dresser option. This 6-drawer dresser from Birch Lane in a dark rustic brown fits the bill! It's made of solid wood and has ample storage space for clothes and toys. The classic design also allows it to be easily incorporated into any future bedroom designs.
Overall, designing a boy's bedroom requires a balance of fun and functionality. You want to create a space that your child will love and enjoy spending time in, while also ensuring that the furniture and rugs you choose are durable and versatile. With products like the Ruggable rug and Target's faux-leather pouf, you can create a stylish and functional room that your child will cherish for years to come.
Online Interior Design
Like what we did with this space? We offer flat rate online interior design packages and would love to help with your space too. Check out our Get Started page to see how we can work together!
You will have direct access to lead designer, Nicole Mendez throughout the whole process. Multiple revisions are included with each package to ensure you are completely happy with the end result!