Shop The Look
Click the images above to shop each item. This post contains affiliate links.
Simple pieces mixed with a vintage look runner make this modern casual entryway design perfectly relaxed and stylish. We wanted this entryway to embody the relaxed nature of the California-Casual lifestyle, seamlessly blending simplicity, comfort, and a touch of vintage charm.
Starting with the foundation, we opted for luxury vinyl plank floors, a practical choice that's both beautiful and durable. These floors offer a warm and inviting welcome while easily withstanding the high traffic of this busy area.
Turning our attention to the walls, I'm all about a photo grid! This brushed black frame set from Crate and Barrel is the perfect canvas for creating a personalized gallery wall. Filled with black and white photographs capturing happy memories, this display can't be beat when it comes to making a space really feel like home. The expansive nature of a gallery wall is perfect for making an impact, and personal photos serve as a great a conversation starter for guests.
Lighting is essential to creating atmosphere. We've incorporated these blackened steel single light wall sconces from Crate and Barrel. These sconces not only provide a cozy lighting option but also help add a casual sophistication to the space. With their black shaded design, they tie into the black frames while casting a warm and inviting glow that embraces you upon entering the home.
To anchor the entryway, I selected the Vollmer Solid Wood Console Table from Wayfair. Its light wood finish adds warmth to the space while its sleek lines and minimalist design perfectly embody the California casual vibe. Its simple style is the perfect jumping off point for accessories, serving as a landing spot for keys, mail, or a tasteful arrangement of decorative pieces.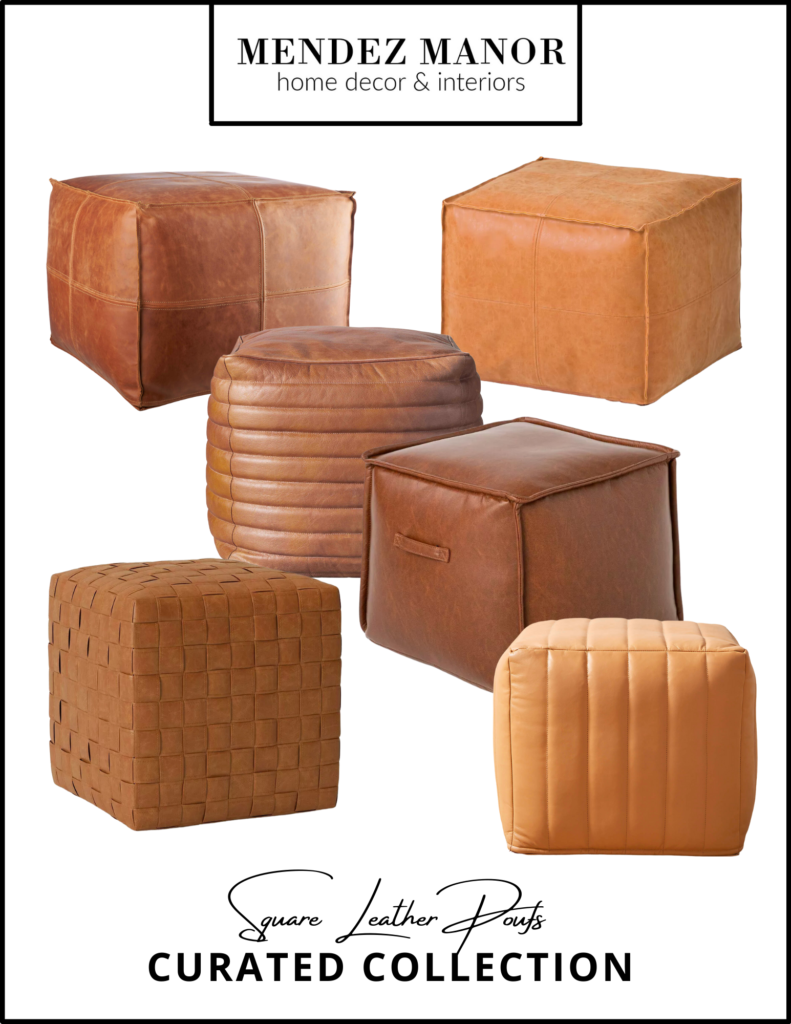 Shop The Look

Click the images above to shop each item. This post contains affiliate links.
Completing the ensemble are two inviting leather poufs, positioned beneath the console. These Leather Square Brown Poufs from CB2 add an air of comfort o the space. Their warm brown hues and soft leather upholstery create a cozy seating area for kicking off your shoes as you come home to unwind after a long day. I think it's hard to beat the versatility of a leather pouf! We've pulled together this collection of leather poufs, each with their own unique style and details. With options starting under $100, they're the perfect element to bring in some extra visual interest to a space!
As a final touch, we've pulled in aa faux Japanese maple tree, bringing a touch of nature indoors. This potted tree from West Elm is perfectly low-maintenance and gives the space such a fresh and organic vibe.
With its relaxed ambiance and stylish decor, this entryway embodies the essence of California-casual living! The simple yet carefully curated pieces, from the solid wood console table to the leather poufs, create a welcoming and comfortable space that sets the tone for the rest of the home.
Online Interior Design
Like what we did with this space? We offer flat rate online interior design packages and would love to help with your space too. Check out our Get Started page to see how we can work together!
You will have direct access to lead designer, Nicole Mendez throughout the whole process. Multiple revisions are included with each package to ensure you are completely happy with the end result!