Shop The Look
Click the images above to shop each item. This post contains affiliate links.
Sophistication meets relaxation in this neutral living room with a jute rug, an inviting haven perfect for laid-back lifestyles. Our approach embraces relaxed elegance, blending natural elements and a light and airy atmosphere.
We've built this living room from the ground up, starting with a large jute area rug. I love the neutral base that jute provides. The natural texture brings a down to earth feel that anchors the rest of the design.
The heart of any living room design is the sofa. This deep seat of this gray sofa from West Elm invites you to sink in and relax. Its plush cushions and casual silhouette perfectly embody the comfort-centric ethos of California-Casual design. Woven leather chairs embrace the organic elements that also define this design style. Sleek and armless, their warm and earthy texture adds to the casual vibe without overwhelming the space.
I have to talk about this vintage-style glass front cabinet! I'm obsessed with the soft black finish and the detailing on the handles. The eclectic piece feels so fresh mixed in with the more modern elements in the room. In addition to bringing in some character, it's a perfect functional piece to showcase curated treasures and provide storage for everyday essentials. Playing off the black in the cabinet is an oversized chandelier, adding a pop of drama with its black color and contemporary design.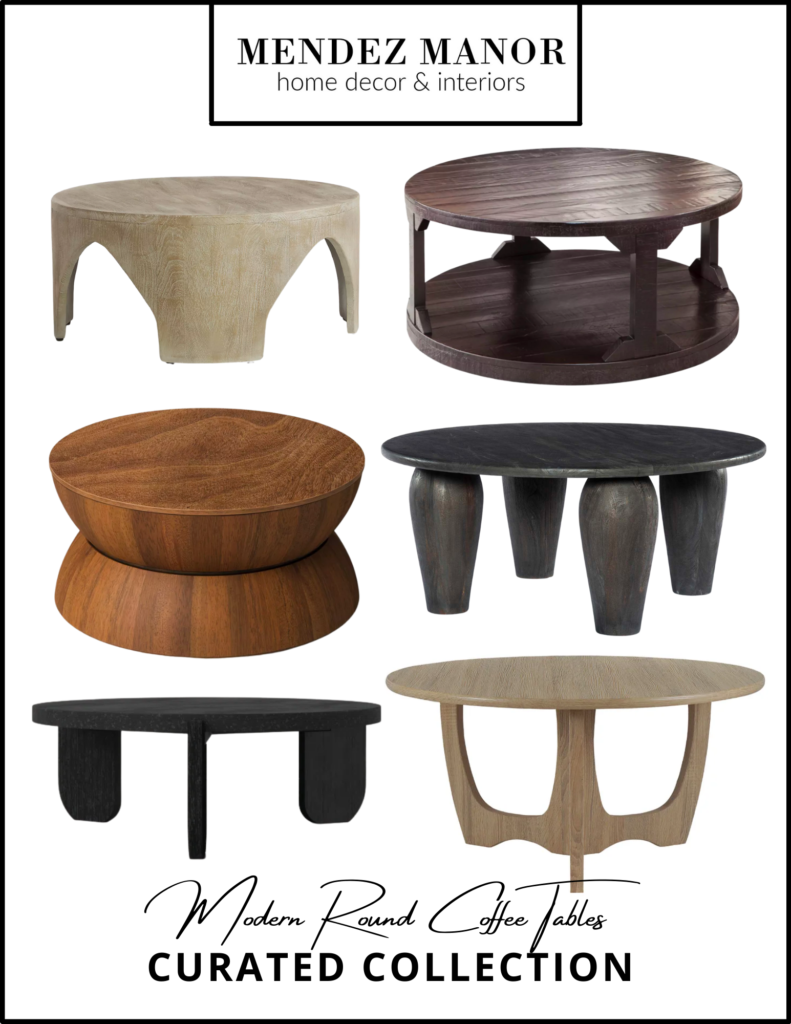 Shop The Look
Click the images above to shop each item. This post contains affiliate links.
More simple in design but still a standout piece, we've gone with this  soft black wooden circular coffee table for the center of the room. I love the round shape and the unusual form of the legs. On the hunt for the perfect round coffee table, we pulled from a collection of our favorite modern coffee tables, linked above! Topped with a tall arrangement of leafy branches, our styling brings a bit of the outdoors in, blending elements of nature with eclectic design choices.
To tie these neutral tones into the walls, I've chosen this framed landscape print from artist Dan Hobody. Titled "Colorado", I think it's a gorgeous piece that's suited for anywhere out west! The soft hues and serene imagery evoke a connection to nature, seamlessly integrating with the organic palette of the room. Tribal-inspired accent pillows with jute and wool fabrics blend the rug and tones from the artwork, bringing in a touch of global influence and even more textural interest.
The neutral palette, simple furniture choices, an eclectic blend of styles and organic textures come together to make a relaxed living room perfect for casual living. I'm always looking to nail that perfect blend of comfort and style when it comes to creating a main living space.
Online Interior Design
Like what we did with this space? We offer flat rate online interior design packages and would love to help with your space too. Check out our Get Started page to see how we can work together!
You will have direct access to lead designer, Nicole Mendez throughout the whole process. Multiple revisions are included with each package to ensure you are completely happy with the end result!