It's no secret that I'm a huge proponent of using white paint. Choosing the perfect white paint for the home can be challenging, but it does't have to be! As I've come to learn, selecting a white paint isn't just about picking any white from the sea of swatches available in the paint section. It's about working with your room, home and design style to nail the perfect shade for each space.
Understanding Undertones
Undertones are the base tone of a color that determine if it leans warm, cool or neutral. Even white paints contain these secondary colors that dictate the way they lean. Do you want your space to be bright and crisp, or warm and cozy? Warm undertones, such as yellow or red, create cozier spaces. Cooler undertones, like blue or gray, impart a refreshing, modern vibe. Neutral undertones, closer to true white, are a little more flexible.
The purpose of a room itself can be helpful in deciding what type of vibe you're looking for in your paint. For example, you may prefer your bedroom to feel homier and tranquil, lending itself to warmer tones. If you're choosing for higher energy spaces like a kitchen or office, maybe a cooler tone might suit your needs better. Certain tones for certain spaces aren't a hard or fast rule, but can be a good jumping off point to consider if you're coming into this process blindly!
White in Different Lights
Undertones in paint aren't the only factor in determining how your paint color will appear. Lighting conditions in a room have a huge impact on the overall tone. You may be surprised to learn that the direction the light comes from can have an effect on the visual warmth or coolness of your space!
If your room is northern facing, light conditions tend to be a bit cooler. You may choose to compensate for the lighting with the tone of your paint. For example, if you prefer a cool tone, you may want to stick with a more neutral white paint and let the light do its trick. If you want the tone to appear warmer, you'll need to offset the cool lighting by going for a warmer tone than you might thing.
East or west facing rooms tend to change tone as the light changes throughout the day. Before making a decision in any room, test paint samples to observe how they interact with both natural and artificial light throughout the day. A white paint that looks stunning in the morning may appear stark under evening lighting. It's important to evaluate your options under the different lighting scenarios that arise in your space.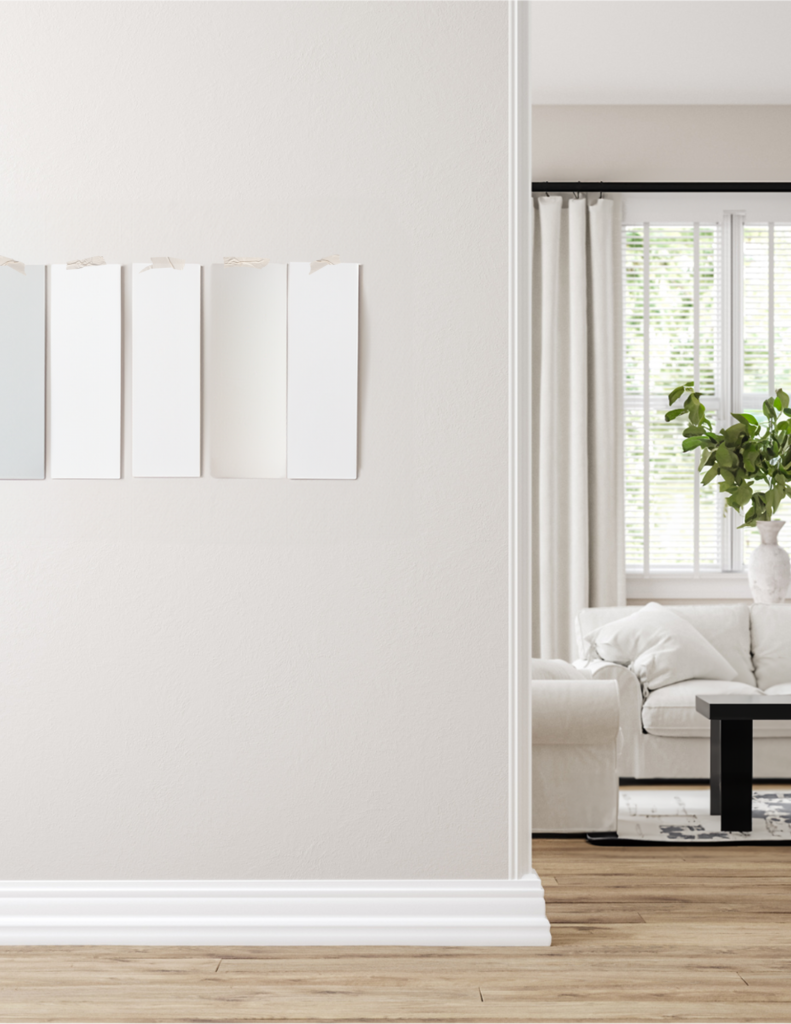 Testing, Testing, Testing!
Never underestimate the importance of sampling paint shades on your walls. All the advice in the world for picking the perfect tone can't compare to putting it up and seeing for yourself. Purchase small paint samples to test out in different areas in your room. Watch how the colors shift and change throughout the day and night. The changes in lighting can help you determine which shade suits your space best.
If you don't want to commit to painting patches all around your room, a handy trick is to take a bit of heavier cardboard or foam poster board (easy to find at a craft store) and paint large pieces to move about your space. Make sure they're big enough to really get an idea of the full effect!
Choosing a Practical Finish
Beyond tone, another important factor when it comes to paint selection is finish. Matte or flat white provides a modern, subtle finish, while satin or eggshell offers a bit of sheen and is easy to clean. Glossy white imparts a luxurious, reflective quality, but tends to highlight imperfections.
Consider the room's purpose and your personal preferences when choosing a finish. For high-traffic areas like kitchens and bathrooms, a semi-gloss or satin finish is practical, while bedrooms and living rooms may benefit from the softness of a matte or eggshell feel.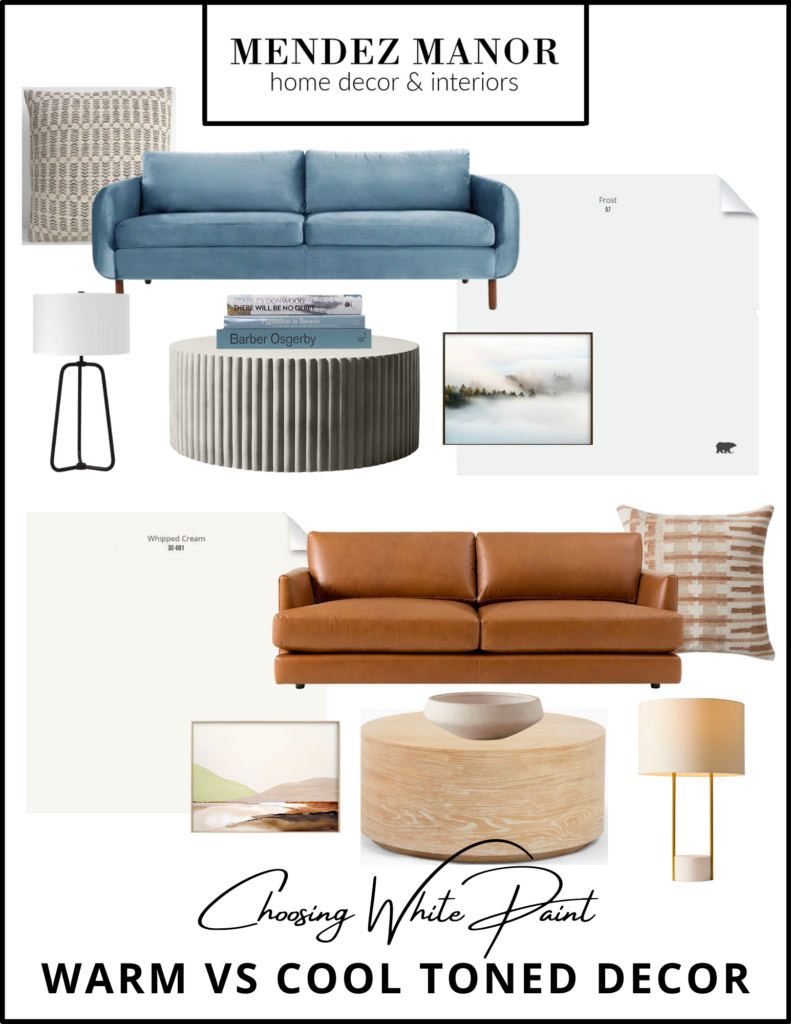 Shop The Look
Click the images above to shop each item. This post contains affiliate links.
Complementing Decor
White paint lends itself to both soft, harmonious designs as well as bold and colorful spaces. Your existing (or envisioned!) furnishings and décor play a big role in choosing the right white shade for a room. The perfect white paint should complement your furnishings rather than clash with them. Warmer whites pair well with warm-colored furnishings, like jute fabrics, tan leathers and brown woods. Cooler whites harmonize with cool-toned décor – think greys, blues, and even concrete finishes.
Don't Rush the Decision
Finding your perfect white paint is a process that requires a little patience. It's better to invest a little of your time to make sure you're happy with the space you're living in. Live with your painted sections or board swatches for a few days to make sure you are entirely happy with how your selections look with your furnishings and changing light.
Still not sure which direction to go? Talk to a professional! Choosing the perfect white paint for your home can be an intricate process that involves careful consideration of undertones, lighting, room function, and style. We offer a variety of online design services to help you envision and create your perfect space. Feel free to reach out and get started today!
Online Interior Design
With my online interior design (e-design) services I'm able to help my clients create a professional level of design throughout their home. My team and I will work within your budget & preferences to create a cohesive design plan tailored to your style. I will stick with you for guidance and consultation as you bring your design to life. Check out our Get Started page to learn more about our process.
You will have direct access to lead designer, Nicole Mendez throughout the whole process. Multiple revisions are included with each package to ensure you are completely happy with the end result!