If you've been following along with me on Instagram, you know that I was recently in the market for a new dining room table. After searching for what felt like forever,  I finally found my perfect match and put together this easy guide to shopping extension dining tables. I felt like it was so hard to figure out how to choose an extension dining table that would perfectly suit my home, and hope this guide can help anyone looking! 
Whether you're an avid entertainer or simply looking to maximize the functionality of your dining area, we've got you covered. In this comprehensive buying guide, we'll explore everything you need to know about extension dining tables, from their benefits to the different styles available, helping you make the perfect choice to suit your home and lifestyle.
Why Choose an Extension Table?
When setting out to buy a dining table, there is one primary and paramount factor to consider: size. Choosing the right dining table isn't just about looks—it doesn't matter if it's cute if it isn't functional! You've got to figure out how many folks in your home will be sharing meals around it regularly and how much room you can realistically dedicate to your dining setup.
But what about when friends or family unexpectedly swing by for dinner, and your smaller dining table isn't cutting it? Opting for an oversized dining table exclusively for such occasions might not be the most sensible choice. Enter: the extension table!
Perfect for saving space while still providing flexibility for entertaining, it's one of the most versatile pieces you could get for your home. The extent of space available for your dining table can vary considerably, depending on whether it lives in a dedicated dining room or is part of an open-plan type space. For instance, if you find yourself with a compact living room that serves double duty as a dining area, selecting a grand 10- or 12-seater table is a bit unreasonable. In these cases, a two or four-seater table can most effectively maximize the available space.
However, on occasions when you host holidays, gatherings or require extra dining capacity, an extendable table proves invaluable. Extra seating? Done! More space for arts and crafts? Check! A longer, buffet style table for serving up family meals? You've got it!
By effortlessly adding two or four additional seats, it maximizes the practicality of a smaller space, reverting just as easily to its compact form after the meal. This pragmatic approach makes it an ideal choice for space-saving yet functional dining spaces.
Which Extension Table to Choose?
So, you're with me and are sold on the functionality of an extension dining table? It can be so hard to know where to start! Beyond considering the size of your space, you'll want to know how many people you can get around your table. After taking a look at the dimensions of a piece, it's easy to figure out. On average, I wouldn't recommend going with any less than 24" of space per person at a table per side, minimum! Using these guidelines, a 48" table can accommodate two per side, and one person each end. 72" would be the minimum for 8, 96" for 10, and so on.
Now that space is covered, the main thing left to consider are price, quality and style! That's where these guides really start to come in. We've pulled together options in a variety of sizes, shapes and price points to hopefully help you narrow down your options and find the table that's right for you.
Modern and Contemporary Extension Dining Tables
Click the images above to shop each item. This post contains affiliate links.
If your style leans a little sleeker, you're probably looking for a table with a clean and simple look. Since I've been talking about my own table search, I'll tell you now that the Portola Table from Pottery Barn ended up being just right for me! I've posted a full review here, but I've really been loving it in our home. I'm a huge fan of the finish color—it's just right, a beautiful light brown shade that isn't too orange or gray. The leaves attach to the end of the table as opposed to the middle, keeping the look super modern and clean.
The Malcolm Table from Pottery Barn has a similar mechanism and comes in a beautiful white washed finish. While the top is slightly grooved to resemble an antique door, the sharp lines and sleek metal base make this perfect for a contemporary (California casual, especially!) type of space.
Another standout to me from these picks is the Laroche Table from Birch Lane. While it does extend from the middle, the leaf placement allows this table to maintain its streamlined shape. The natural wash and visible grain bring an organic sophistication to this statement piece.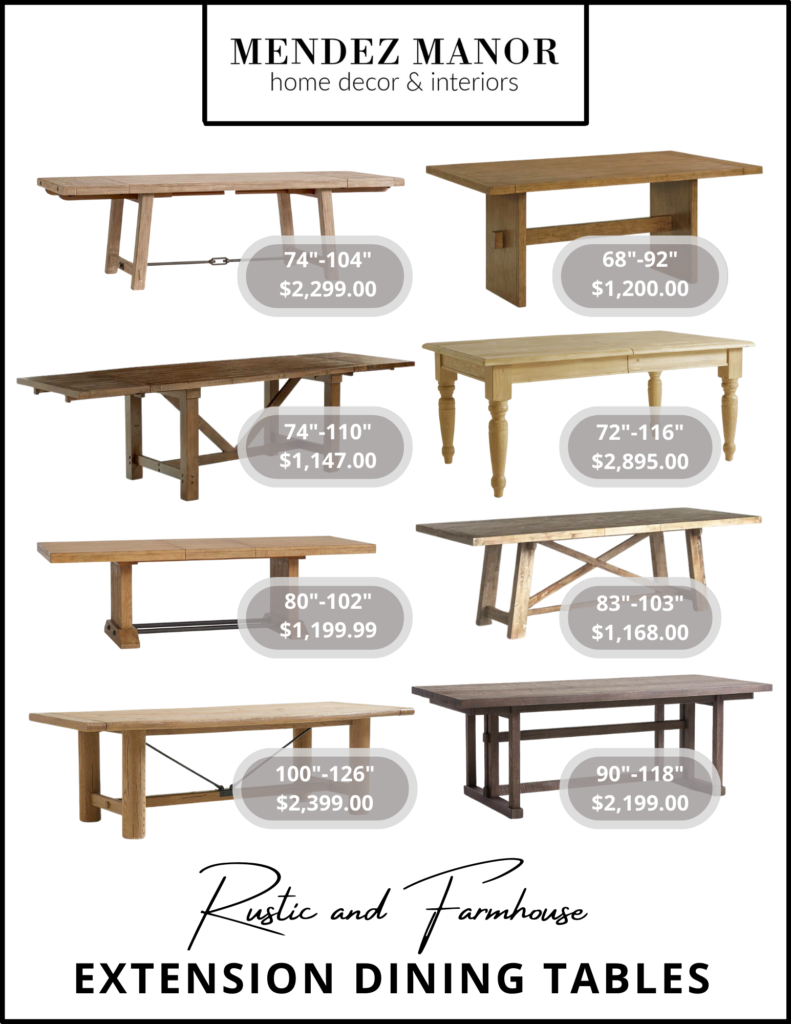 Rustic and Farmhouse Extension Dining Tables
Click the images above to shop each item. This post contains affiliate links.
If something a little more homey is your style, we've pulled together these extension dining tables with more of a rustic/farmhouse vibe. My first choice from these options would probably be the Benchwright Table from Pottery Barn. Inspired by an antique worktable, the hand-crafted ironwork details really make this piece stand out.
Speaking of metal accents, how cool is this refectory-style table, also from Pottery Barn? The metal stretcher bars bring on a vibe that's both timeless and industrial. Notice how many Pottery Barn options have made it on my list? I've consistently found them to be a great marriage of price-point to quality. The tables seem sturdy and built to last, which is exactly what you want out of a piece that's such a focal point to not only your home, but the life you live around your dining room table.
If all wood is what you're looking for, the Jamain Extendable Table from Birch Lane is not to be overlooked. The primitive design is simple yet homey, with a rich wood finish that I love for a lakehouse, lodge, or space that you simply want to feel like a rustic retreat.
Easily one of the more substantial tables on this list, the Harvest Table from Williams and Sonoma has a nostalgic feel thanks to its carved legs and distressed hand finish. I've shown it in the 116" version, but they offer a 140" as well if you're looking to accommodate more guests! While the table is very traditional, I love the idea of punching it up with a modern set of chairs for a bit of juxtaposition and style.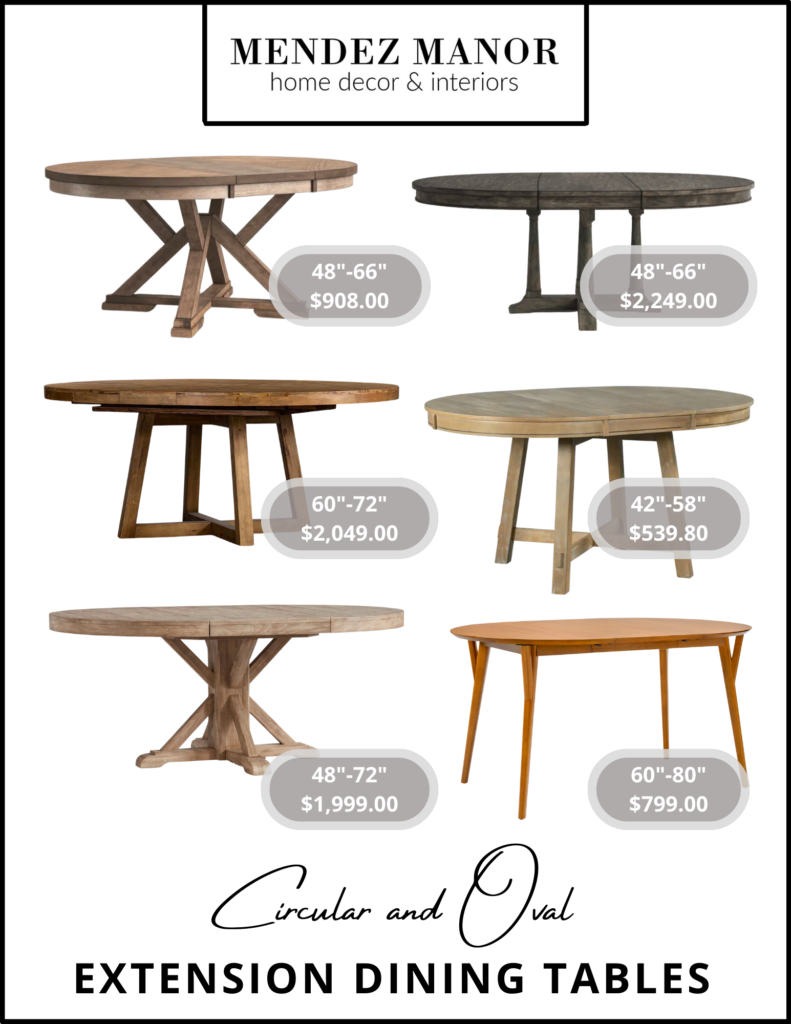 Round and Oval Extension Dining Tables
Click the images above to shop each item. This post contains affiliate links.
One type of table we haven't yet addressed is a rounded dining table with a leaf! Not every space is well suited for a larger rectangular table, but that doesn't mean you have to be limited in options. Nooks, alcoves, or more generally square shaped spaces usually benefit from a table in a circular shape. I typically prefer round tables to square in these scenarios, as I love the dynamic feel you get from adding in some curves!
Speaking of dynamic, how about the Denfield Extendable Round Dining Table from Birch Lane? The round top with angular bottom makes for such an interesting showstopper! From 48"-66" long, this table is perfect for smaller spaces and can be extended to seat up to six people.
Should mid-century be more your style, West Elm has your back with their Rounded Expandable Dining Table. With both a 42"-60" and 60"-80" version, one of these angular tables is sure to suit the needs of your space. While I'm typically partial to more neutral wood tones, the rich warm woods perfectly suit the retro vibes of this piece!
A more substantial favorite of mine is once again from the Benchwright Collection at Pottery Barn. The architectural frame and distressed wood finish come together to create a timeless piece that seats up to six people when fully extended.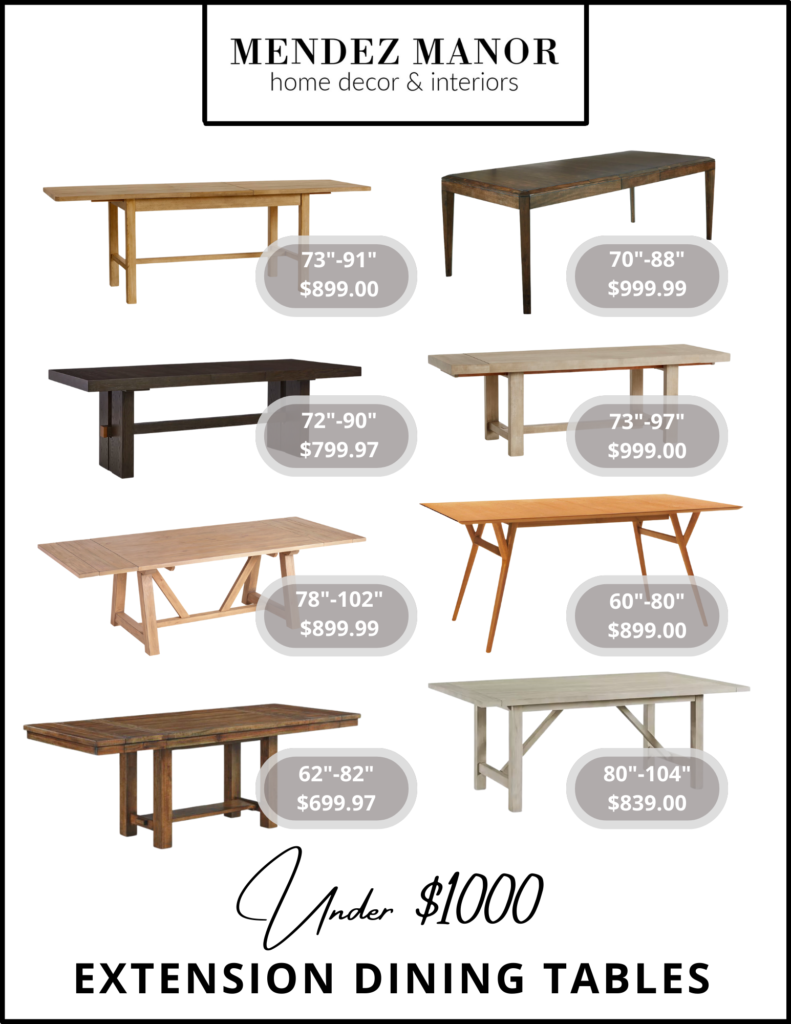 Extension Dining Tables Under $1000
Click the images above to shop each item. This post contains affiliate links.
Extension tables don't have to break the bank! I wanted to round up a few pieces that seemed to be well priced without sacrificing quality. With options like the Mateo Dining Table from Pottery Barn, the Leona Table from World Market, and the Burkhaus Table from Ashley Furniture all coming in at under $1000, you can get a quality piece for your home without emptying your wallet.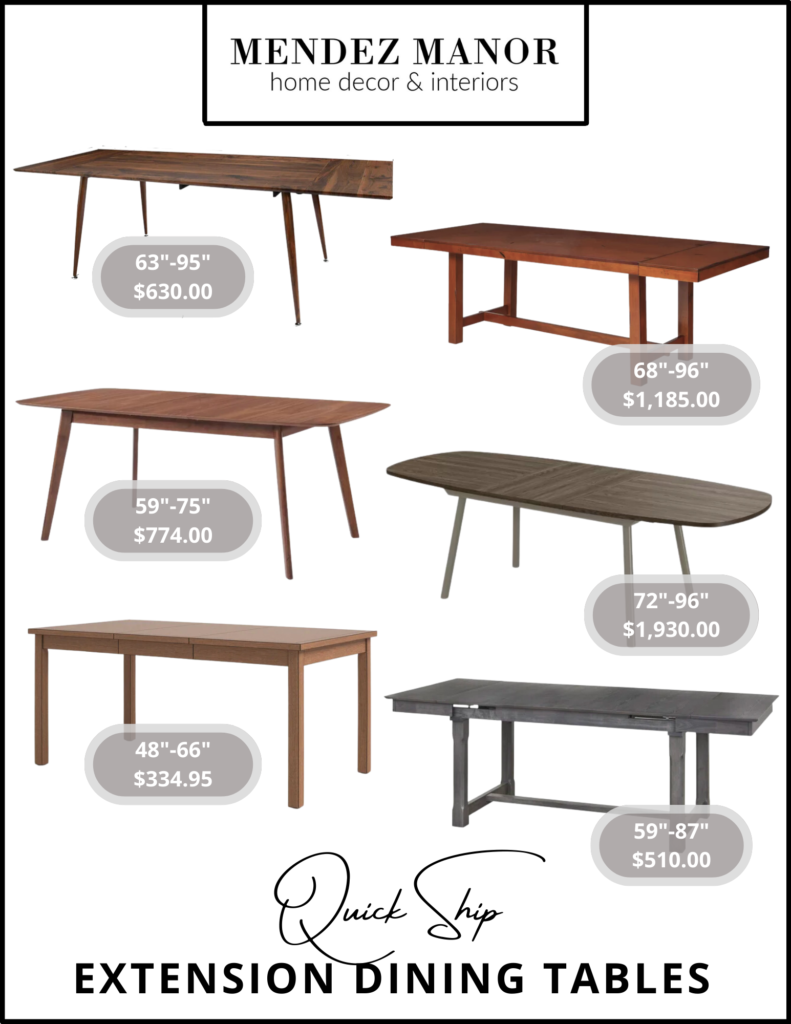 Quick Ship Extension Dining Tables
Click the images above to shop each item. This post contains affiliate links.
Last but not least for our extension dining table roundup, we have quick ship tables! All of these items seem like they should be able to be shipped to the home within a week. I'm usually hesitant to include or recommend them in a guide because of how quickly they go out of stock, but maybe this can help someone looking now! While most of these tables are also priced under $1000, it's important to remember that they're likely to be made out of lighter and less durable materials than some of their previously mentioned counterparts. However, sometimes you can find a gem! If your dining table needs are urgent, maybe one of these could be for you.
All in all, if you've been on the hunt for the perfect dining room table, this easy guide to shopping extension dining tables aims to simplify your decision-making process. It's the quick shop guide I wish I had when I was searching high and low for my perfect option! Whether you prioritize size, style, or affordability, I'm hoping we've covered it all. From modern designs to  farmhouse vibes,  there's something here for everyone.
Online Interior Design
Like what we did with this space? We offer flat rate online interior design packages and would love to help with your space too. Check out our Get Started page to see how we can work together!
You will have direct access to lead designer, Nicole Mendez throughout the whole process. Multiple revisions are included with each package to ensure you are completely happy with the end result!