Shop The Look
Click the images above to shop each item. This post contains affiliate links.
Green is a versatile color that has been trending for kitchens, especially when it comes to cabinetry. The color brings a calming and soothing effect to any space, making it a perfect color choice for this kitchen with green cabinets and freestanding island. From Pinterest to Instagram, who hasn't seen a huge shift towards green cabinets filling up our feeds?
Kitchens are often one of the most remodeled rooms of the house. We've all heard the phrase "timeless kitchen", but with trends and decor changing so rapidly, is "timeless" really attainable? Who could forget the colorful laminates, brown granites, honey oak cabinetry, and so many other relics of kitchens past? All white kitchens had their moment, but now we're circling back to warmer woods and touches of color. Keeping up with trends can feel impossible, so the most important thing is creating a space that you personally will love for years to come.
When it comes to kitchen design, appliances can set the tone for the entire room. I'm loving this black stainless steel stove from GE! The dark metal color makes the perfect jumping off point, tying into the tones on the gunmetal hardware, pendant lights, and sink faucet. These features add a bold and modern touch to the space, while also providing a striking contrast against the green cabinets.
The sink itself is another essential element that deserves attention. This single-basin farmhouse sink is a beautiful addition to any kitchen. I'm loving the stone composite material in the titanium grey color. The matte stone feels so contemporary, and its large size is perfect for washing big pots and pans.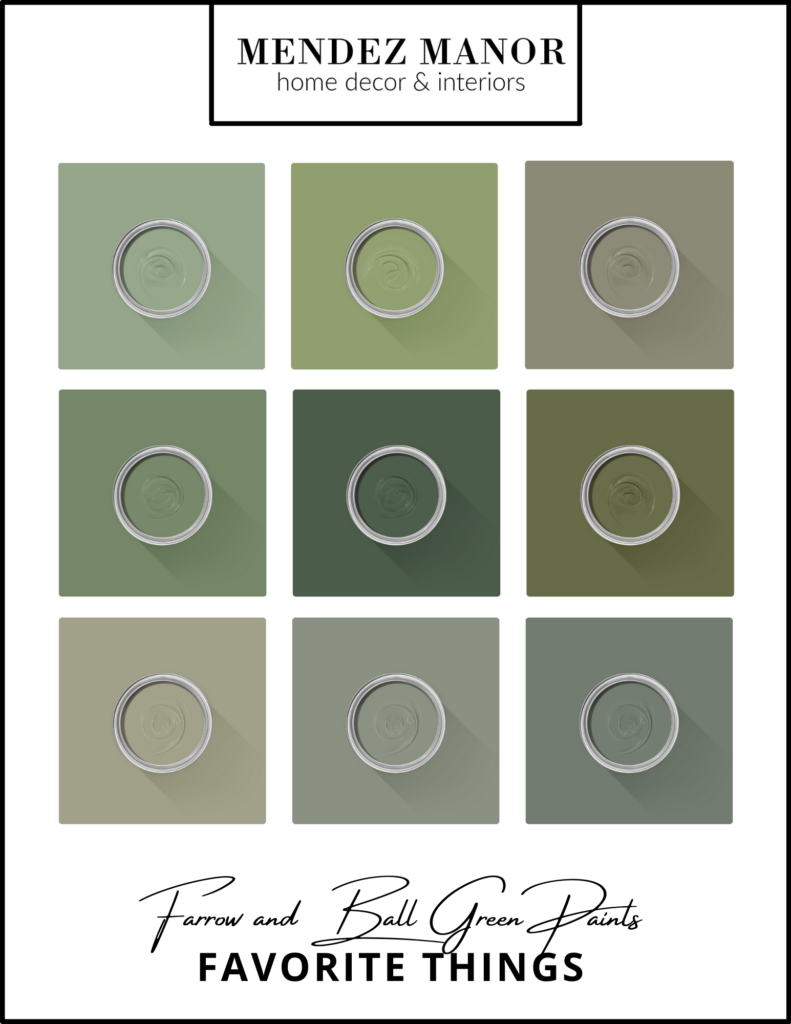 Shop The Look
Click the images above to shop each item. This post contains affiliate links.
Next up, let's talk cabinet colors! Whether you consider it timeless or trendy, this green cabinetry adds a beautiful pop of color to the kitchen. While some lines currently sell cabinets that come in green, any cabinet can be your preferred color with a coat of paint! We've pulled together some of our favorite greens from Farrow and Ball. Known for their high-quality and richly pigmented formulations, I love all the fresh colors they carry.
For the backsplash, the design world has been loving zellige tile! A traditional Moroccan handcrafted tile with irregular edges, zellige tile is a popular alternative to the standard subway. The unique edges bring an organic touch and a sense of warmth to a space.
A freestanding island is a convenient addition to any kitchen, and this wooden island is such a cute choice. The extending surface provides extra prep or dining space, making it perfect for families or those who love to entertain.
Overall, a kitchen with green cabinets and a freestanding island is a great choice for green cabinet enthusiasts needing a functional space. By committing to styles and trends you love, any kitchen can become the heart of the home.
Online Interior Design
Like what we did with this space? We offer flat rate online interior design packages and would love to help with your space too. Check out our Get Started page to see how we can work together!
You will have direct access to lead designer, Nicole Mendez throughout the whole process. Multiple revisions are included with each package to ensure you are completely happy with the end result!