Online or virtual interior design is relatively new for the interior design world. The term is being thrown around often lately, but I think it can be confusing as to what it actually involves. So, I thought I'd take a minute to explain how it works…or at least how it works for me and my business.
What is online interior design
Online interior design, also known as virtual design and e-design, is a way of designing someone's home where the majority (if not all) of the work and communication regarding the project, is done online. A lot of local design firms are starting to offer online design as part of their service options and some businesses, like mine, are specializing mainly in that area.
Why I love online interior design
After working as an interior designer for over 10 years, I've found that the online design process is a perfect fit for my personality and lifestyle. To be honest, I'm a bit of an introvert and online design allows me to work from home much of the time. I do love the occasional on-site consultation. Styling sessions are my favorite! Meeting clients in person at their home or a showroom is fun and exciting, but in general I love my day-to-day routine working in an online manner. I'm also mom to two elementary age kids. Being an online interior designer allows me to serve my clients and be there for my family on a regular basis. Most importantly for my business, I've found that I can still build a meaningful connection with my clients, even working in an online capacity.
Why my clients love online interior design
My clients are drawn to the online interior design process because it's simple and straight forward. You get the guidance and knowledge of a professional designer without the intimidating cost of a full service on-site interior designer. My online design packages are all priced flat rate. For one upfront cost you get all the things you need to pull together a cohesive room design plus you have me on-call throughout the process for any advice and feedback. My clients know what they like but struggle when it comes to envisioning everything together. They have time to shop but want help in choosing the perfect items. Most of my clients want someone other than a friend or family member to help them with their project and they love having an interior designer in their corner. One of my clients recently referred to me as her "design therapist" and I love that she feels that way!
How Exactly does online interior design work?
For me, the online interior design process starts with a video call. Don't worry, you won't need to be on camera! This is for me to see your space as you move about the room. If you decide to have me out for an initial on-site to view your space, I will take measurements and photos. If not, you will send room measurements and photos via email. Again, don't worry, I teach you how to do this easily.
Next, I get to work designing a space based on your preferences. I use a program which allows easy back and forth communication throughout the entire process. Once we arrive at a final design, you start purchasing products and working with a local contractor (if needed) to bring your design to life. I will stick around virtually (usually up to 14 months) to offer support as you work through your project. I am even willing to communicate directly with your contractor if needed.
Is online interior design right for me?
Online interior design might be the perfect fit for you if….
You are redesigning rooms in your home and want to pull together a cohesive look.
You want recommendations for paint colors, countertop materials, flooring options, etc.
You need help finding the exact furniture pieces for your style, budget and needs.
You need help making sure all the new items are going to fit in your space.
You want someone other than friends and family to give you feedback.
You want an interior designer's brain to pick.
You enjoy working and communicating primarily in an online capacity.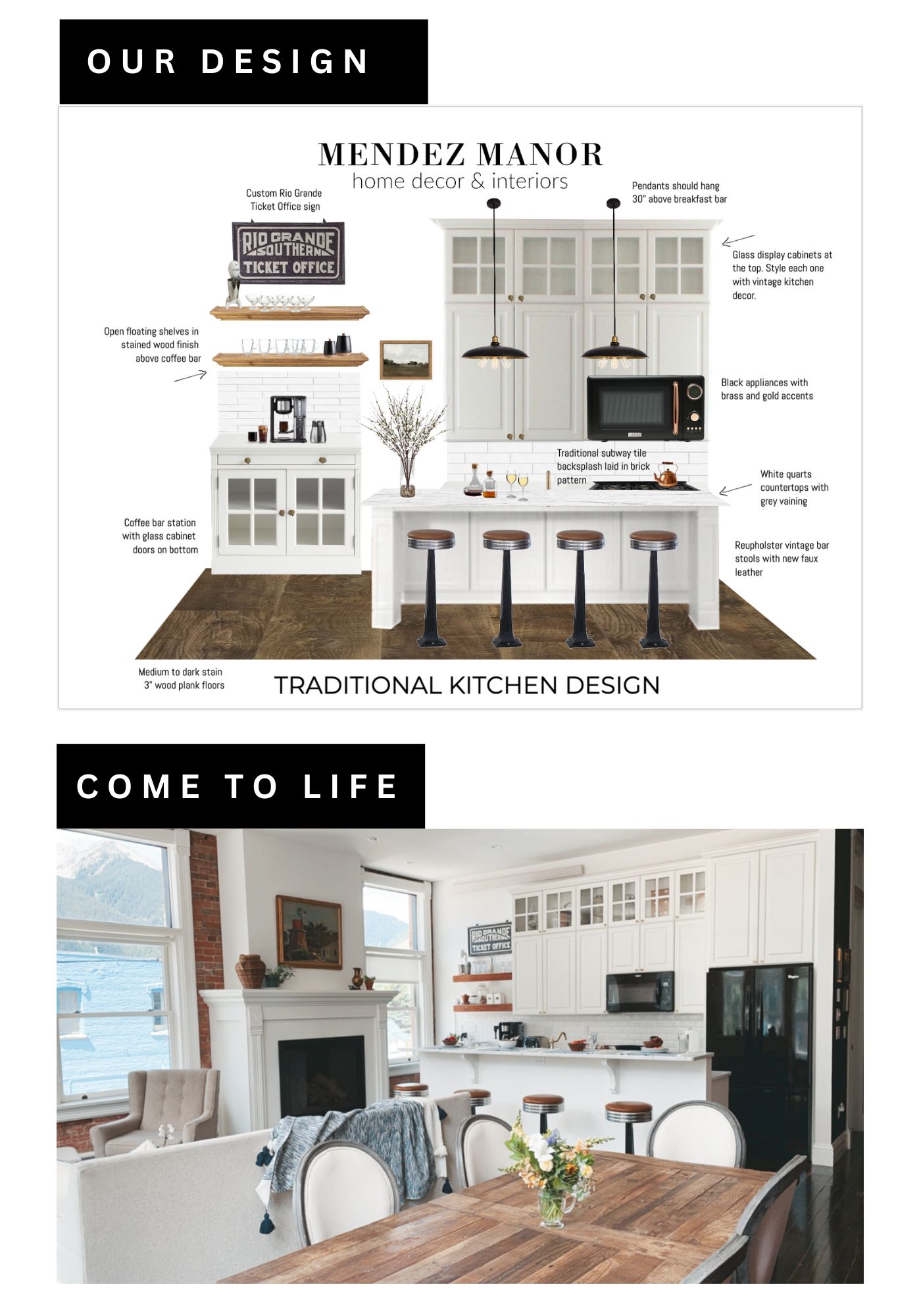 If you feel that an online interior design service would be the perfect fir for you, please reach out! We offer flat rate design packages and would love to help with your space. Check out our Get Started page to see how we can work together!
You will have direct access to lead designer, Nicole Mendez throughout the whole process. Multiple revisions are included with each package to ensure you are completely happy with the end result!