Shop The Look
Click the images above to shop each item. This post contains affiliate links.
One of the design challenges that I really enjoy is creating a space that's as stylish as it is live-able! Sometimes we need our spaces to perform double duty, like in this multipurpose office/guest room design! This type of room offers the best of both worlds, serving as a functional workspace and a comfortable retreat for your guests.
When creating a versatile room, one of the best pieces of furniture you use is a trundle daybed. During the day, it functions as a comfortable sofa, and at night, it can easily transform into a soft bed for your guests. Additionally, it can serve as a cozy spot to take a break when you're having one of those work days!
Rug layering is a great way to add texture, depth, and visual interest to a room.The technique involves layering two or more rugs of different sizes, shapes, and patterns to create a cohesive look.You want the rugs to complement each other and the other elements in the space, rather than clash. For example, you might layer a neutral, solid-colored rug over a larger, patterned rug to create contrast and draw attention to the focal point of the room. This taupe cowhide rug and southwestern-style Ruggable are excellent counterparts that help tie together different pieces of the design.
When it comes to the desk and chair combo, this light wood desk and black caned arm chair are a perfect match! The black hardware of the desk pairs beautifully with the tone of the chair, and the desk offers plenty of storage for any office essentials.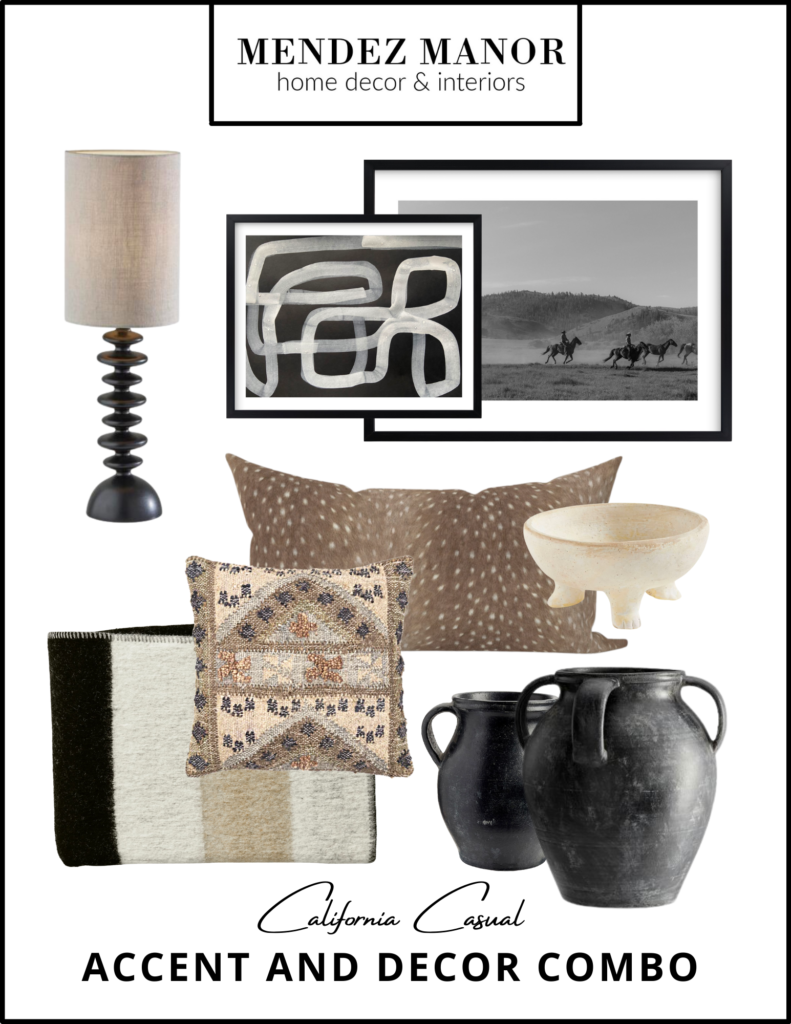 Shop The Look
Click the images above to shop each item. This post contains affiliate links.
Accessories are an important part of any interior design, and in this case, they help bring the earthy and desert feel to the room. A combination of a neutral photograph, such as this Western landscape print, and something a little more graphic/organic, like this black and white abstract piece, can add an interesting depth and dynamic to the space.
To finish off the look, our throw pillows are here to tie everything together. This deer hide print pillow from Spoonflower works to reference the cowhide rug! I love how it plays off the texture in this neutral tribal pillow, adding the perfect amount of interest to the room and leaning into the subtle desert vibe.
Creating a functional office/guest room combo can be challenging, but with the right pieces of furniture, accessories, and a little creativity, it is definitely achievable! Not only can you have a little retreat for your guests, but a bright and cozy workspace to be productive in style.
Online Interior Design
Like what we did with this space? We offer flat rate online interior design packages and would love to help with your space too. Check out our Get Started page to see how we can work together!
You will have direct access to lead designer, Nicole Mendez throughout the whole process. Multiple revisions are included with each package to ensure you are completely happy with the end result!