Shop The Look
Click the images above to shop each item. This post contains affiliate links.
If you've landed here by way of my Instagram, you already know that horses are near and dear to my heart! As a self-described equestrian enthusiast, I'm always inspired by the beauty and elegance of equestrian-style design. A classic equestrian-style living room design exudes a sense of casual sophistication, and incorporates elements of the equestrian world such as warm tones, rich textures, and subtle horse-themed accents.
When creating an equestrian-style living room, a wheat velvet sofa, like the Durant sofa from CB2, is the perfect foundation piece. The soft wheat color and velvet texture give the sofa a luxurious feel while also adding warmth to the space.
In lieu of a typical side table, I've chosen a set of nesting drink tables for this design. This set of off-white nesting tables from Joss and Main offer a beautiful blend of style and functionality, and are a great way to add surface space while also keeping the design feeling light and open.
When seating is tight, I love to recommend pieces like small ottomans or floor cushions for a casual seating situation. They can be so ideal for families with kids when there's more of you than chairs and couch space! For this design, I'm loving these patterned jute cushions from France and Son. The organically-textured pillows offer the perfect mix of comfort and casual style, and can be easily moved around the room to accommodate different seating arrangements.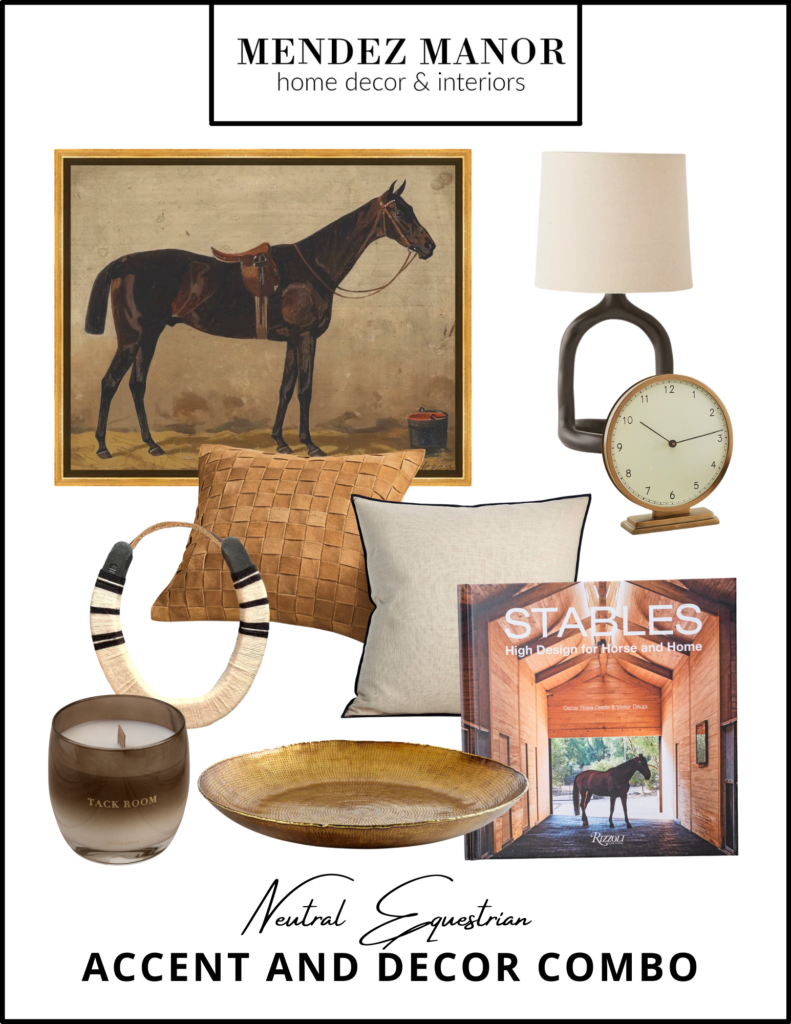 Shop The Look
Click the images above to shop each item. This post contains affiliate links.
To tie in the equestrian theme, a few choice accessories are more than enough to supplement the vibe! A statement piece of art like this large-scale horse canvas print from Wayfair and this yarn-wrapped horseshoe wall décor from Etsy are great low-key choices. While the art is large, the subject matter is so classic, making it casual enough to fit the decor. These pieces add just the right touch of equestrian influence without overwhelming the rest of the design.
Overall, an equestrian-style living room design offers an eye-catching blend of elegance and comfort, making it the perfect space for entertaining guests or enjoying a quiet night in with family. Though I sometimes wish I could live in a Ralph Lauren catalogue, these rich textures, warm tones, and subtle equestrian accents will have to satisfy my dreaming for now!
Online Interior Design
Like what we did with this space? We offer flat rate online interior design packages and would love to help with your space too. Check out our Get Started page to see how we can work together!
You will have direct access to lead designer, Nicole Mendez throughout the whole process. Multiple revisions are included with each package to ensure you are completely happy with the end result!