We just started a dining room refresh here at home, and since I had to order it sight unseen, I thought it would be helpful to post a Pottery Barn Portola Dining Table review.  A review like this would have been helpful for me when making my decision. It's always a little risky when having to order furniture items that you can't see in person first. Especially a major piece, like a dining table.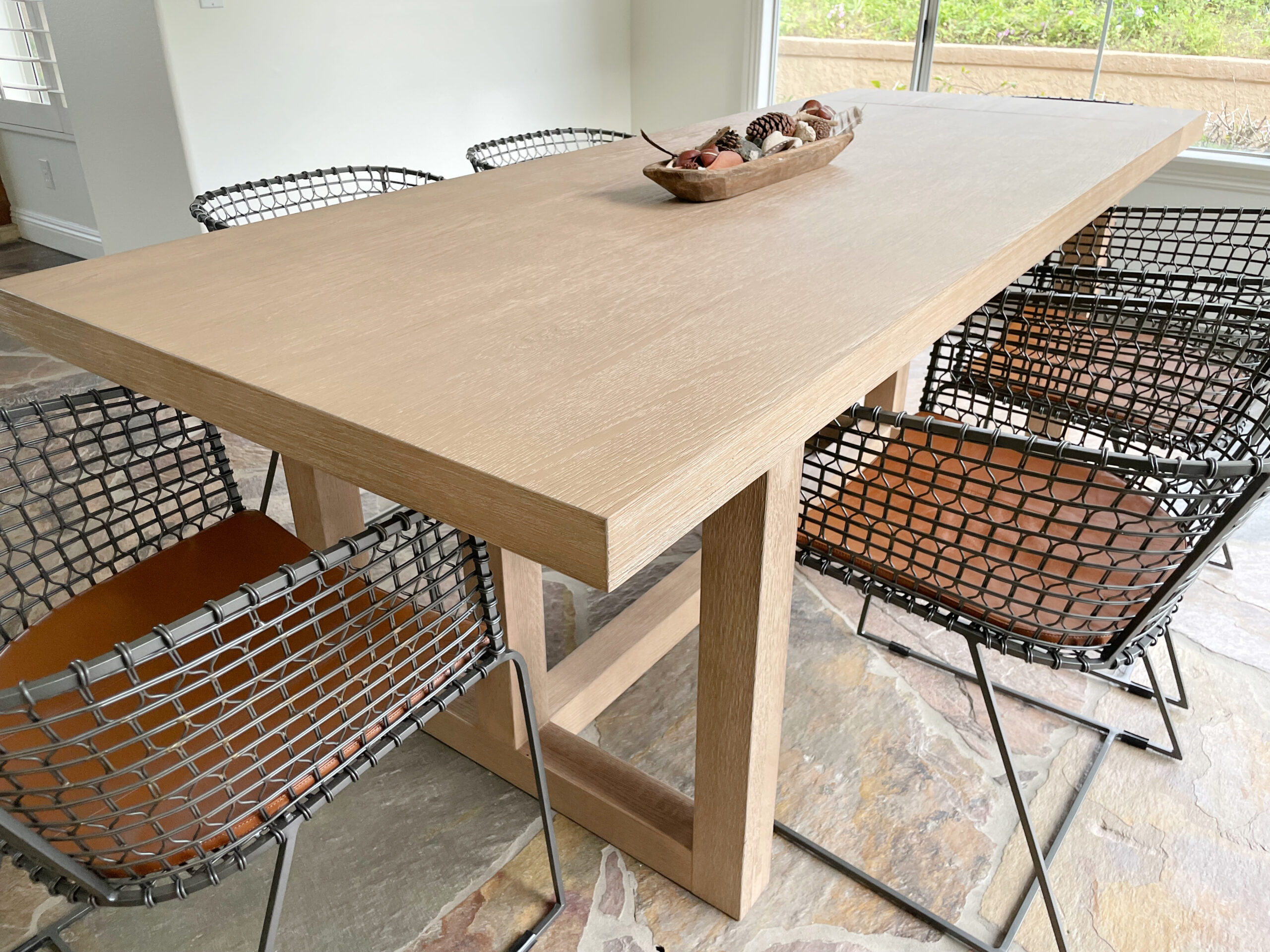 The Portola Dining Table is not in any Pottery Barn store (at least in my area) and a wood finish sample is not available to order. Not only that, but it's the only item that comes in that finish, so I couldn't see it on any other piece they might have had in the store. I basically had to trust my instincts on this one.
I'm glad I did take the risk because it was delivered last week, and I really love the table. By the way, it was the fastest Pottery Barn delivery ever! I had it in my house 8 days after ordering it, which I do believe is a record.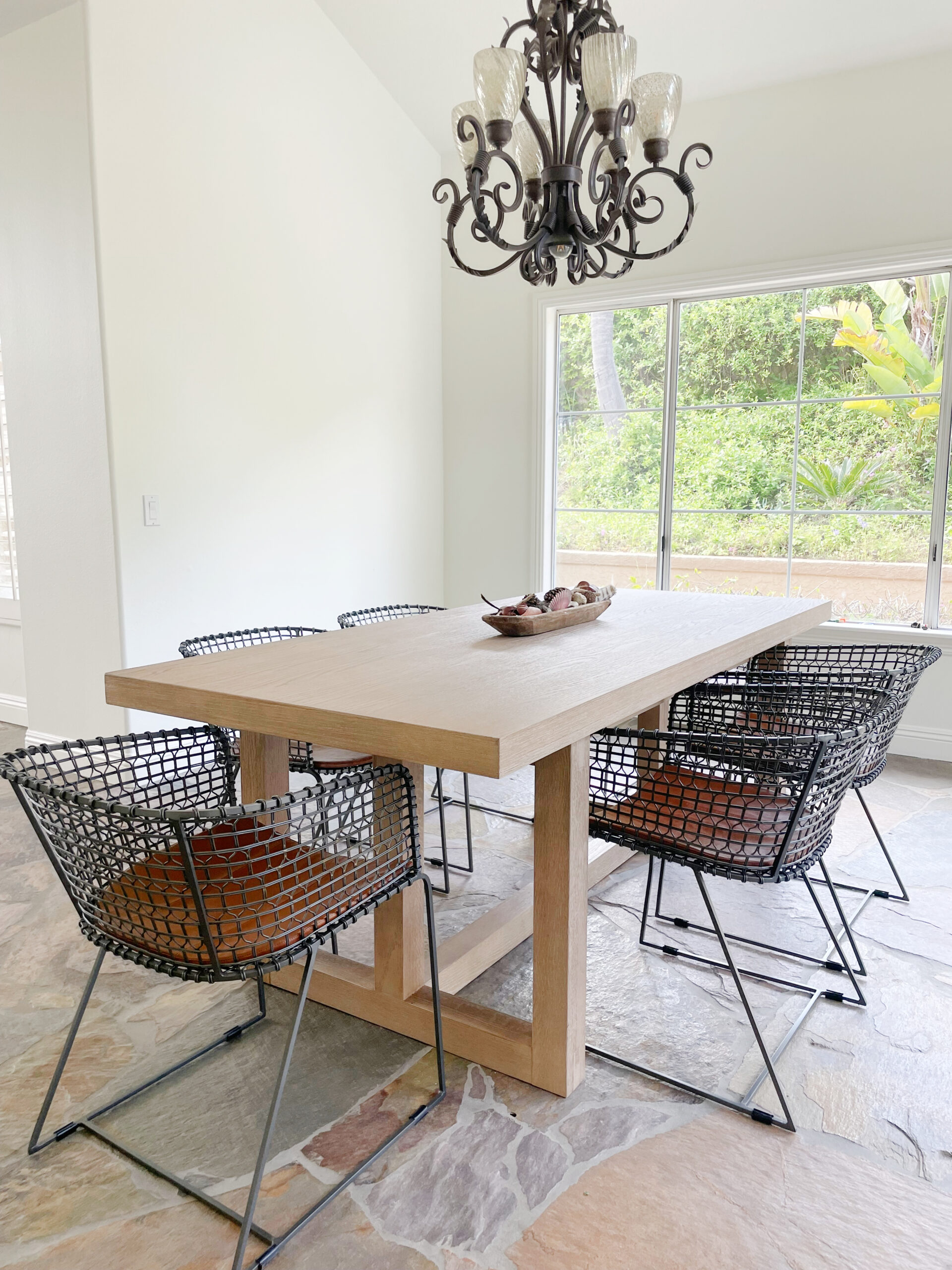 I LOVE the finish color on the Portola Table. The shape is simple, with clean lines, and I personally like how the extension leaves get added onto the end instead of the middle. I also like that the wood grain pattern on the leaves runs in the same direction as the grain pattern on the main table, which is actually rare to find! The finish color is a perfect shade of light brown, not too orange and not too gray.
The photo below shows the table with one extension put in. I had the delivery crew put in one leaf just to show me how it works and make sure I could fit an extra chair on the end. With both extensions in I will be able to seat 10 people!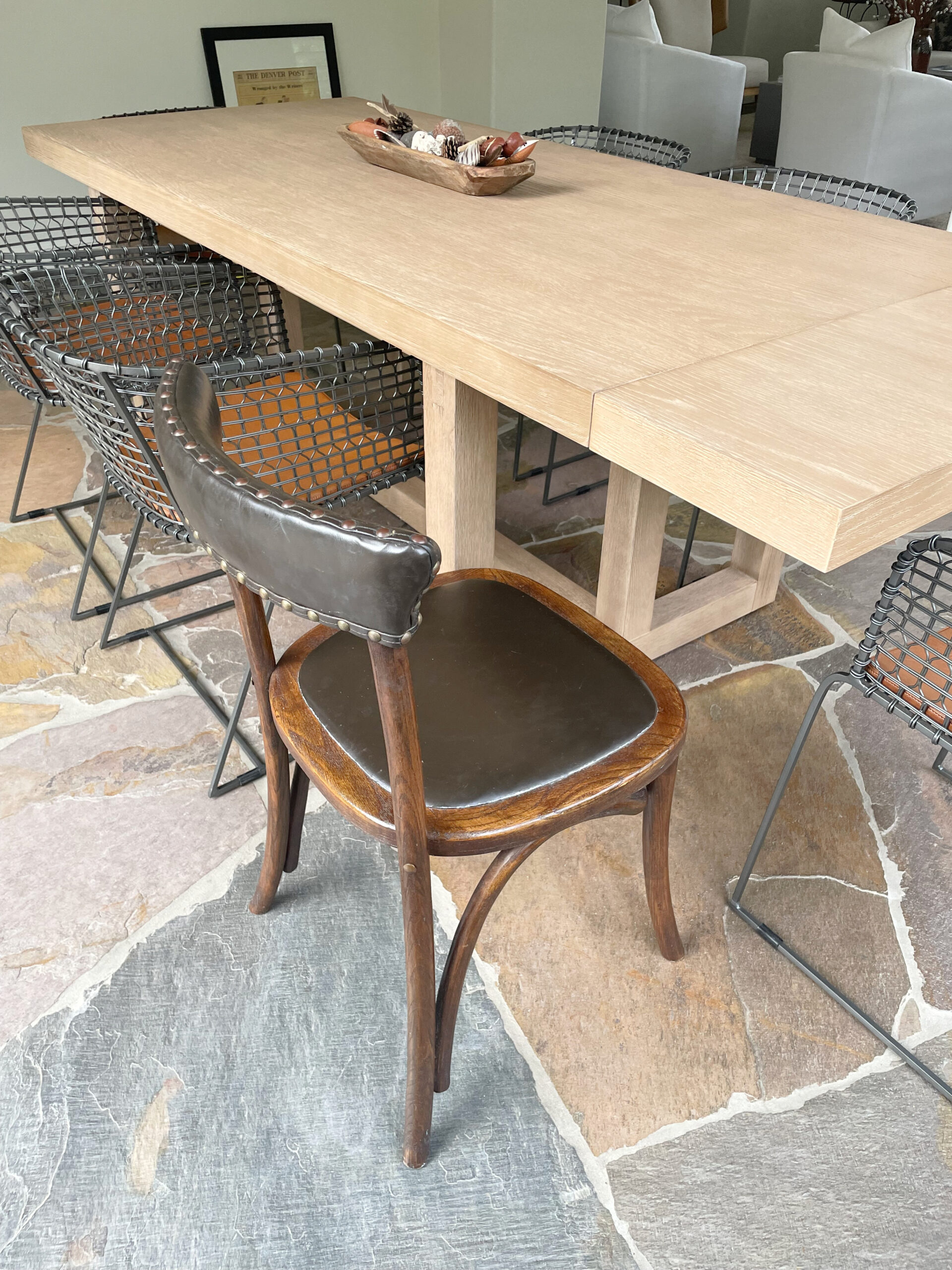 Portola Table Size:
Overall Unextended: 80″ l x 36″ w x 30″ h
Overall Extended: 104″ l x 36″ w x 30″ h
Distance Between Legs: 48″ at sides; 22″ at head
Pros:
The direction of the grain pattern on the extensions matches the grain pattern on the main table.
The extensions get added onto the end of the table, so there's no crack in the middle.
Beautiful wood grain texture!
Table base is adjustable for an uneven floor.
Cons:
The extensions don't come with a storage bag. I had to go out and purchase a container for keeping them protected in storage.
The table base comes all the way out to the edge of the table, so the chairs must sit inside the legs. This means that they can only be separated as far as the legs will allow. When the extension is in, an extra chair will need to sit on the other side of the leg. So basically the chairs are only minimally adjustable within the length of the table.
Close-ups:
I thought these close-up photos might be helpful in making your decision if you are considering the Portola Dining Table from Pottery Barn. Feel free to reach out if you would like a close-up of anything specific and I'll personally try to help you out.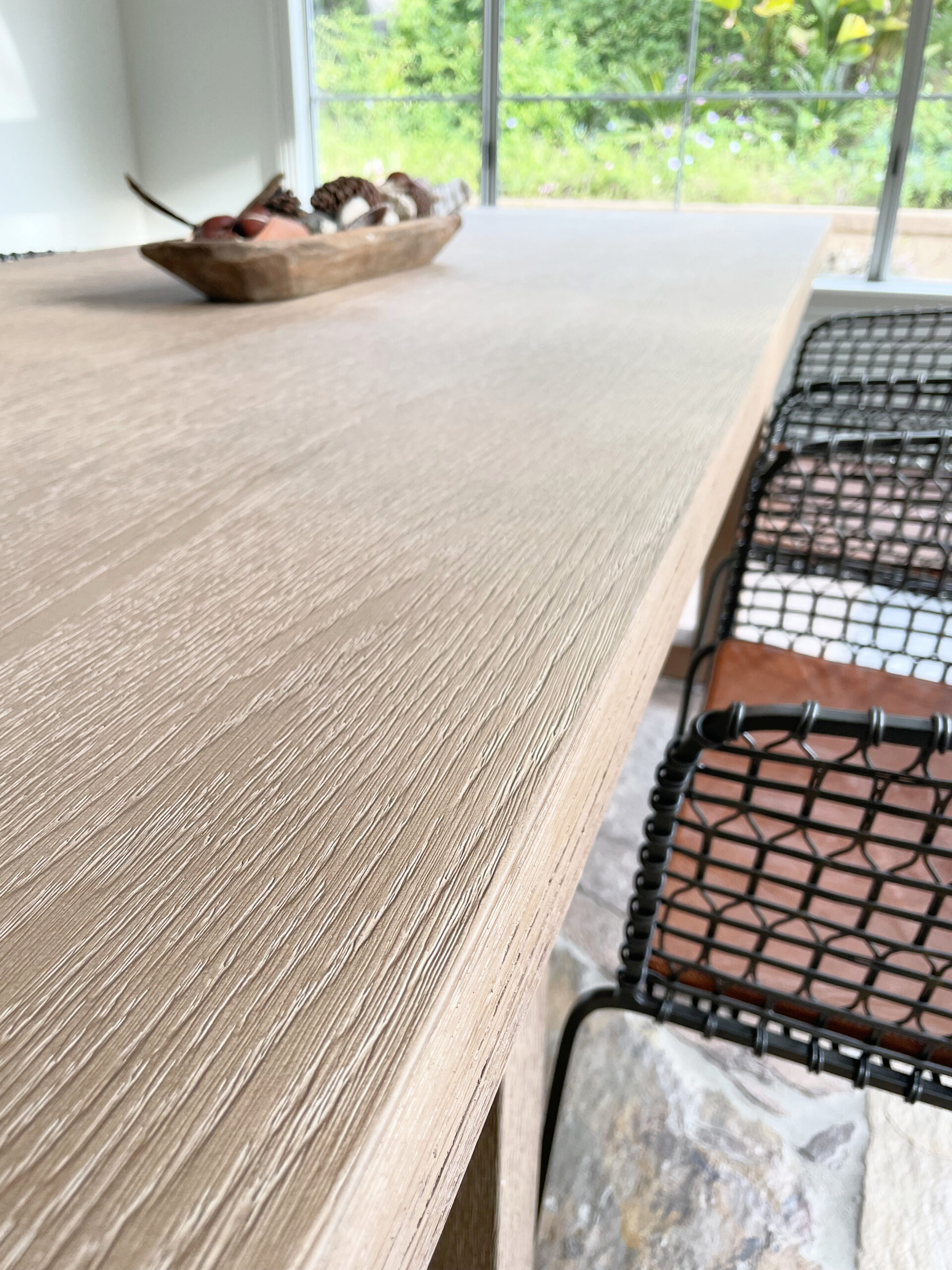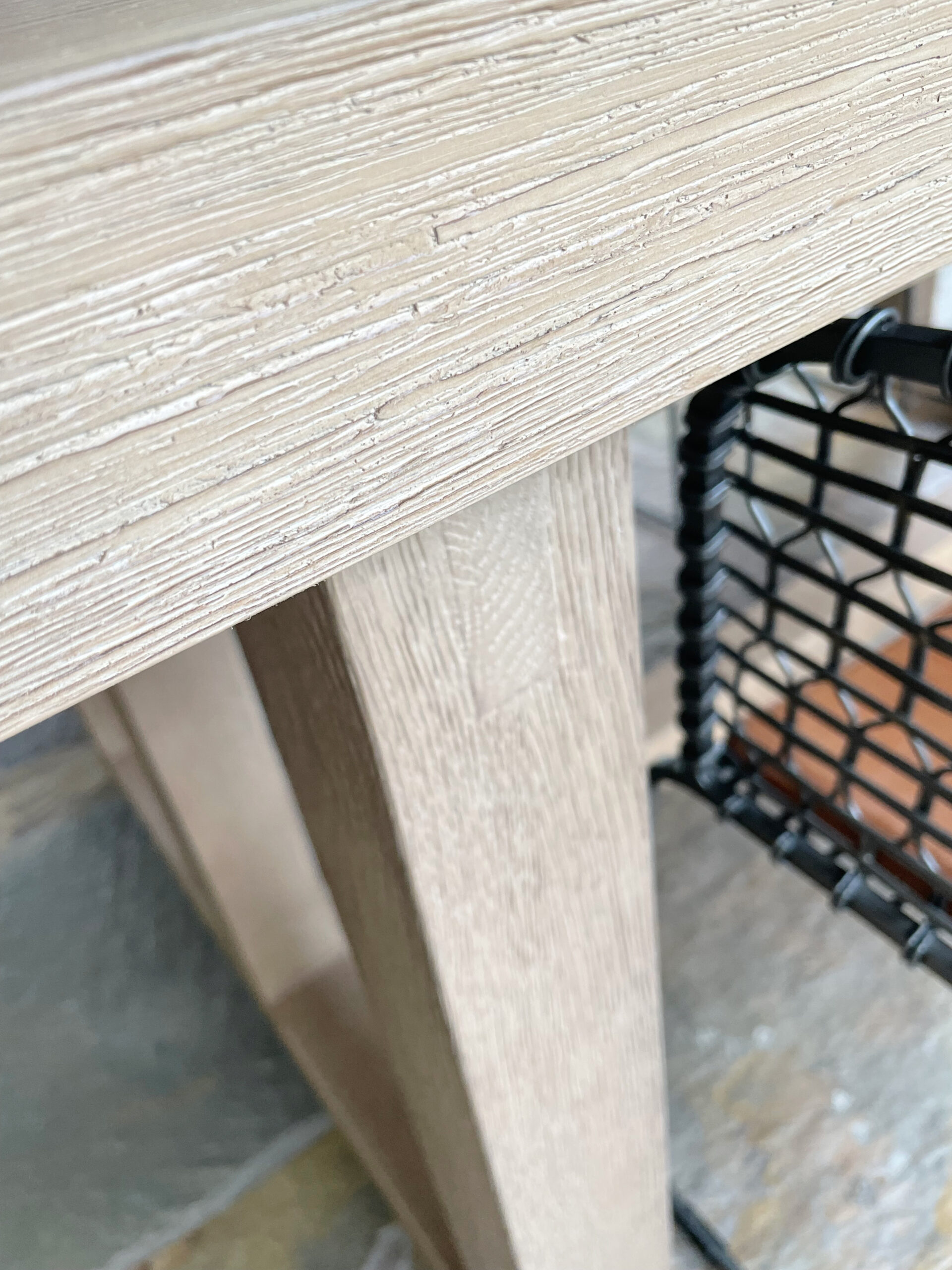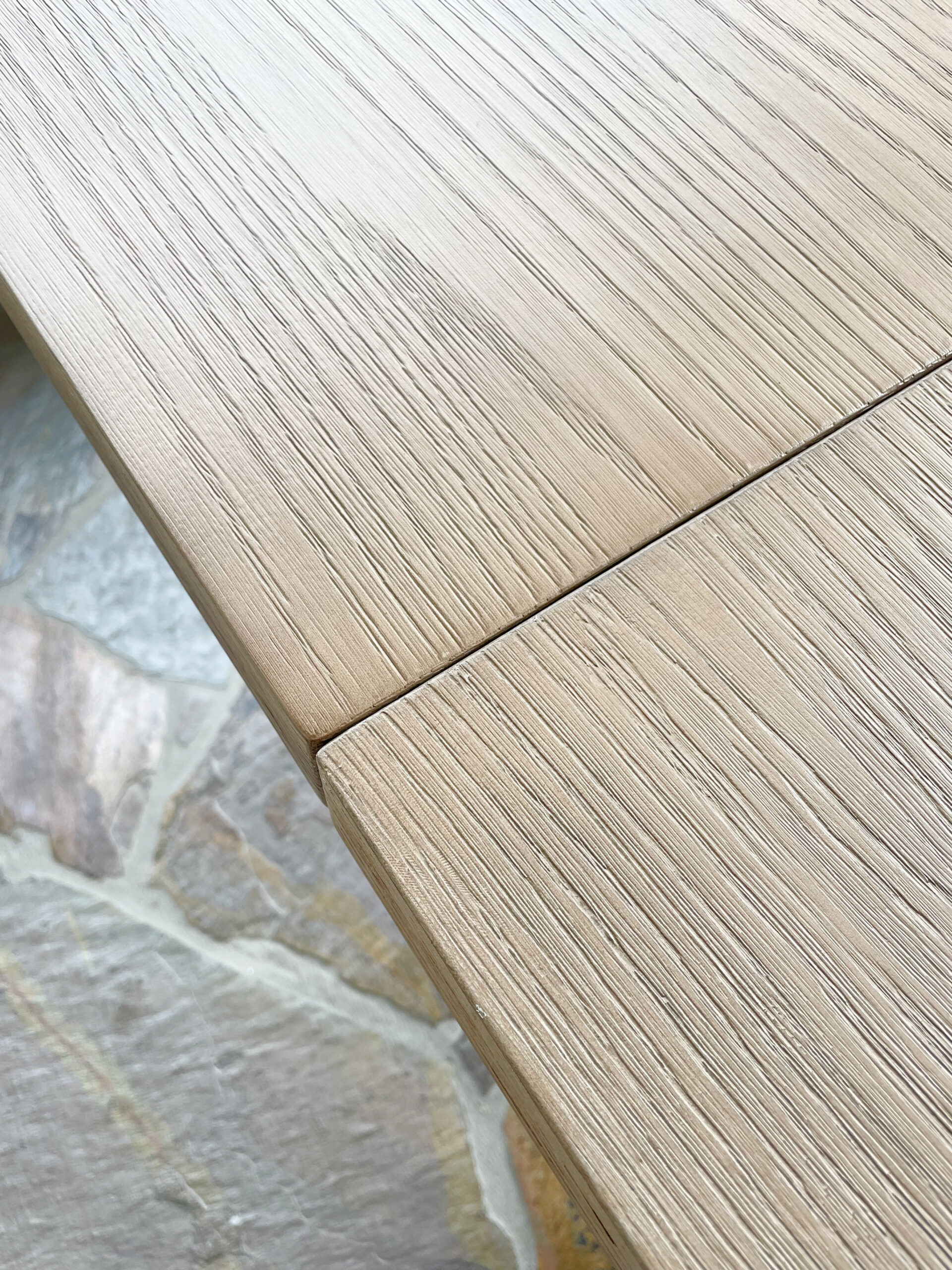 Since the table extensions didn't come with a storage bag I went to Lowe's and purchased two large plastic bins. They are the perfect size and I'm linking them here for your reference. Also, the chairs here are the Tig Metal Dining Chair from Crate & Barrel. I'm not posting a full review on them because they are available in-store to check out in person. However, I will say that I absolutely love them!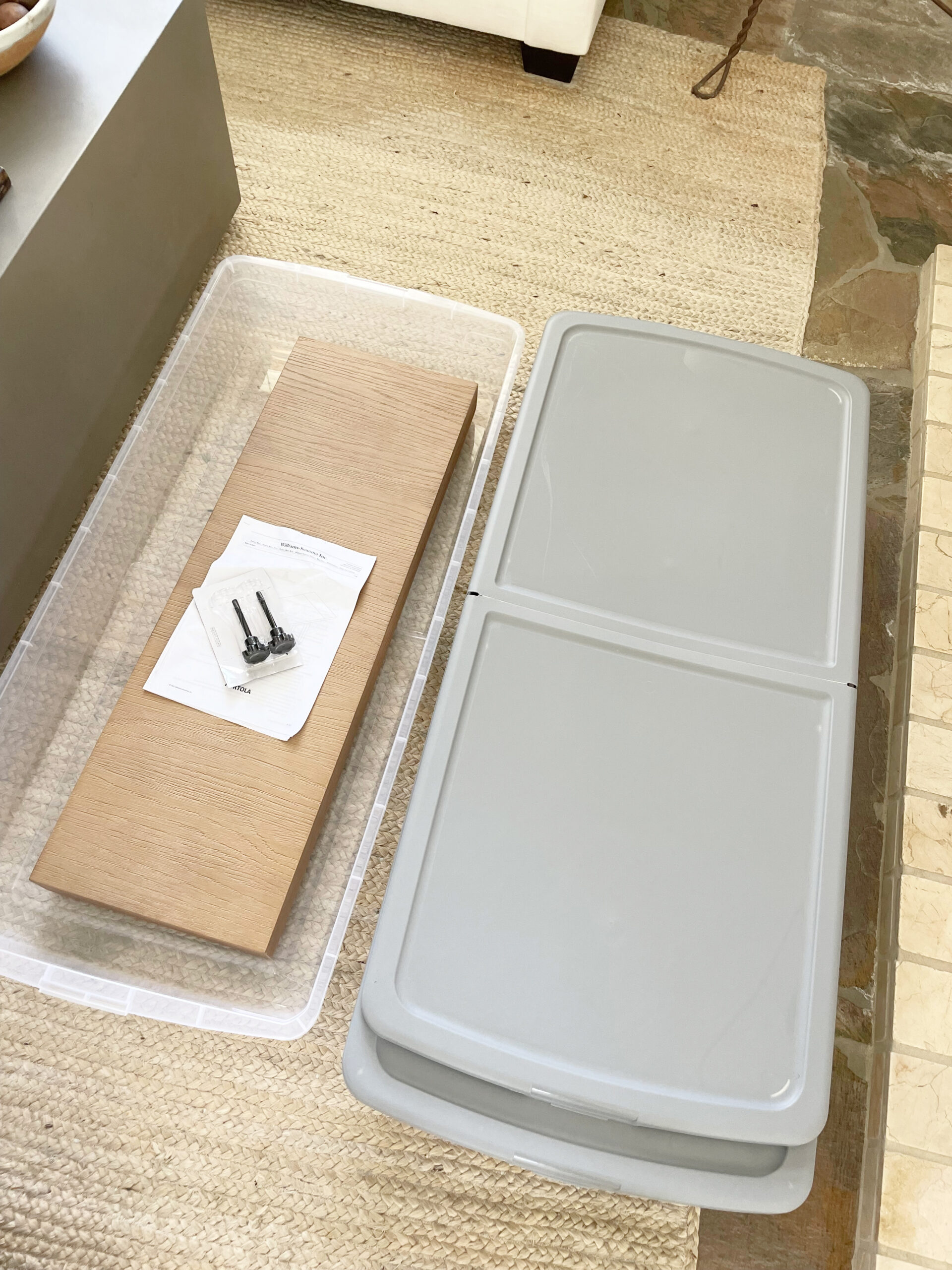 I hope you find this review helpful if you are considering this particular dining table. Feel free to reach out if you have any specific questions that I have not addressed here. You can always shoot me an email or connect with me on Instagram! Also, stay tuned to see the rest of this room come together. I have a concrete console table coming this Friday and a buffet cabinet that I will turn into a wet bar/cocktail station. In addition I'm searching for a new (more modern style) pendant light for above the table. Can't wait for it to all be finished!
Shop This Post
Click the images above to shop each item. This post contains affiliate links.
Online Interior Design
We offer flat rate online interior design packages and would love to help with your space too. Our process is fun and simple! I design, you implement, and together we create a cohesive design plan tailored to your style. Check out our Get Started page to see how we can work together.
You will have direct access to lead designer, Nicole Mendez throughout the whole process. Multiple revisions are included with each package to ensure you are completely happy with the end result!