Shop The Look
Click the images above to shop each item. This post contains affiliate links.
Is anyone else in the mood for a coffee table styling and accessories overhaul? With the changing of seasons, it's natural to feel the urge to switch up your decor. I'm not only talking about seasonal decorations — I'll take any excuse to freshen up parts of the home. Start with your coffee table and follow our guide to style it perfectly with a California Casual vibe.
Round coffee tables offer endless styling possibilities. In this guide, we'll explore three different approaches to styling based on shape – maximalist, minimalist, and everything in between – so you can find the perfect fit for your personal style.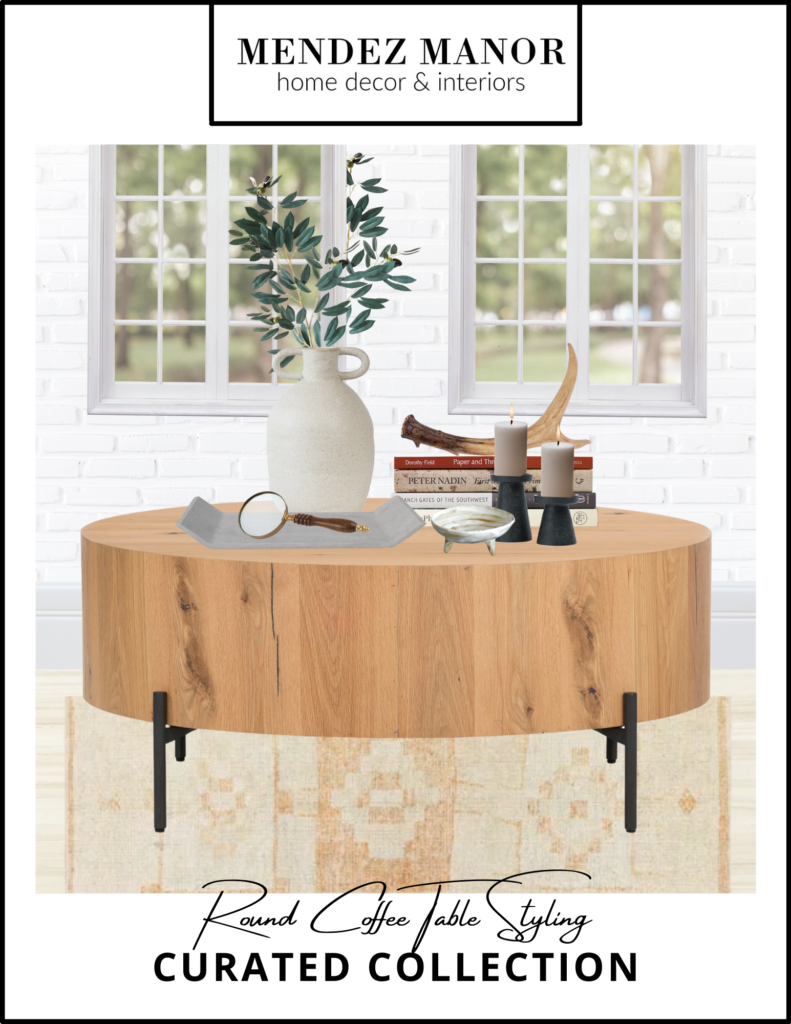 Shop The Look
Click the images above to shop each item. This post contains affiliate links.
Let's start with one of our favorite coffee table arrangements — I'm all for adding in pieces full of style and personality! How cute is this antler accessory for on top of this book stack? This creates a clear zone on the table and gives it an organized appearance. The concrete tray is a practical addition and can be used like a giant coaster. To enhance the natural look, include a vase of branches. Tying the white of the vase into other parts of the table, we've added this little distressed bowl.
For those who prefer a maximalist approach to decorating, it can be tricky to add accessories without making things look cluttered. However, we have some great tips and tricks for coffee table styling and accessories to help you pack in the decor while still keeping things tidy.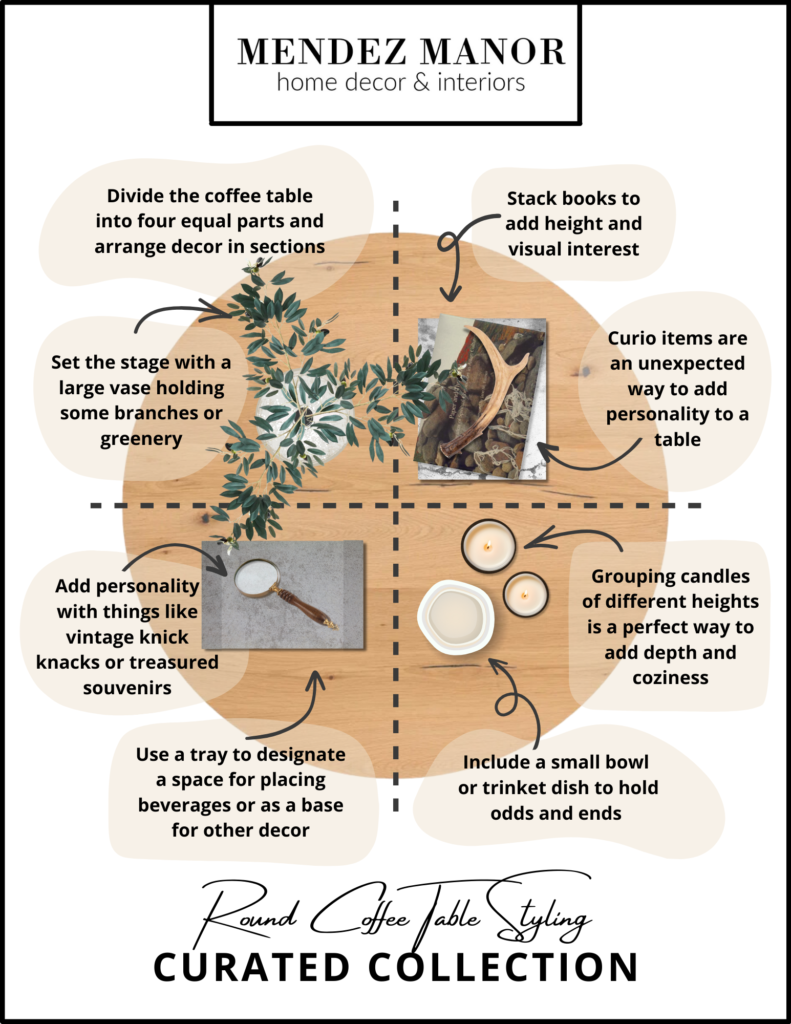 Divide the coffee table into four equal parts and arrange decor in sections
Set the stage with a large vase holding some branches or greenery
Stack books to add height and visual interest
Use curio items as an unexpected way to add personality to a table arrangement
Add personality with things like vintage knick knacks or treasured souvenirs
Use a tray to designate a space for placing beverages or as a base for other decor
Include a small bowl or trinket dish to hold odds and ends
Group candles of different heights to add depth and coziness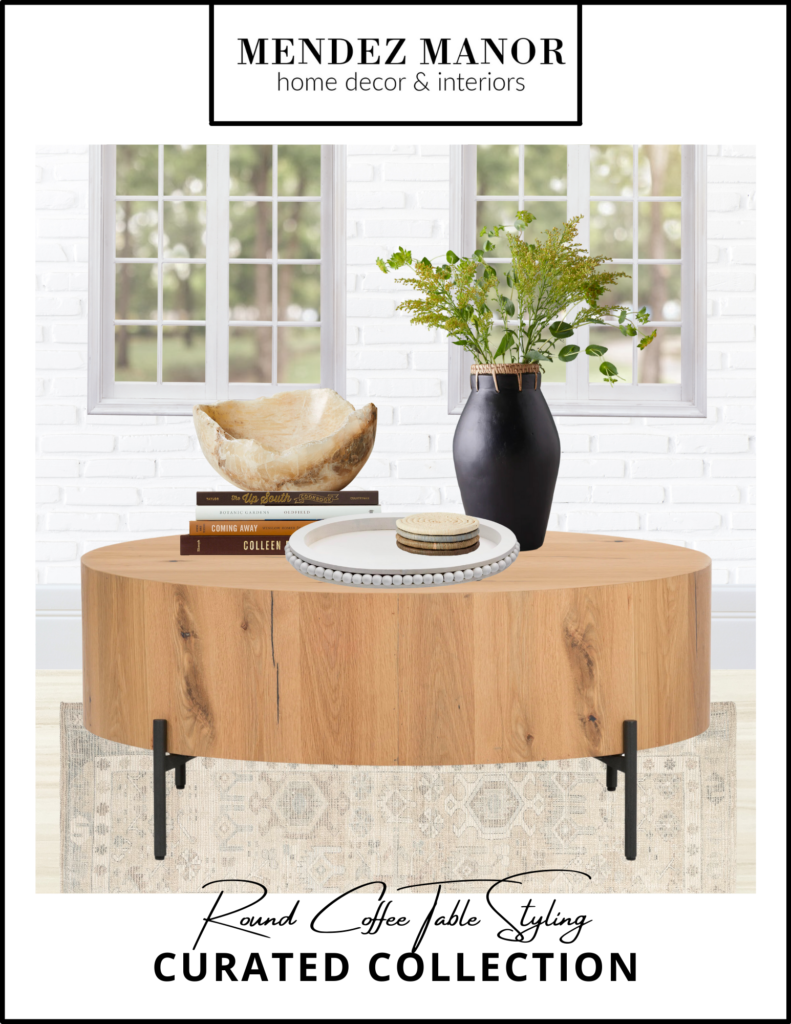 Shop The Look
Click the images above to shop each item. This post contains affiliate links.
Good things come in threes, as evidenced by this straightforward method for coffee table styling! I'm loving these down to earth accents in this effortlessly chic arrangement. A vase with branches or greenery is one of my first go-to tips for sprucing up the tabletop, and I'm in love with this black vase with a woven top! We're keeping the earthy vibes going with this stone bowl from CB2.
This look is perfect and easily achievable for those who are looking for styling that's a little less busy.  Take a look at our diagram below to see how geometry takes all the guesswork out of coffee table styling!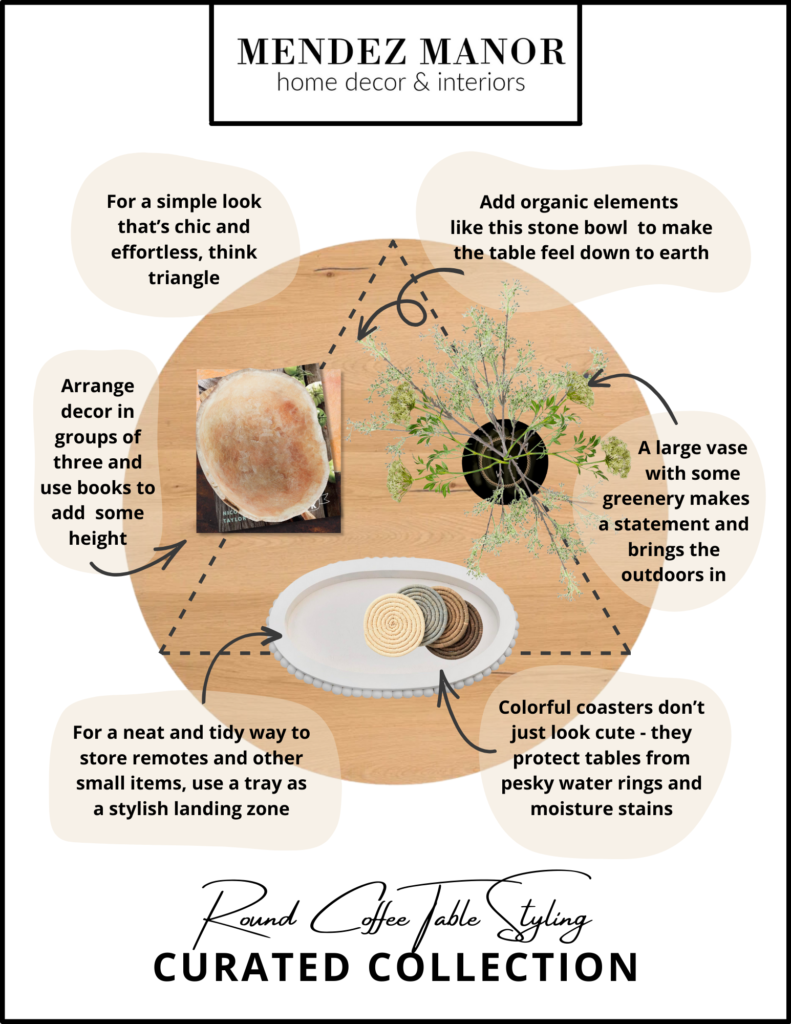 Map out a triangle to use as a guide to nail this effortless look
Arrange decor in groups of three and use books to add some height
Add organic elements to make the coffee table-scape feel down to earth
Use a large vase with greenery to make a statement and bring the outdoors in
For a neat and tidy way to store remotes and other small items, use a tray as a landing zone
Set out coasters to protect your table from pesky water rings and moisture stains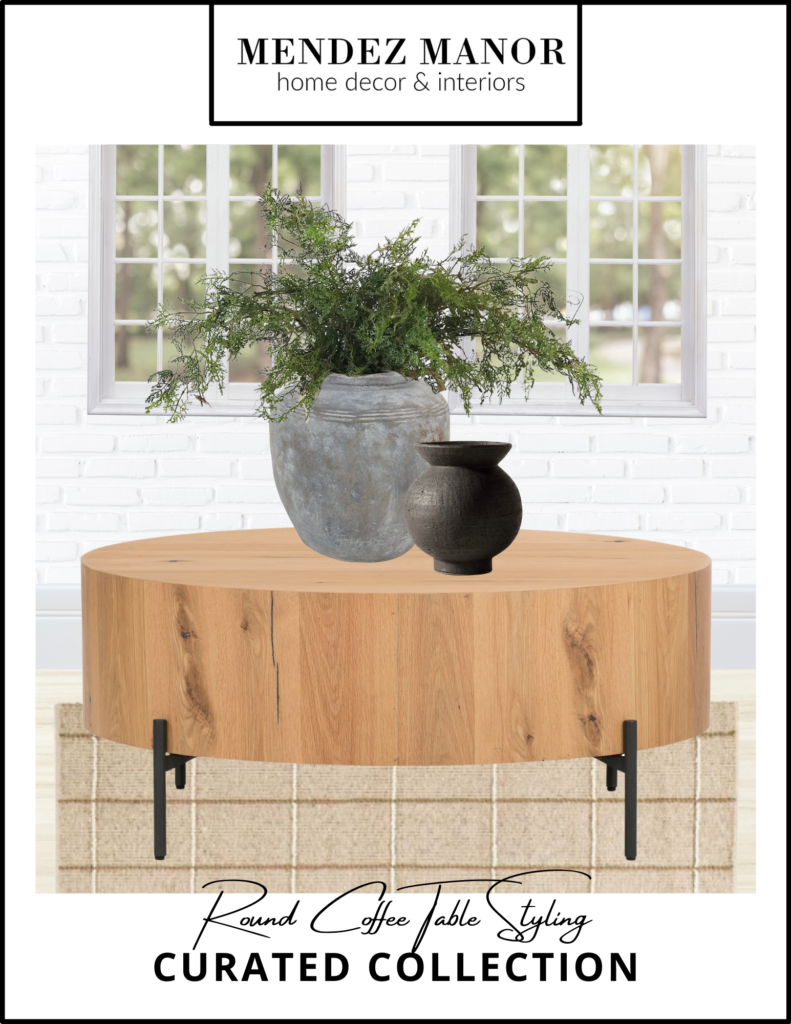 Shop The Look
Click the images above to shop each item. This post contains affiliate links.
To curate a minimalist vibe for your coffee table, all you need are a little greenery and two vases! I love the look of a vase full of greenery paired with something smaller in a different style. This small black contemporary vase from CB2 is a perfect complement to this Afloral distressed concrete option. Below are our straightforward tips for pulling this quick look together.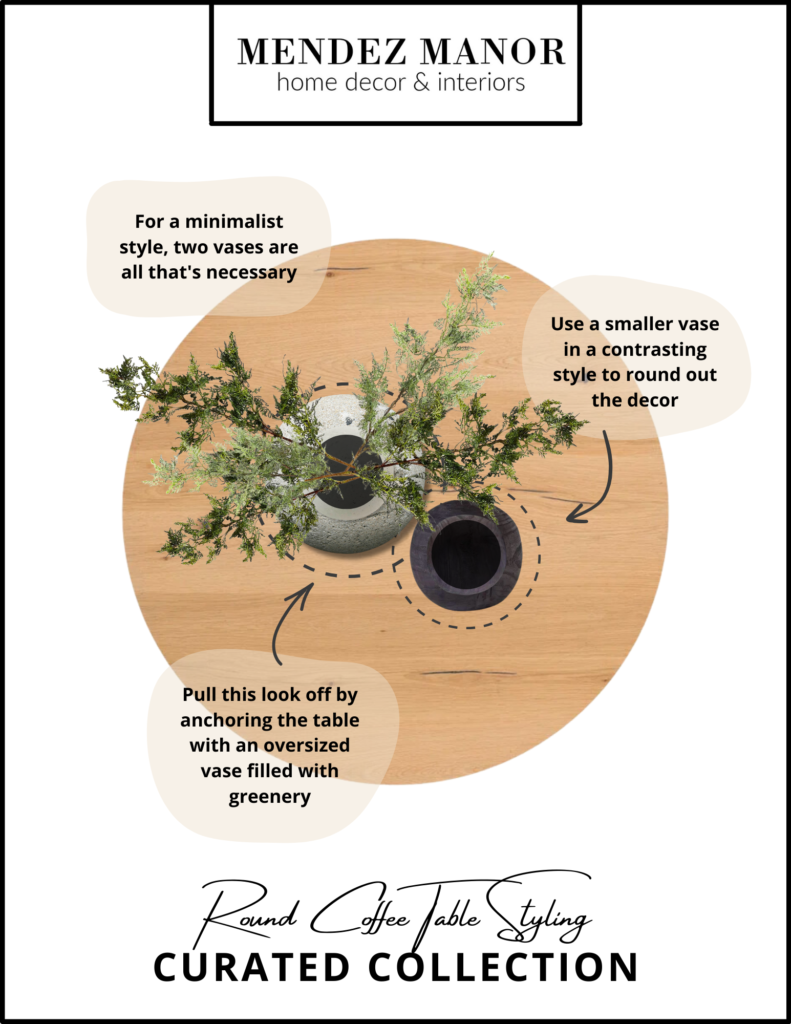 For a minimalist coffee table look, two vases are all that is necessary
Pull this look off by anchoring the table with an oversized vase filled with greenery
Use a smaller vase in a contrasting style to round out the decor
Coffee table accessories and styling don't need to be complicated or a mystery! Hoping that these tips and tricks can give you quick and easy ideas to fill your table and beautify your home. We've pulled together all these accessories in a way where they can be mixed and matched, all to fit a California casual vibe. Whether you're looking to do a complete accessory overhaul or just want to add a little something, we've got you covered!
Online Interior Design
Like what we did with this space? We offer flat rate online interior design packages and would love to help with your space too. Check out our Get Started page to see how we can work together!
You will have direct access to lead designer, Nicole Mendez throughout the whole process. Multiple revisions are included with each package to ensure you are completely happy with the end result!