Fall Decor and Accessories Under $100
Click the images above to shop each item. This post contains affiliate links.
Decorating for fall doesn't have to be expensive! Check out our guide on how to style your console with fall decor and accessories for under $100. With just a few carefully selected pieces, you can create a cozy and inviting atmosphere that's perfect for the season. We've pulled together some budget-friendly fall decor from some of our favorite retailers. Give your console the ultimate seasonal makeover without breaking the bank.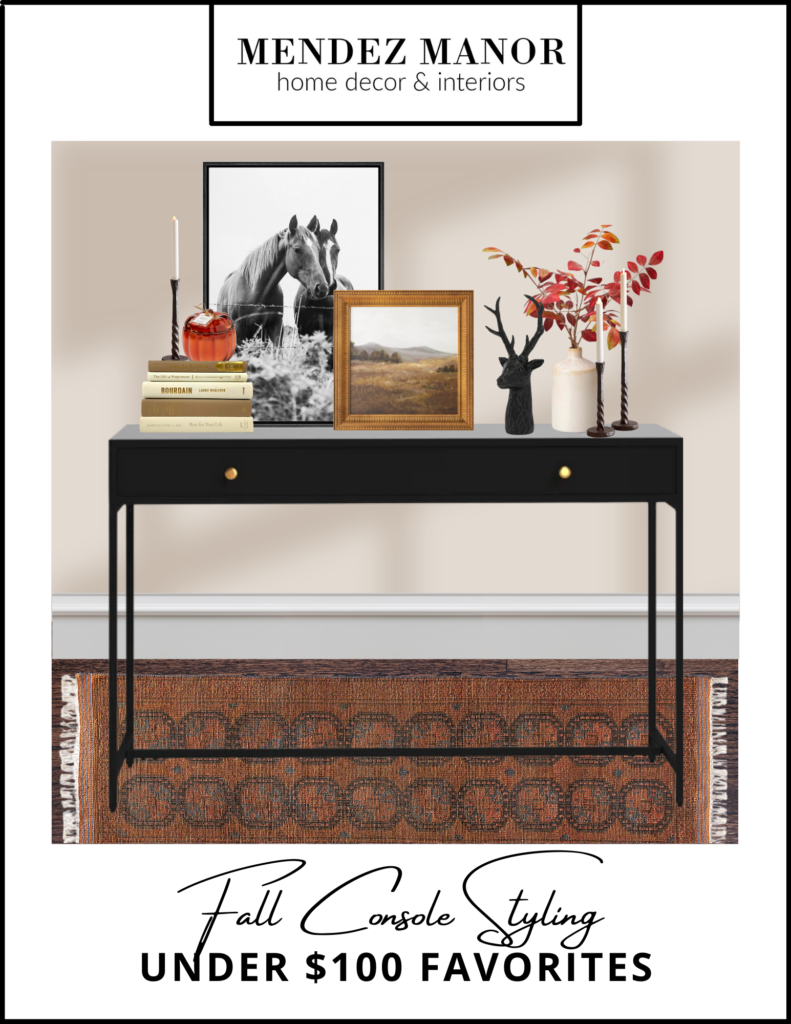 Seasonal Accents and Year Round Style
Click the images above to shop each item. This post contains affiliate links.
Creating a seasonally appropriate decor scheme can be a lot of work. Why not opt for basics that will work throughout the year? Our main art pieces can be tweaked to suit different seasonal vibes, but when combined with specifically "fall" items, they immediately give off an autumnal feel. This approach allows you to keep your home stylish all year long while easily transitioning into the seasonal spirit. Check out how we've styled this console for fall!
A few of my favorite pieces include a charming equine piece, a rustic framed landscape from Target, and small branch arrangements. These budget-friendly pieces are perfect for bringing on the seasonal decor. For another versatile styling option that can be used year-round, try a neutral book stack. And, don't forget to layer up on candles! The coziness they bring is perfect for warming up your home as the seasons change. I love decor that speaks to nature or brings the outdoors in. This cast iron deer head is the perfect little critter to transition from fall to winter – put it up once and leave it up for two seasons!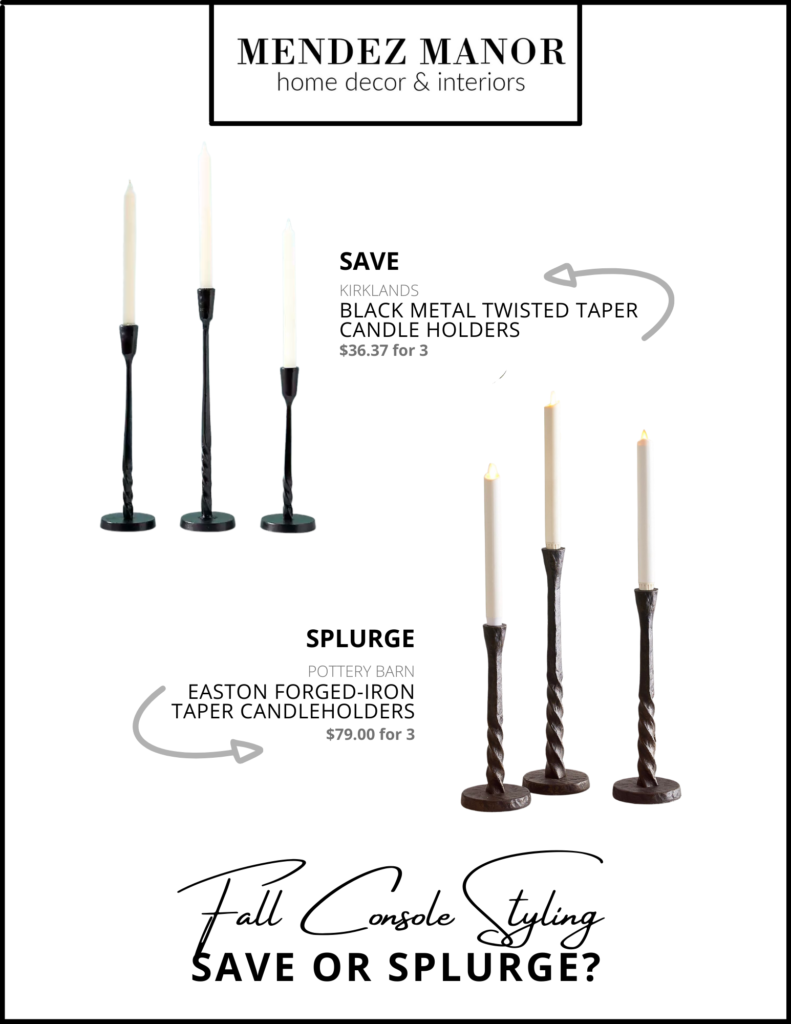 Save or Splurge?: Iron Candle Holders
Click the images above to shop each item. This post contains affiliate links.
Speaking of candles – I stumbled upon these beautiful forged iron candlestick holders from Pottery Barn, but then I saw this similar set from Kirkland's and I can't stop thinking about them! While they may not be as hefty, they can be ordered individually and offer the same look for less than half the price. The twisted iron design adds a cozy traditional touch to any room. While investing in higher quality items is never a bad idea, sometimes finding a similar piece at a lower cost can be just as satisfying. Whether you want to save or splurge, both sets pay off big time when it comes to style!
When it comes to seasonal decor, it's important to strike a balance between festive and functional. By investing in pieces that can work all year round, you can save yourself time and money while still achieving a cozy, seasonal atmosphere. Go ahead and decorate your console with confidence, knowing that these budget-friendly options will create a beautiful fall display without breaking the bank.
Online Interior Design
Like what we did with this space? We offer flat rate online interior design packages and would love to help with your space too. Check out our Get Started page to see how we can work together!
You will have direct access to lead designer, Nicole Mendez throughout the whole process. Multiple revisions are included with each package to ensure you are completely happy with the end result!