So you've done all the hard work – – decided on your undertone, paid attention to your light, and know everything you need to about how to choose the perfect white paint for your home. I stand by the fact that choosing a white paint doesn't need to be complicated, and so I've put together this one stop inspiration shop of designer-approved ten popular white paint colors for interior walls.
When picking a white paint, it's easy to go shade-blind while staring at the subtle differences between color variations. Luckily, we designers love to share, making it simpler than ever to know where to begin! From my own favorite shades to those of other designers that I'm loving, I've rounded up my ten popular shades of neutral, cool and warm white paints for the home.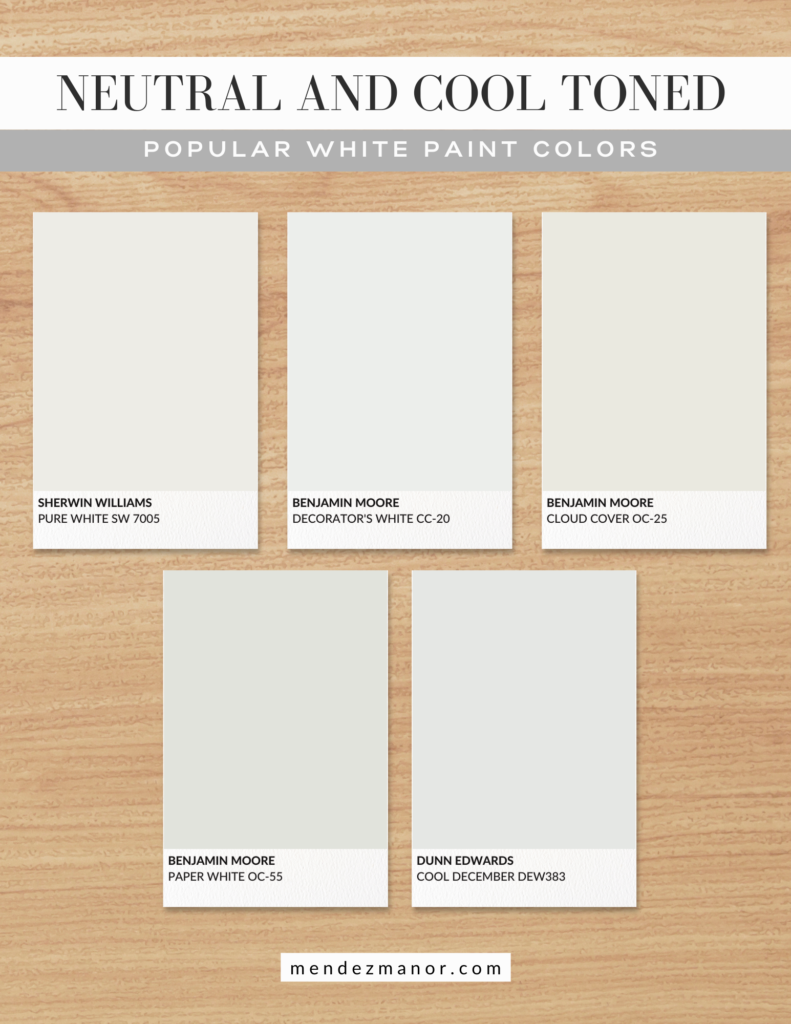 Neutral and Cool Toned Popular White Paints
First up, we're focusing on neutral and cool toned paints. Cool paints can lend itself to a feeling that's bright and energizing, lean into the relaxing vibes of a grey blue color palette, or be used to combat warmer lighting in a room. Below you can see examples of five of my favorites that serve these different purposes in different designs.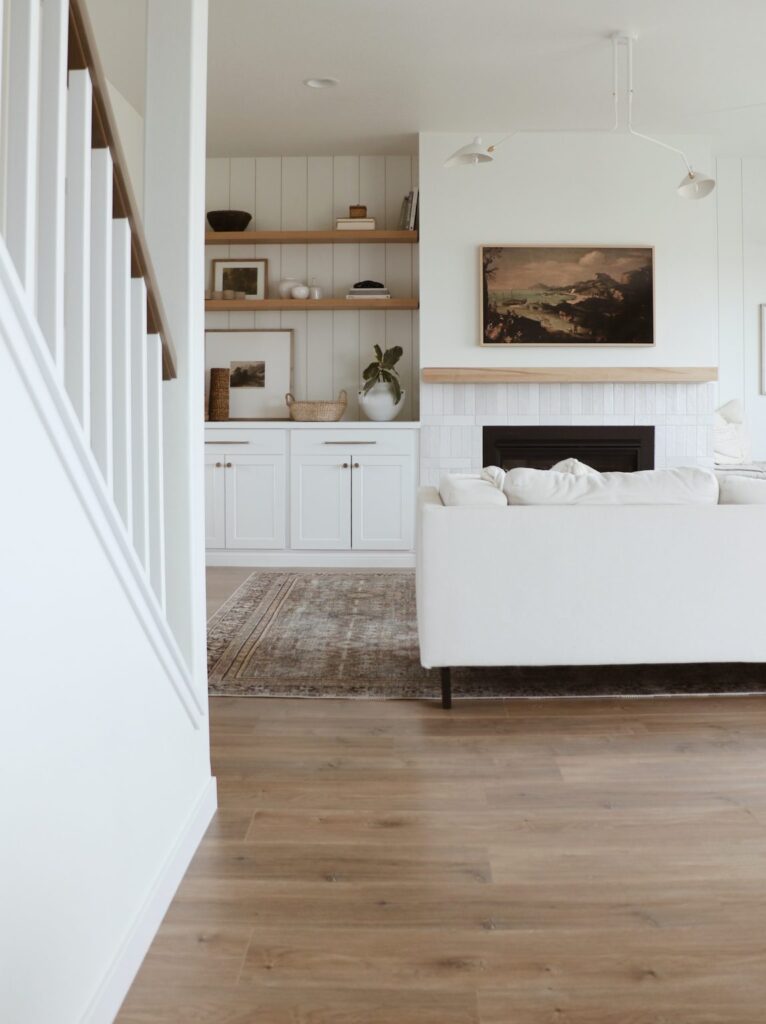 Sherwin Williams Pure White – Chelsey Freng
This is the white paint you'd think of if someone said "think of a white paint!" Sherwin Williams Pure White is one of the brightest and most versatile paints on our list. The tiniest touch of yellow keep this bright white from feeling too stark, but it definitely doesn't lean warm. I'm loving this shot from blogger and decorator Chelsey Freng – she used this shade for a whole home project and has some great additional photos of the color in action on her site.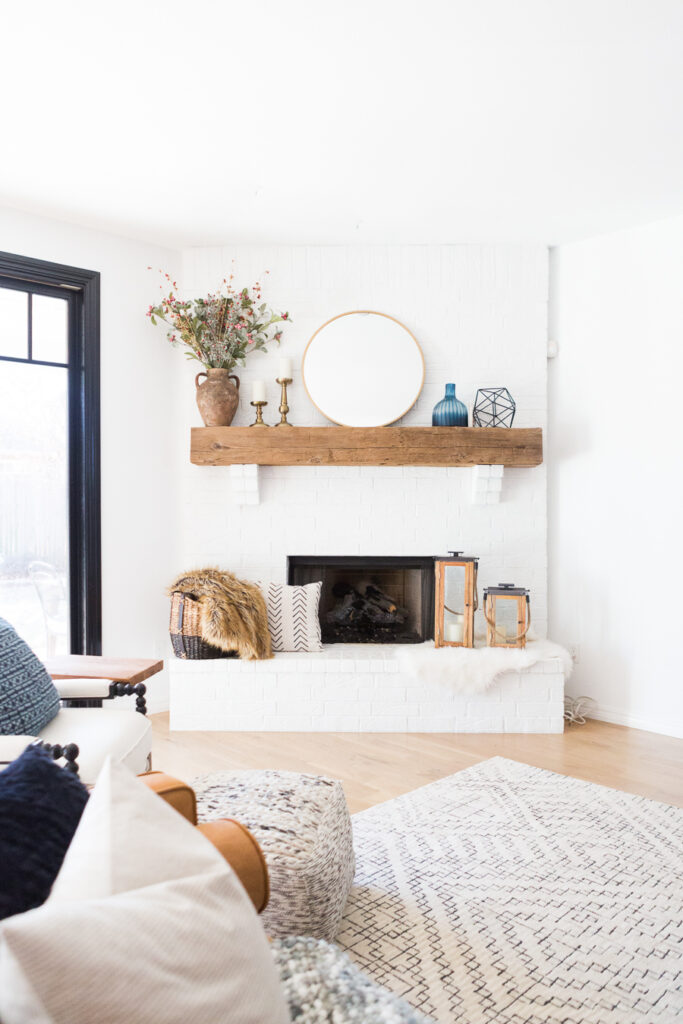 Benjamin Moore Decorator's White – CC and Mike
Another great option for a bright white paint is Benjamin Moore Decorator's White. I'd consider this an icier answer to Sherwin Williams Pure White. While still presenting light and neutral, the absolute slightest hint of grey sets this color apart. Take a closer look at the color in home builders and designers CC and Mike's beautiful farmhouse remodel project.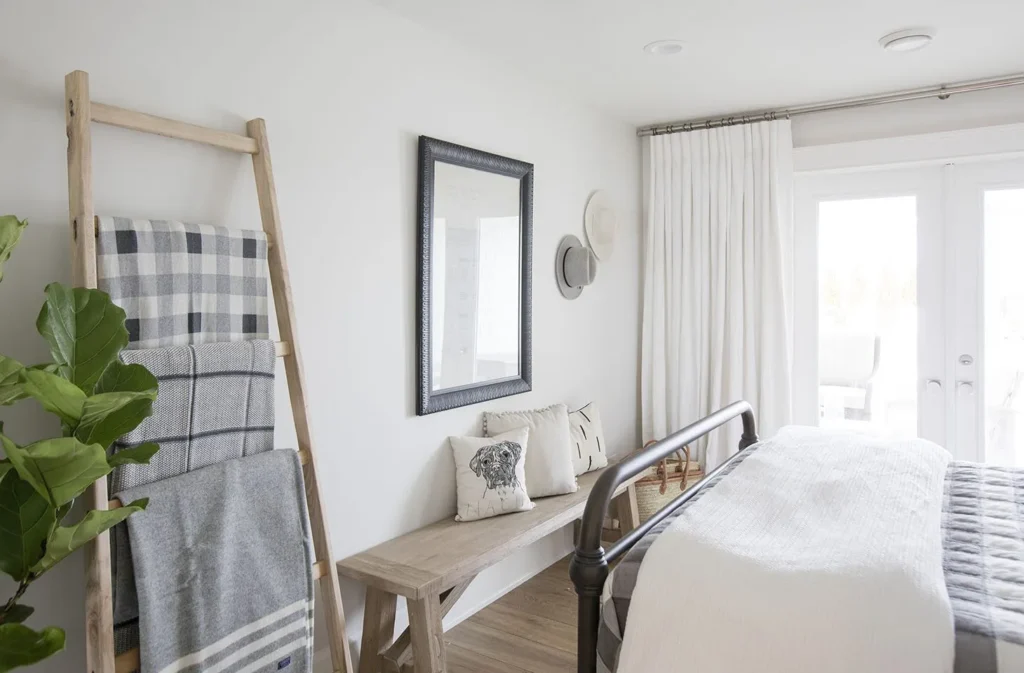 Benjamin Moore Cloud Cover – Jillian Harris
You've probably seen her decorating other peoples homes on your TV, but have you seen Jillian Harris's own home tour?! As seen in this guest bedroom, she uses Cloud Cover by Benjamin Moore as a staple wall color in her home. Subtly shaded with hints of blue and grey, the tone captures the cool and cozy feeling of an overcast day.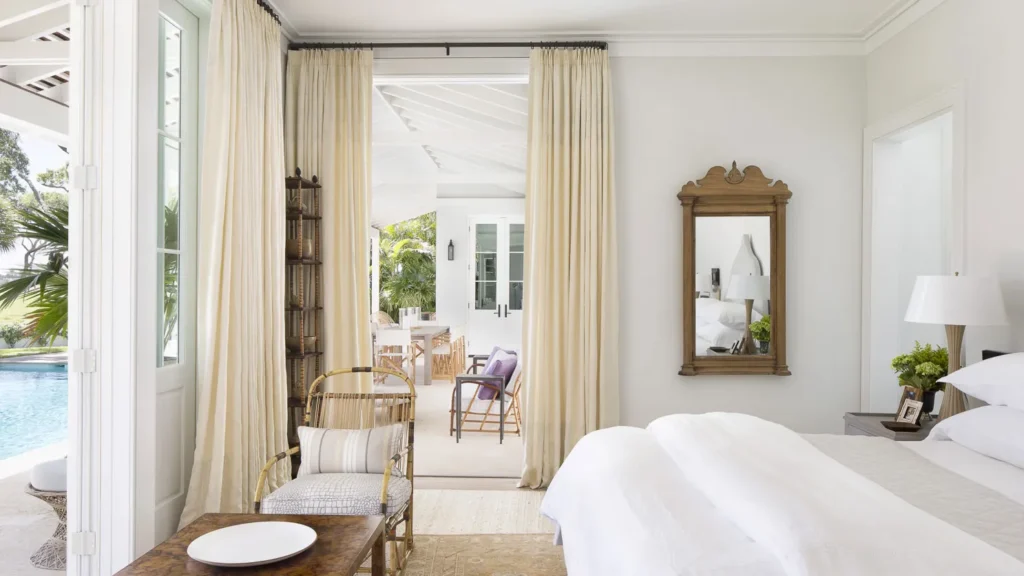 Benjamin Moore Paper White – Olivia O'Bryan
With soft undertones of blue and grey, the aptly named Paper White by Benjamin Moore has the cool crispness of a fresh sheet of paper. In this bedroom design by Olivia O'Bryan, the paint appears as more of a light shadow over white as opposed to a stark white or light grey.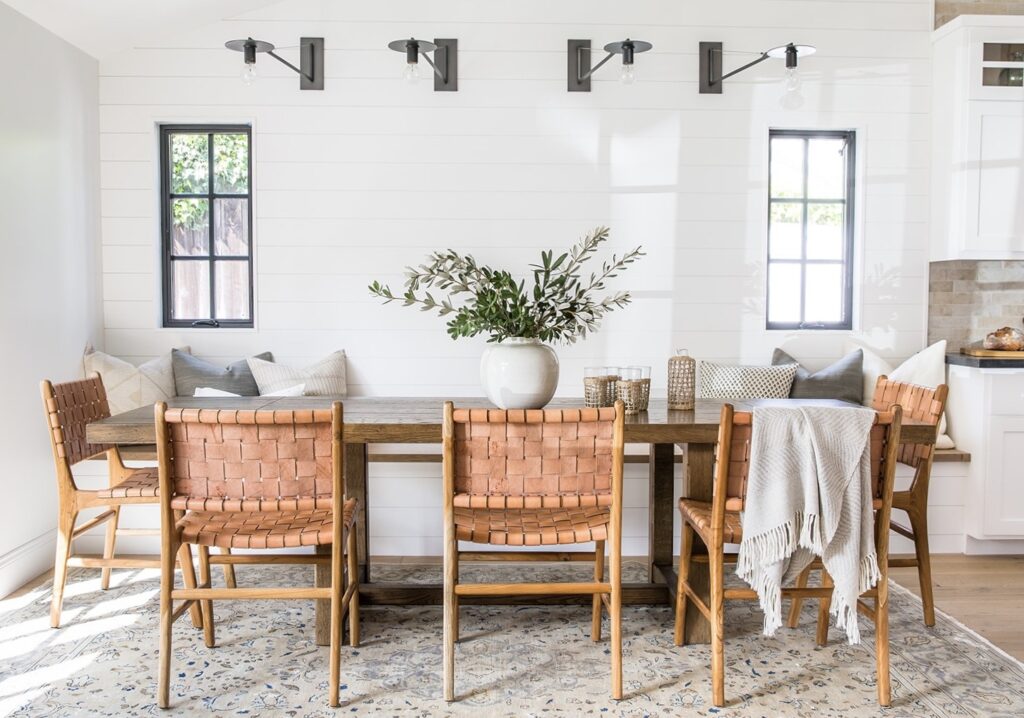 Dunn Edwards Cool December – Lindye Galloway Interiors
Unmistakably cool and bright, Cool December by Dunn Edwards is a perfect white for contemporary spaces. I love how it plays against the warmer and more rustic elements in this modern farmhouse by design studio Lindye Galloway. The cool paint brings an unexpected freshness to the otherwise earthy design.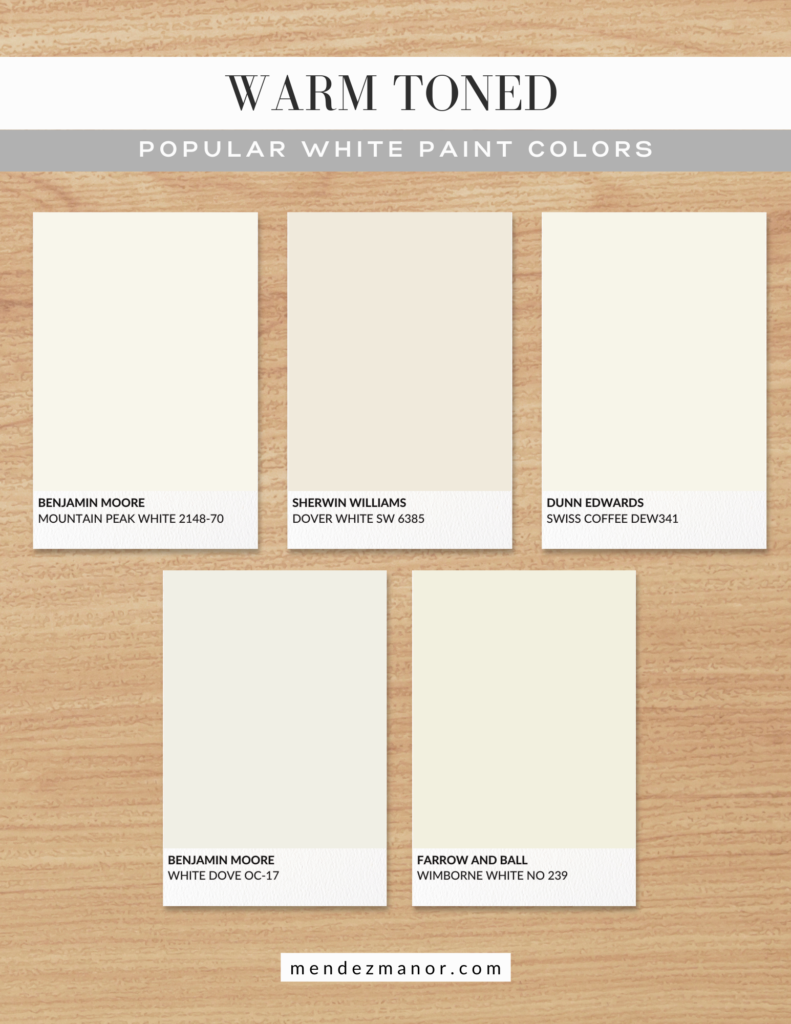 Warm Toned Popular White Paints
Although I'm all about a light and crisp space, my personal preferences for design skew cozy! Warm toned white paints are a popular option for creating a space that feels bright and homey. Whether you're looking to lean into the warmth or compensate for cooler light, these next five paints are industry favorites when designing a cheerful and comfortable home.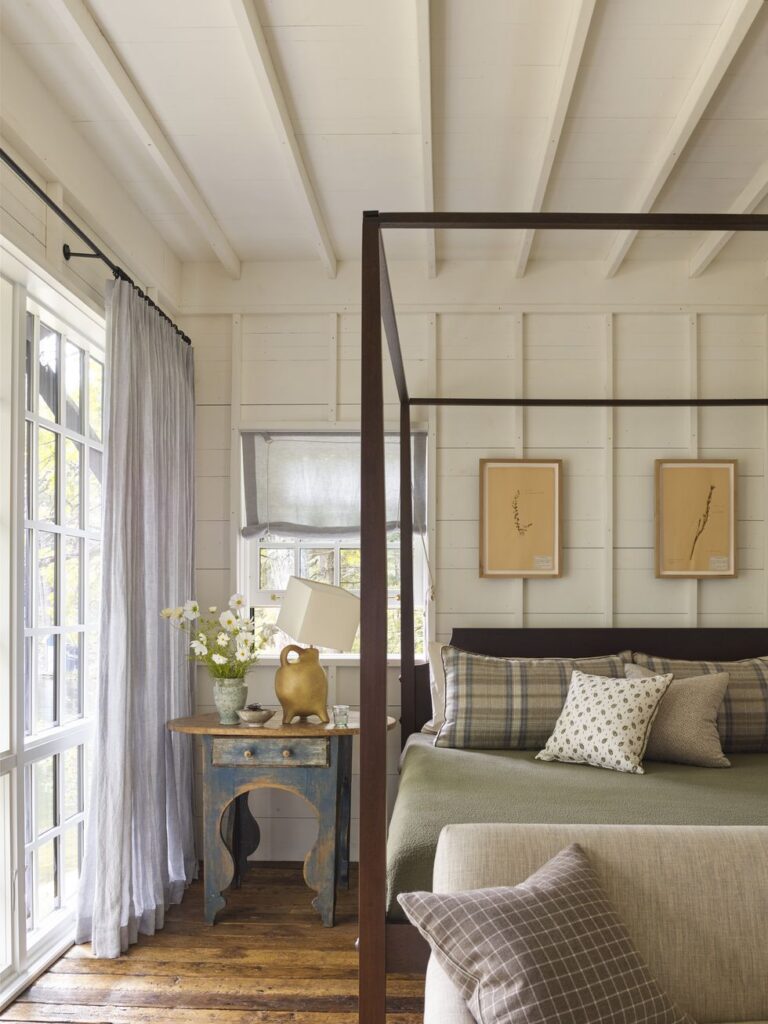 Benjamin Moore Mountain Peak White – Amy Meier
There's something so rich and decadent about the shade Mountain Peak White by Benjamin Moore. The richer ivory is perfect for a warm and cozy bedroom, like the one in this rustic lake house from Amy Meier. I feel like the tone is reminiscent of soft sunshine filtering in through gauzy shades. Does it get any homier than that?!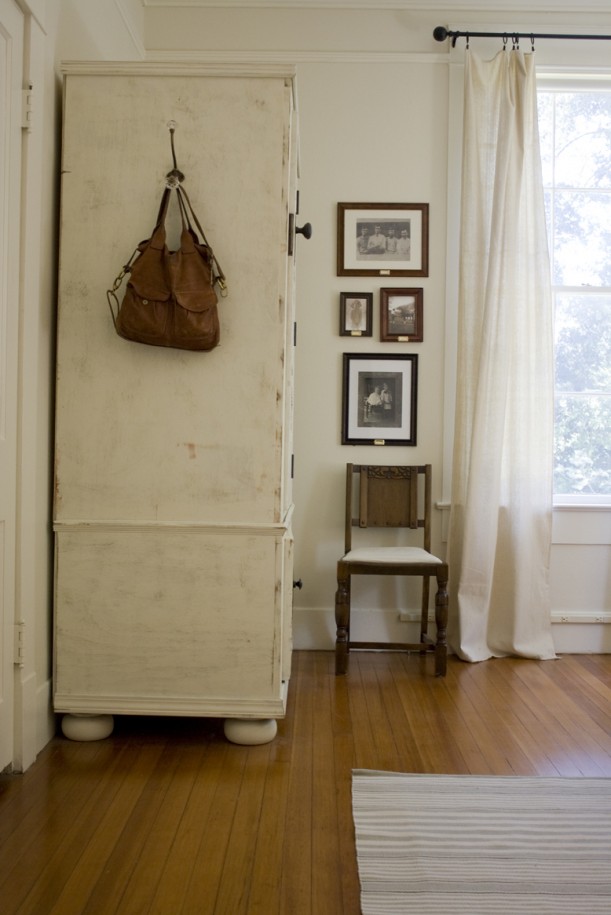 Sherwin Williams Dover White – Erin Napier
HGTV fanatics may be familiar with the work of Erin Napier of Hometown Heroes! Did you know that her go-to white is designer favorite shade Dover White by Sherwin Williams? She says that not only does she use it in her own home, but she loves it so much her design team knows it's approved by default when making decisions in a pinch. I can't say I'd argue with those results!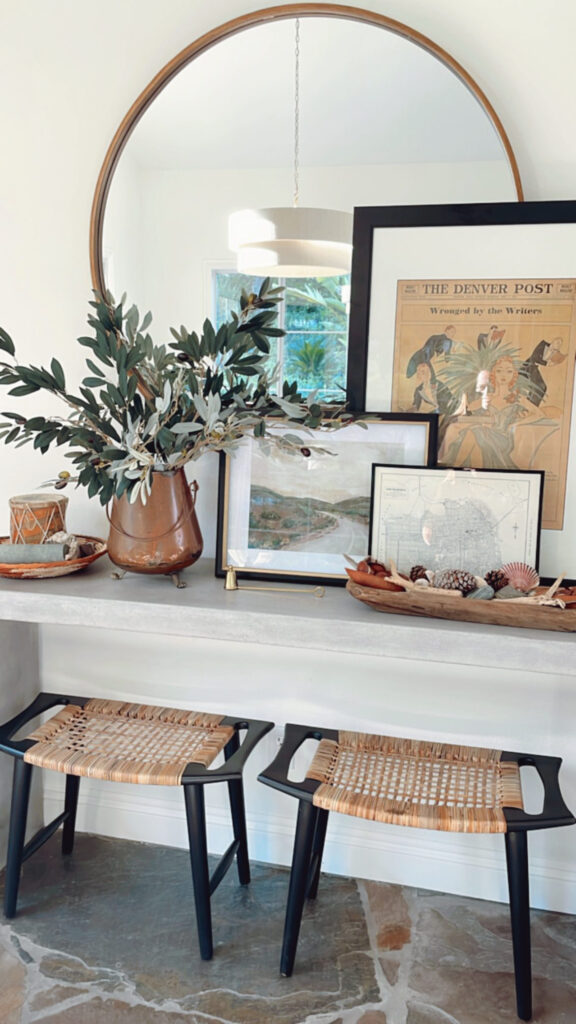 Dunn Edwards Swiss Coffee – Mendez Manor
My personal all-time favorite for a warm white paint is Swiss Coffee by Dunn Edwards. I prefer using crisp whites that lean a little warmer to create contemporary spaces that don't feel stark or cold. Riding the line between warm and neutral, this creamy white paint is as cozy as it is bright. The lightly warm tone is a perfect complement to the greys, browns and earth tones I love to incorporate into my California casual designs.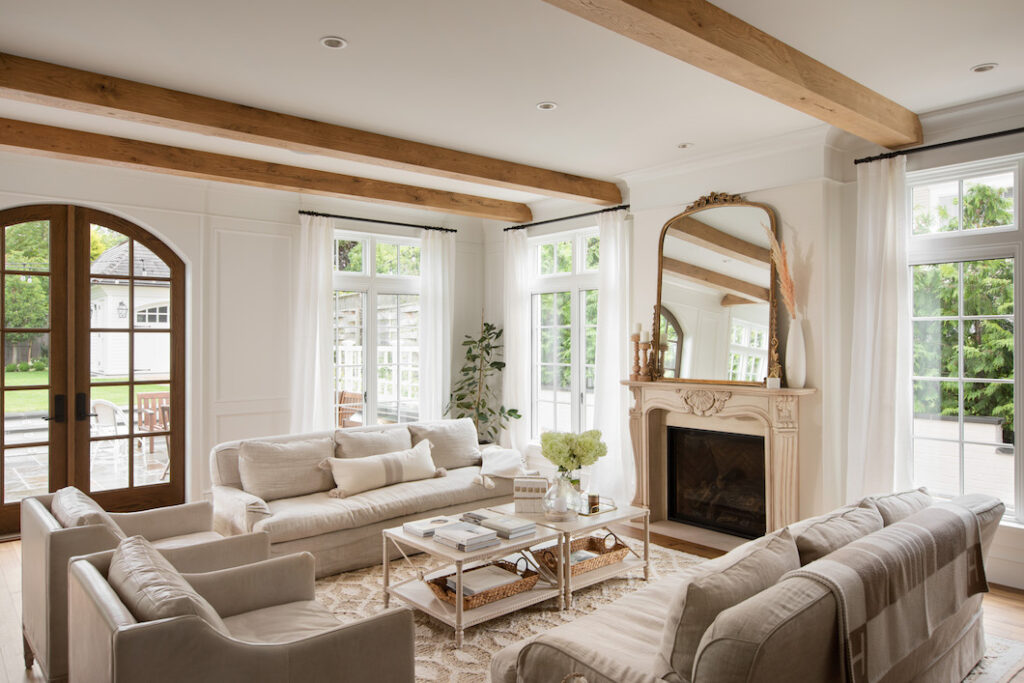 Benjamin Moore White Dove – Cozy & Kin
White Dove by Benjamin Moore is well-loved in the design community for its ability to remain warm without leaning yellow. Greige undertones round out this off-white paint to create a crisp and cheerful neutral. The softness of this paint really shines in rooms with a lot of natural sunlight, as seen in this room by Cozy & Kin.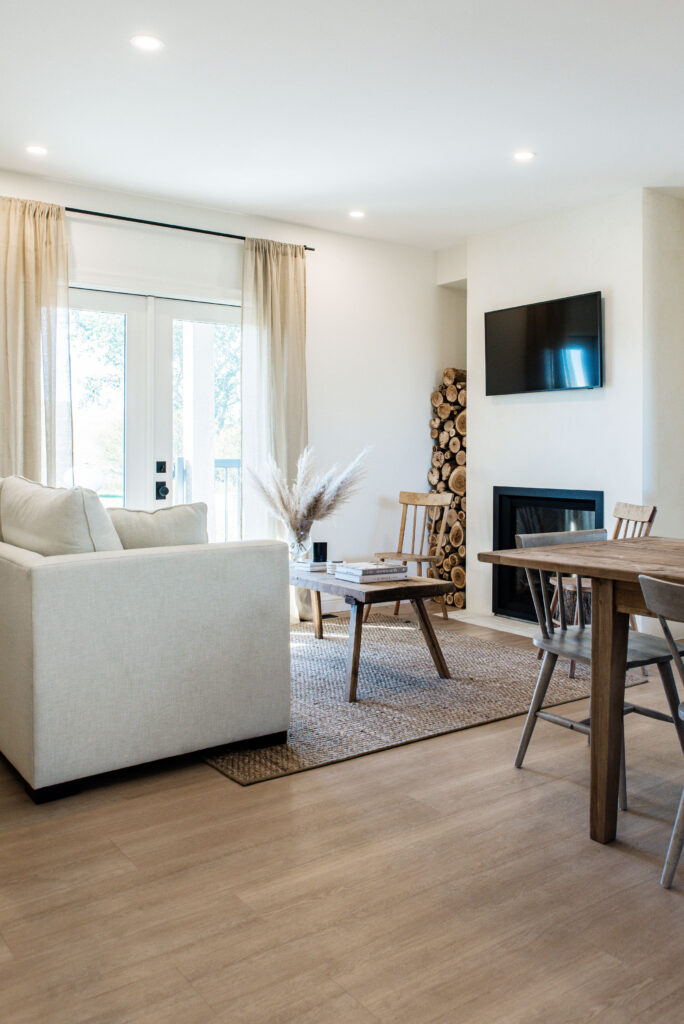 Farrow and Ball Wimborne White – Downtown and Company
What paint guide would be complete without an option from designer darling Farrow & Ball? This charming renovation by Downtown and Company is a gorgeous example of Farrow & Ball's Wimborne White in action. Named after the market town of Wimborne in Dorset (where the brand is from), this paint is one shade away from their purest white. They are known for their highly pigmented paint and elegant finishes, with the most iconic of their looks being a smooth, chalky matte. Farrow & Ball is a bit more expensive than their competitors, but it's easy to see why its so universally loved.
Still struggling to decide? While these ten popular white paint colors for interior walls are a great jumping off point, I'm happy to offer additional advice! Paint selection is included in many of our online design services, here to help you envision and create your perfect space. Feel free to reach out and get started today!
Online Interior Design
With my online interior design (e-design) services I'm able to help my clients create a professional level of design throughout their home. My team and I will work within your budget & preferences to create a cohesive design plan tailored to your style. I will stick with you for guidance and consultation as you bring your design to life. Check out our Get Started page to learn more about our process.
You will have direct access to lead designer, Nicole Mendez throughout the whole process. Multiple revisions are included with each package to ensure you are completely happy with the end result!