Shop The Look
Click the images above to shop each item. This post contains affiliate links.
When it comes to designing bedrooms, I'm often drawn to the use of dark and relaxing colors! This moody bedroom design with a navy and rust area rug is a great example of using deep tones to punch up a space.
Don't cite me, but I feel like I've read before that dark colors, such as navy blue, deep purple, and rich burgundy promote sleep or rest! That's because they create a cozy and intimate atmosphere that helps you relax and unwind. Plus, they add a touch of sophistication and elegance to the room, as dark colors create a vibe that's just so luxurious and inviting.
When it comes to furniture, I'm absolutely loving this vegan leather bed from AllModern! Its clean lines and simple design make it a sleek choice for our moody bedroom with a modern twist. The deep brown upholstery adds a little softness, while the brass legs and squared corners keep it looking sharp and clean.
Next, we want to bring on the texture! To offset the smoothness of the bed, I've chosen this caned dresser from Crate and Barrel. The black case combined with the light caned drawers perfectly complements the moody blue and rust tones scattered throughout the area rug. 
For wall decor, you know I can't resist a California touch. Pottery Barn is selling this gorgeous California Coastline print by Cindy Taylor at a great price. It's hard to come by a large scale piece like this (framed and matted!) that's available for less than $250.00. The black and white photo ties in perfectly with this circular black wall mirror.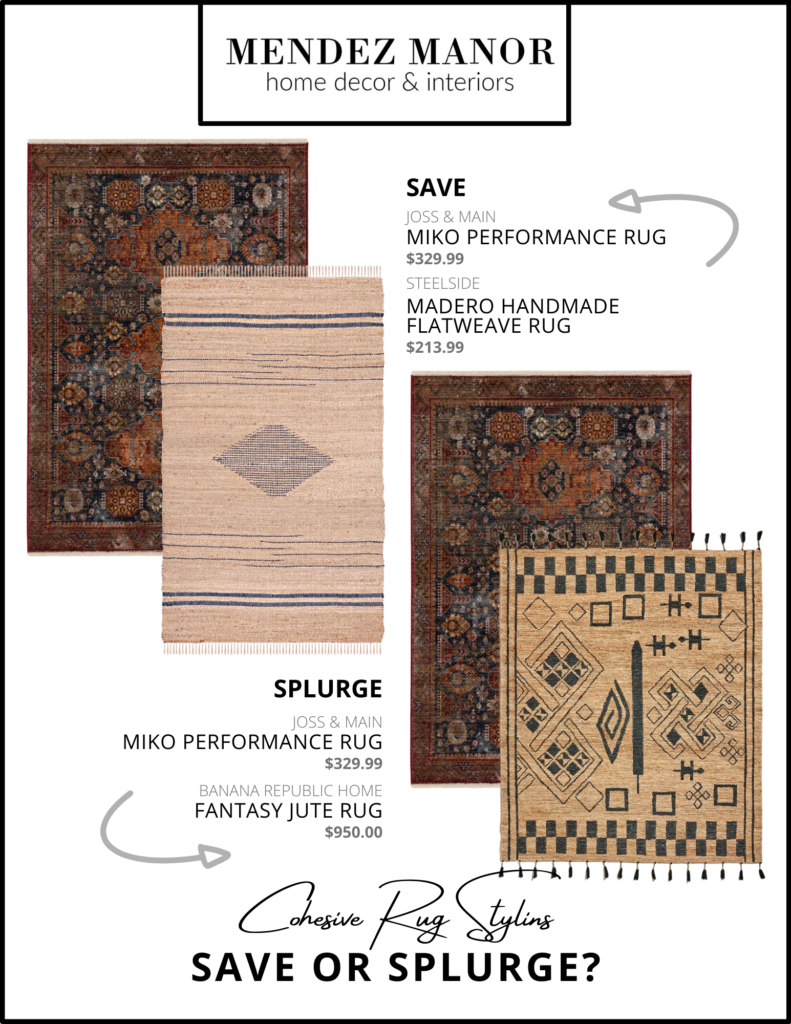 Shop The Look
Click the images above to shop each item. This post contains affiliate links.
Of course, the real star of this room is the navy and rust area rug. When using such a bold rug, it can be hard to choose rugs for the rest of the home to tie everything together. Cohesive rugs pull together different rooms and create a sense of continuity and flow throughout the home. I've chosen two rugs for the rest of the home as examples of pieces that harmonize with the navy rug in the bedroom. By choosing simpler rugs in a different texture with a deep navy pattern, we're complementing the original without feeling too matchy-matchy in the rest of the home. This jute rug from Wayfair is a perfect budget option, but I can't get over the gorgeous pattern on this tribal rug from Banana Republic!
To wrap it up, a moody bedroom with dark and relaxing colors is an excellent way to create a cozy and intimate atmosphere that promotes rest and relaxation. The use of deep tones adds sophistication, and a dark rug can be a stunning way to anchor a space. Overall, a well-designed bedroom is an important part of fostering rest and relaxation, and incorporating these design elements can help you create a space that's both stylish and serene.
Online Interior Design
Like what we did with this space? We offer flat rate online interior design packages and would love to help with your space too. Check out our Get Started page to see how we can work together!
You will have direct access to lead designer, Nicole Mendez throughout the whole process. Multiple revisions are included with each package to ensure you are completely happy with the end result!