To be honest I really don't change out my throw pillow covers that often. And when I do change them out, I like to know that they are going to last for a long time. So, I'm all about seasonal throw pillows you can use all fall & winter long!
Shop Seasonal Throw Pillows
Click the images above to shop each item. This post contains affiliate links.
I've linked some of my favorite fall and winter throw pillows above, but if you want to do some searching yourself, here is what I would look for:
Guidelines for Shopping Seasonal Pillows
First, I would make sure to purchase pillow covers with zippers so that you are changing out just your cover, and not your entire pillow with insert. Storing extra pillows takes up so much space if you are trying to store the insert too.
Pillows with a faux fur or knit sweater type fabric will always have a cozy winter feel without being too obviously Christmassy. You can bring them out in the Fall and keep them through March at least….and really even leave them all year if you wanted to.
Pillow covers with evergreen trees, mountains, snowflakes, or pinecones that have a neutral background. Stay away from bright red and green and look for creams, grays, blacks, and browns.
I fell in love with the  Alpine Ski Club pillows I linked above. They would be a splurge for sure, but they have a super regal (almost Ralph Lauren) type feel that I LOVE! I think you could probably find something similar (without the label) for less and still get the same look if you wanted.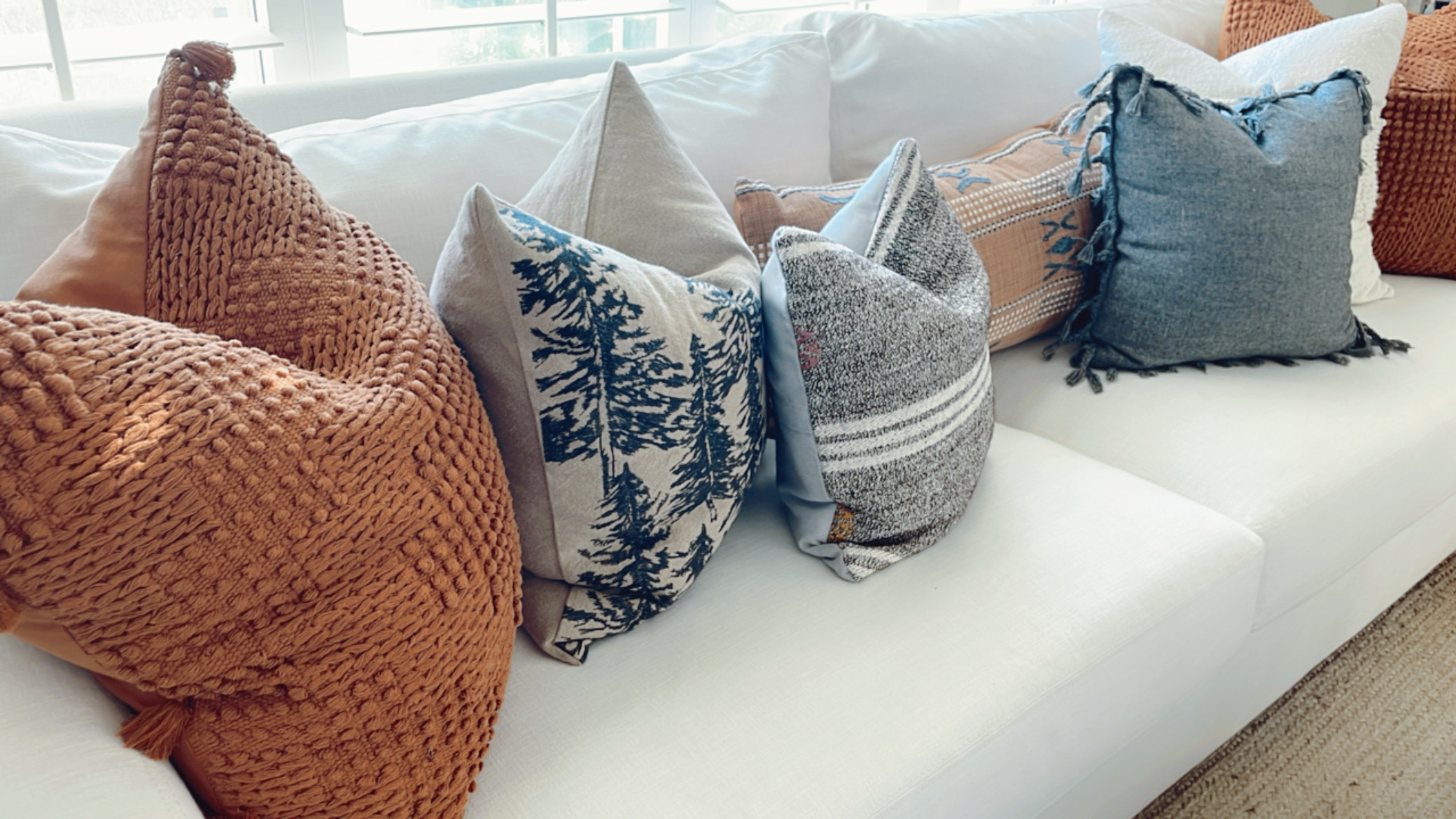 Shop The Look
Click the images above to shop each item. This post contains affiliate links.
I purchased the tree throw pillow above from Pottery Barn last season and have been guilty of leaving it on my sofa all year long. (Insert embarrassed face here.) I'm going to try and not do that this year but it's nice to know that it's not the end of the world if it happens again.
Quick side story: when I was a kid, I had a friend whose mom changed out their bathroom towels every month. She didn't throw them away for a new set or anything. She just had an entirely different colored set for every month of the year. Not only the towels, but the bathmat and shower curtain too! Thinking about it now, I have no idea where she stored all these extras when she wasn't using them. LOL! To each their own!
Online Interior Design
Like what we did with this space? We offer flat rate online interior design packages and would love to help with your space too. Check out our Get Started page to see how we can work together!
You will have direct access to lead designer, Nicole Mendez throughout the whole process. Multiple revisions are included with each package to ensure you are completely happy with the end result!