Shop The Look
Click the images above to shop each item. This post contains affiliate links.
Clean lines and simple furniture pieces are a perfect jumping off point in this industrial living room with southwestern accents! The white sectional keeps the space feeling light and bright in spite of the deeper tones used to outfit the room. It really stands out against the vintage-style red rug and navy chair with an industrial metal frame. Can you believe that all of these pieces are available on Amazon?! It's hard to beat those prices or shipping speeds!
Let's start with the centerpiece of the room: the white sectional from Poly & Bark. I was surprised to learn that Amazon carries the Poly & Bark furniture line! The sectional's clean lines and minimalist design create a sense of openness and airiness, making it an ideal centerpiece for any modern living room.
To add a touch of Southwestern charm, we incorporated a vintage-style red rug. This faded rug from Nourison Ottoman is such a stylish (and washable!) gem. Its brick-red color and distressed pattern add a cozy touch of eclecticism to the overall design. The rug's worn look adds character and complements the industrial elements in the room.
Speaking of industrial elements, the navy chair with an industrial metal frame is a standout piece. The metal frame adds an edgy touch, tying in perfectly with the industrial aesthetic. It's amazing how you can find such unique pieces on Amazon!
Completing the ensemble are a set of natural wood nesting tables, offering flexibility in your room configuration. Whether you're hosting a gathering or simply enjoying a cozy evening at home, it's easy to rearrange them to suit your needs. Their subtle inlay complements both the eclectic southwestern feel and the simple nature of industrial design.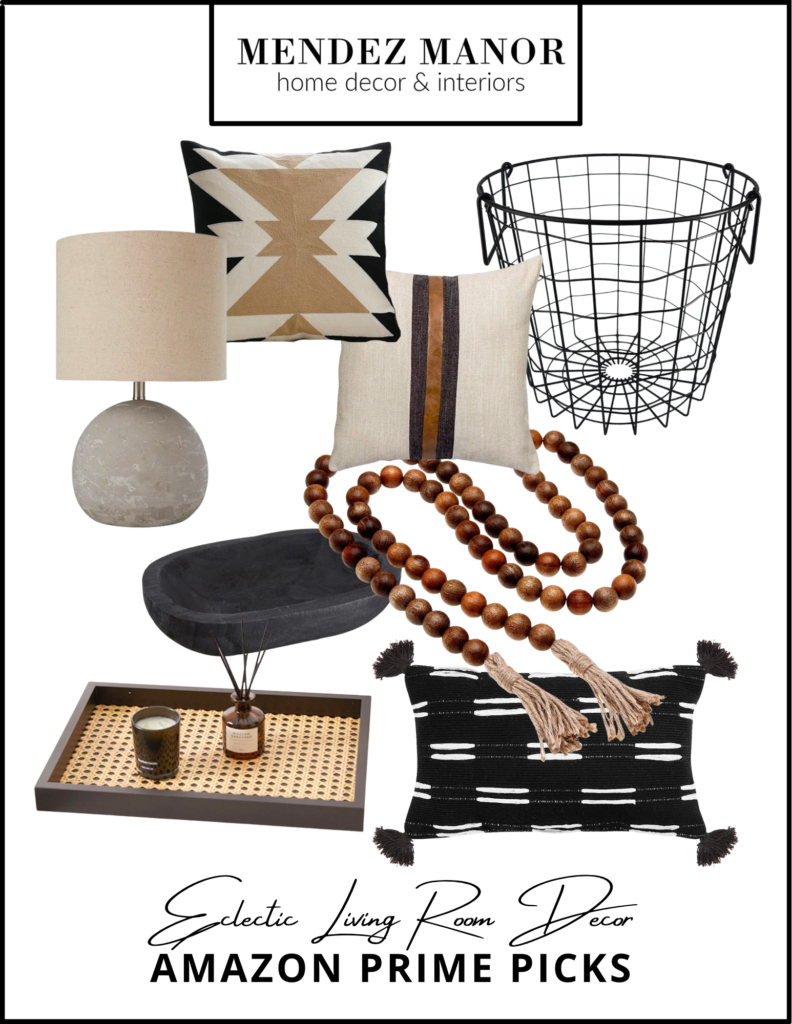 Shop Home Accents
Click the images above to shop each item. This post contains affiliate links.
Tribal throw pillows bring a pop of pattern and texture to the room. The embroidered geometric designs add a playful element while staying true to the eclectic Southwestern theme. I love how many options Amazon has for affordable home accents! It's incredible how easy it is to find unique pieces that reflect your personal style without breaking the bank. We've linked a few of our favorite pieces that complement this room above!
To finish the space, a soft desert landscape picture hangs above a black sideboard, illuminated by a black and brass picture light. This simple addition highlights the artwork and creates a focal point that captures attention. The fixture's combination of black and brass complements both the industrial and eclectic Southwestern vibes in the room.
Ultimately, the combination of industrial elements with Southwestern accents in this living room design creates a unique and comfortable space. The combination of clean lines, vintage-inspired elements, and pops of color creates a space that is inviting, stylish, and full of personality. With the convenience and affordability of Amazon, you can easily recreate this look in your own home. Happy decorating!
Online Interior Design
Like what we did with this space? We offer flat rate online interior design packages and would love to help with your space too. Check out our Get Started page to see how we can work together!
You will have direct access to lead designer, Nicole Mendez throughout the whole process. Multiple revisions are included with each package to ensure you are completely happy with the end result!