Shop The Look
Click the images above to shop each item. This post contains affiliate links.
Would you believe me if I told you that everything in this design can be bought through Kirkland's?! They're having an awesome sale right now – 25% off all regular priced items with code "JUNE". Contemporary furniture, vintage-style accents, and a patterned jute area rug come together to create this Kirkland's Southwestern office design. While I often source from multiple stores to create a design, sometimes it's easier to order everything from one place! The variety of furnishings and accessories available from Kirkland's makes it easy to create an entire space without it feeling too simple or one note!
To anchor the space, we chose the Natural Ganado Indoor/Outdoor Area Rug. Its intricate pattern and durable jute material bring a touch of the Southwest to the room while providing an organic base for the furniture.
Speaking of furniture, the Hunter Wood 2-Drawer Desk steals the show! Its rich wooden surface adds warmth and depth to the space, while the sleek design keeps things modern and fresh. Paired with it is the black leather wire frame dining chair. Although technically a dining chair, it fits perfectly in this office space! Its dark metal frame creates a striking contrast against the wooden desk.
For a cozy nook in the corner, we've chosen this two-piece faux leather chair and ottoman set. This comfortable seating option is perfect for taking a break or diving into a good book. And speaking of comfort, let's not forget the Navy and Rust Vintage Bahiti Throw Pillow! With its subtle pop of color, it complements the predominately neutral tones of the room.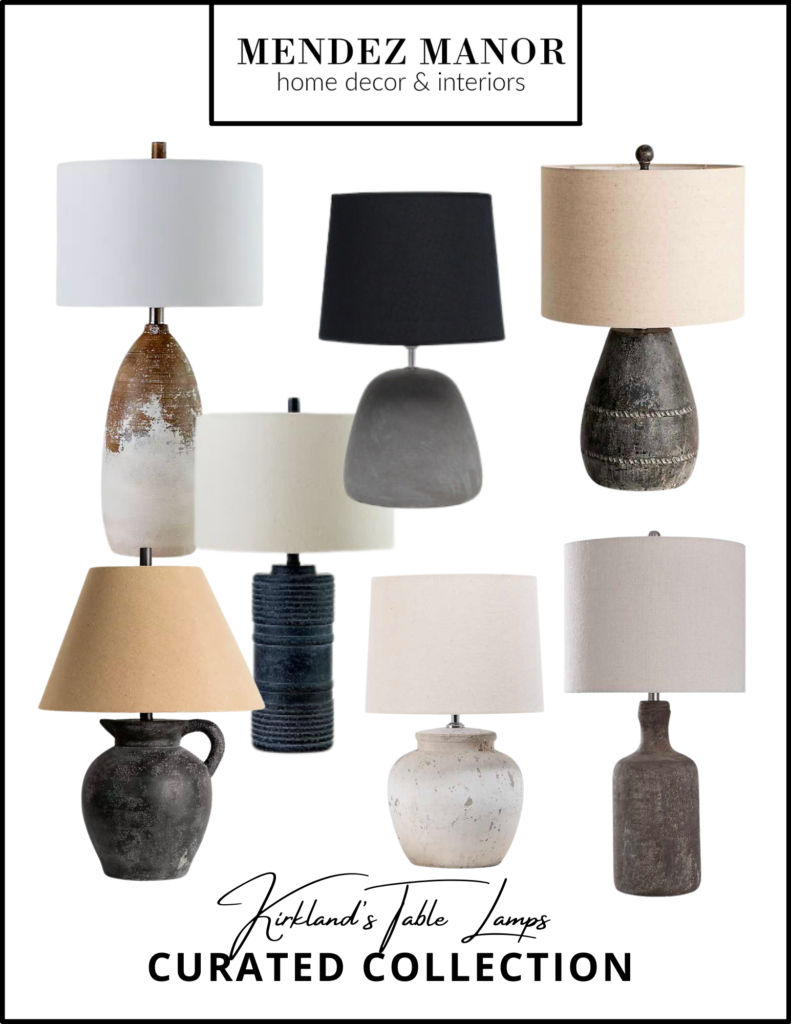 Shop The Look
Click the images above to shop each item. This post contains affiliate links.
Lighting plays an important role in any design, and the Midnight Winfield Table Lamp does not disappoint! I love using a distressed texture table lamp to bring some extra personality into a space. Of course Pottery Barn always has a great selection, but Kirkland's has a ton of stylish options for a fraction of the price. Prices starting at under $100, we've pulled together a handful of our favorites here on the board above!
Now let's turn our attention to the decorative accents. A white horse head figurine and a vintage galvanized tabletop clock sit atop the desk, adding a touch of nostalgic charm. These vintage-style accents are a great complement the room's sleek furniture and Southwestern look.
Moving on to the wall art, we've chosen a faded horse print and long neutral mountain landscape. The equestrian photograph and dreamy landscape painting contribute to the overall Southwestern vibe, and make me think of California's beautiful countrysides!
And there you have it! This Kirkland's Southwestern office design is the perfect fusion of contemporary and eclectic elements, all tied together with California-Casual style. With the convenience of finding everything you need at Kirkland's, creating a cohesive and stylish office space has never been easier. With their current sale, it's the perfect time to transform your own office into a stylish haven.
Online Interior Design
Like what we did with this space? We offer flat rate online interior design packages and would love to help with your space too. Check out our Get Started page to see how we can work together!
You will have direct access to lead designer, Nicole Mendez throughout the whole process. Multiple revisions are included with each package to ensure you are completely happy with the end result!