Shop The Look
Click the images above to shop each item. This post contains affiliate links.
As you step into this Santa Barbara-style dining nook, you'll find yourself immersed in a tranquil retreat that makes you feel like you're on the coast of California! The vintage look tiles, terracotta accents, and carefully chosen furniture pieces create a space that is simultaneously relaxing and sophisticated. Inviting neutrals and subtle coastal accents  making this space the perfect spot to enjoy memorable meals with loved ones.
At the heart of this dining nook design are the vintage-inspired floor tiles. With their intricate beige, orange, and olive patterns, these vintage-style tiles bring a touch of nostalgia to the dining nook. These tiles not only add so much character to the space, but also pay homage to the iconic clay tile roofs that grace California's charming Santa Barbara.
Complementing the vintage look tiles, the furniture pieces in this dining nook are carefully selected to keep the space modern and relaxed. The mod banquet seating takes center stage, creating a contemporary and relaxed seating area. Paired with light woods and simple lines, this linen-upholstered bench exudes a relaxed vibe, making it the perfect seating area for casual gatherings.
To pair with the bench, we've chosen the Toscana Pedestal Table from Pottery Barn in the finish "Seadrift". This timeless design of this simple table gives off a rustic-chic vibe perfect for the coast. Seamlessly tying the room together, these Pottery Barn dining chairs in a matching tone add a touch of simplicity.  The cohesion between these furniture selections sets the tone for an unassuming and comfortable dining experience.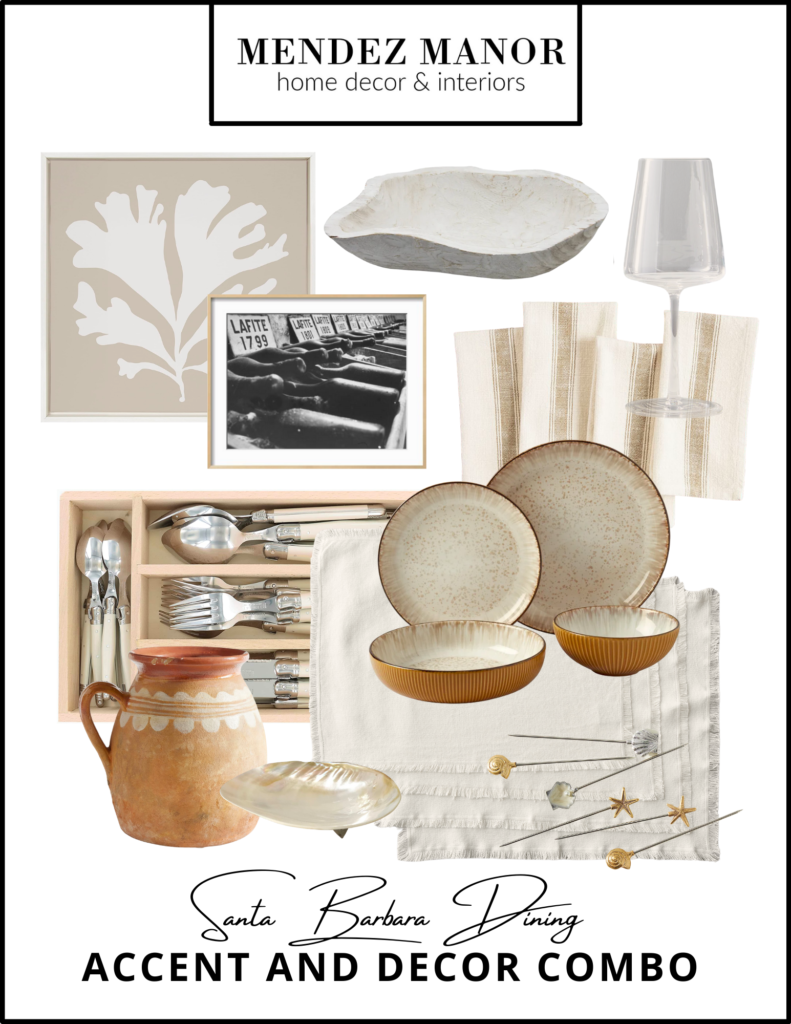 Shop The Look
Click the images above to shop each item. This post contains affiliate links.
Carefully curated accessories are so important for bringing a room together! We've pulled together this selection of art and decor pieces to complement the California coastal vibe. This coastal neutral art piece and old-school wine bottle photograph are such a fun combo of what ties this region together. Linen napkins and placemats paired with organic terracotta accents bring another touch of earthiness to the dining nook. All these elements effortlessly blend in with the surrounding decor choices, layering in neutral accents with a relaxed vibe.
Finally, no dining nook is complete without the right lighting. I'm so into this white plaster chandelier from West Elm! I really think if it as the crown jewel of this space. The organic shapes and textures exude an effortless elegance, bringing on such a cozy sense of ambiance in the room.
From the vintage look tiles to the casual coastal furniture and decor pieces, the elements in this space work together to create a perfect Santa Barbara-style retreat.
Online Interior Design
Like what we did with this space? We offer flat rate online interior design packages and would love to help with your space too. Check out our Get Started page to see how we can work together!
You will have direct access to lead designer, Nicole Mendez throughout the whole process. Multiple revisions are included with each package to ensure you are completely happy with the end result!