Shop The Look
Click the images above to shop each item. This post contains affiliate links.
Scandinavian design is characterized by its minimalistic and functional approach, with an emphasis on clean lines, simplicity, and natural materials. A beautiful marriage exists between the timeless charm of Scandinavian style with the relaxed, easygoing vibes of California-casual sensibilities! As seen in this Scandi-inspired dining area with a jute rug, this fusion creates a space that epitomizes the best of both worlds, where clean lines and organic vibes make for a space that's as stylish as it is laid back. Let's delve into the elements that make this Scandinavian-style dining area a seamless fit for the California lifestyle!
At the heart of this design is the Scandinavian-inspired approach, emphasizing simplicity and functionality. The Sand & Stable woven jute area rug anchors the space, showcasing the beauty of natural materials. Its earthy texture and neutral hue seamlessly blend with the surrounding elements, setting the foundation for the Scandinavian aesthetic.
This simplistic wooden dining table takes center stage in our dining area, embodying the essence of Scandinavian design. Crafted from light-toned wood, it's full of a sense of understated elegance. The clean lines and minimalist form ensure that the table remains a timeless centerpiece that perfectly complements all of life's seasons.
Surrounding the table, these bouclé upholstered side chairs from AllModern provide a comfortable and stylish seating option. Upholstered in cozy bouclé fabric, these chairs add a touch of texture and warmth to the dining area. With their natural texture and clean and simple frames, they seamlessly integrate Scandinavian design into the California-casual ambiance.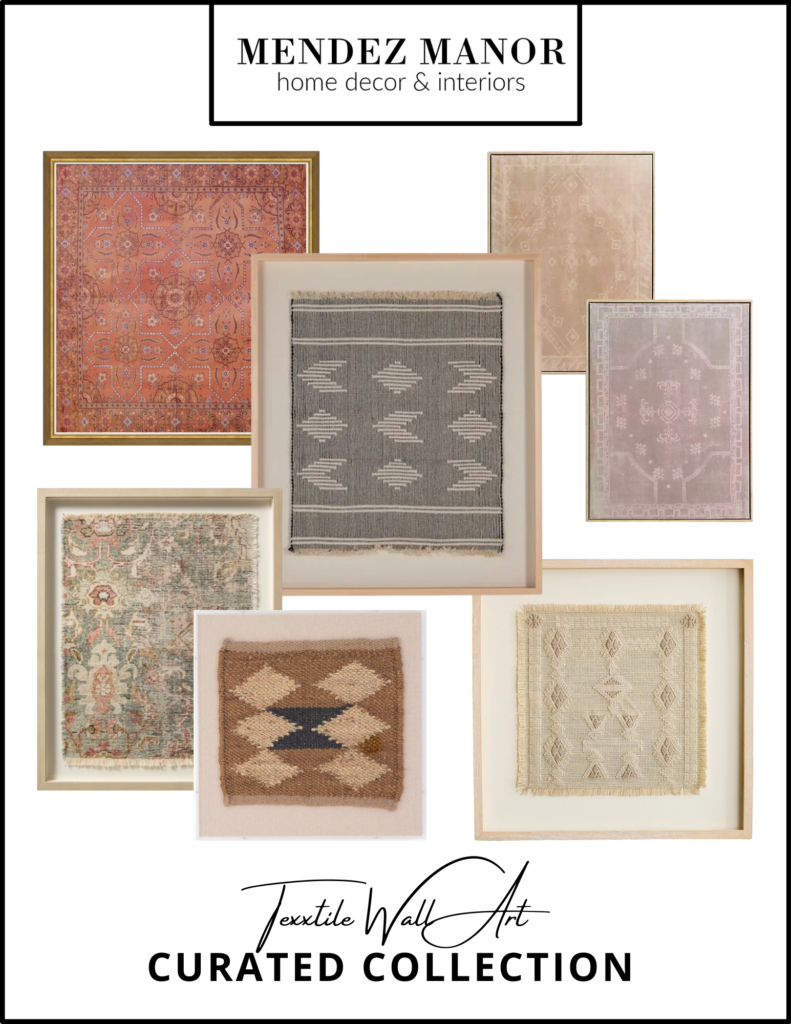 Shop The Look
Click the images above to shop each item. This post contains affiliate links.
This framed textile-inspired print brings a touch of culture into the space. Framing textiles offers a unique and creative way to showcase their intricate patterns and textures. By framing a rug, scarf, or other interesting piece of fabric, you transform it into a work of art! I've pulled together a few more options that lend themselves to this eclectic look, linked above.
I've incorporated the natural beauty of California's coastline with this Highway 1 Pacific Coast art print, showcasing a dreamy sunset over the Pacific Ocean. This fun little detail brings a sense of serenity and the California-casual spirit to the Scandinavian-inspired space.
A modern brass pendant adds a touch of modern sophistication to the dining area. Its sleek design and brass finish seamlessly blend Scandinavian simplicity with contemporary elegance. This pendant light illuminates the space, creating an inviting atmosphere for gatherings and shared meals.
Organic decor accents bring the Scandi-feel home in this dining area design. The inclusion of these charming rattan-wrapped glasses and pitcher add a relaxed and carefree vibe to the dining experience. Their unique design and natural materials perfectly align with the Scandinavian philosophy of incorporating nature into the home.
Scandinavian design and California-casual decor may have their differences, but as we've seen, they can totally vibe together! Clean lines, natural materials, and a touch of Scandinavian simplicity mix perfectly with the relaxed and eclectic charm of that laid back California look. The end result? A dining area that's uniquely inviting, effortlessly blending the best of both styles for a space that's cozy, functional, and oh-so welcoming.
Online Interior Design
Like what we did with this space? We offer flat rate online interior design packages and would love to help with your space too. Check out our Get Started page to see how we can work together!
You will have direct access to lead designer, Nicole Mendez throughout the whole process. Multiple revisions are included with each package to ensure you are completely happy with the end result!