Do you find yourself constantly wondering how to style throw pillows for your couch? It's a question I receive from family, friends, and clients all the time! Fortunately, I've got you covered with this sofa throw pillow styling guide that will help you style your sofa like a designer.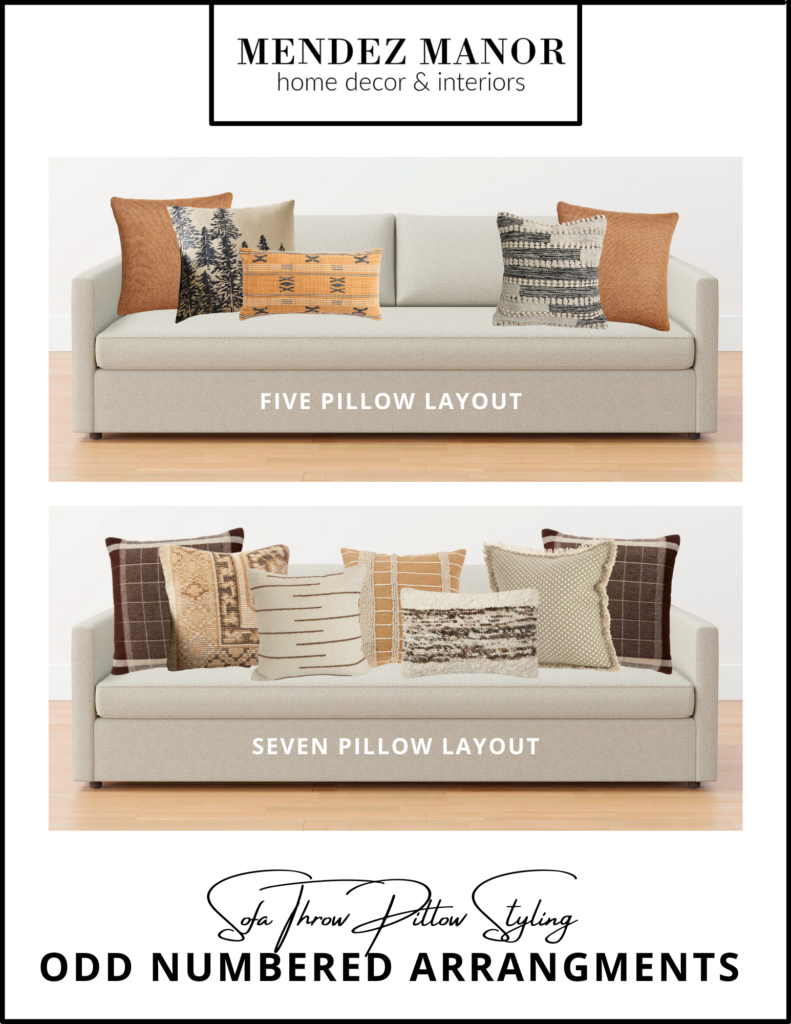 Odd Numbered Arrangmements
Click the images above to shop each item. This post contains affiliate links.
Pillows are a wonderful way to add style and comfort to your living space, but it's important to arrange them in a way that looks intentional. One easy tip is to use odd number of pillows to create a balanced look that is pleasing to the eye. Follow these easy tips for an aesthetically pleasing look:
Use an odd number of pillows for a well-balanced look.
Arrange groups of three pillows with the largest in the back, the medium-sized in the middle, and the smallest in the front.
For larger sofas, consider using five or seven pillows arranged in an alternating pattern.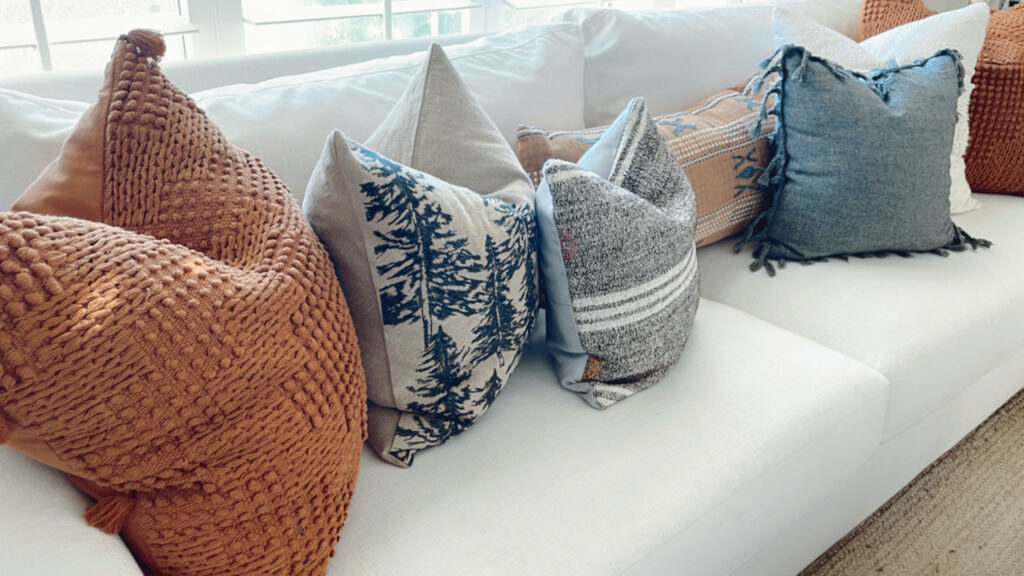 As you can see in the image of my couch above, I'm a "more is more" type of designer when it comes to choosing pillows for my own home! This seven pillow arrangement is a great guide if you're looking for a bit of controlled chaos. Using odd numbers creates a sense of symmetry without feeling too rigid. This approach allows for a relaxed and inviting atmosphere, perfect for any design preference.
Aside from adding an aesthetic appeal, the odd-numbered pillow arrangement can also provide functionality to your seating area. Placing the larger, more supportive pillows towards the back makes for a comfortable pillow for seating, while the smaller, decorative ones towards the front can easily be moved out of the way.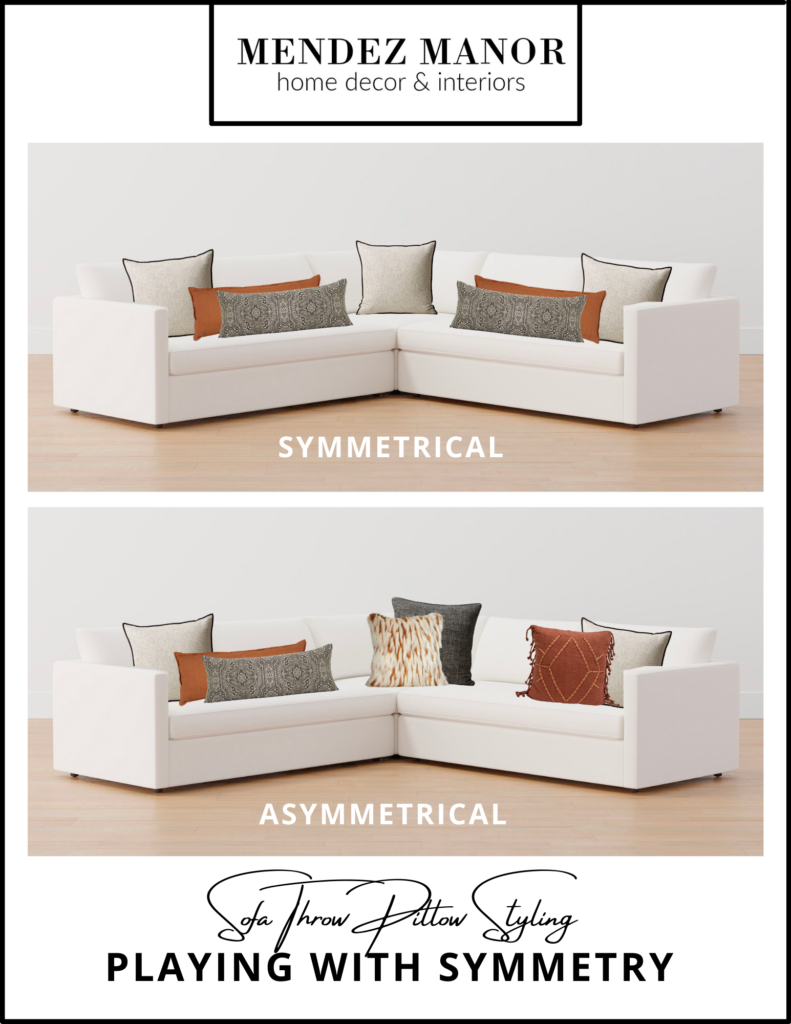 Playing with Symmetry and Layers
Click the images above to shop each item. This post contains affiliate links.
While the classic symmetrical pillow arrangement is charming, I feel like a little bit of asymmetry can take your sofa styling to the next level. By stepping away from simple matching pairs, you open up a world of possibilities that help you create a unique and dynamic design. Take the arrangements above, for example. The symmetrical design looks polished, but the mixed and matched couch gives has a much less formal and more cozy energy.
To break out of the symmetry box, lean fully into the concept of layering! Mix and match pillows of different sizes and shapes to introduce depth and dimension to your seating area. I often recommend incorporating bolsters or lumbar pillows alongside your standard square or rectangular ones. Long layered pillows are a great option for L-shaped sofas. Rectangular pillows stacked together can help accentuate the length of the couch. The varying shapes not only contribute to a more dynamic look but also offer additional support and comfort.
Asymmetry doesn't mean abandoning balance altogether; it's about playing with proportions in an intentional manner. If you have a larger sofa, opt for a statement pillow on one end and balance it with a cluster of smaller pillows on the opposite side. This not only adds visual interest but also ensures that the arrangement feels purposeful and deliberate.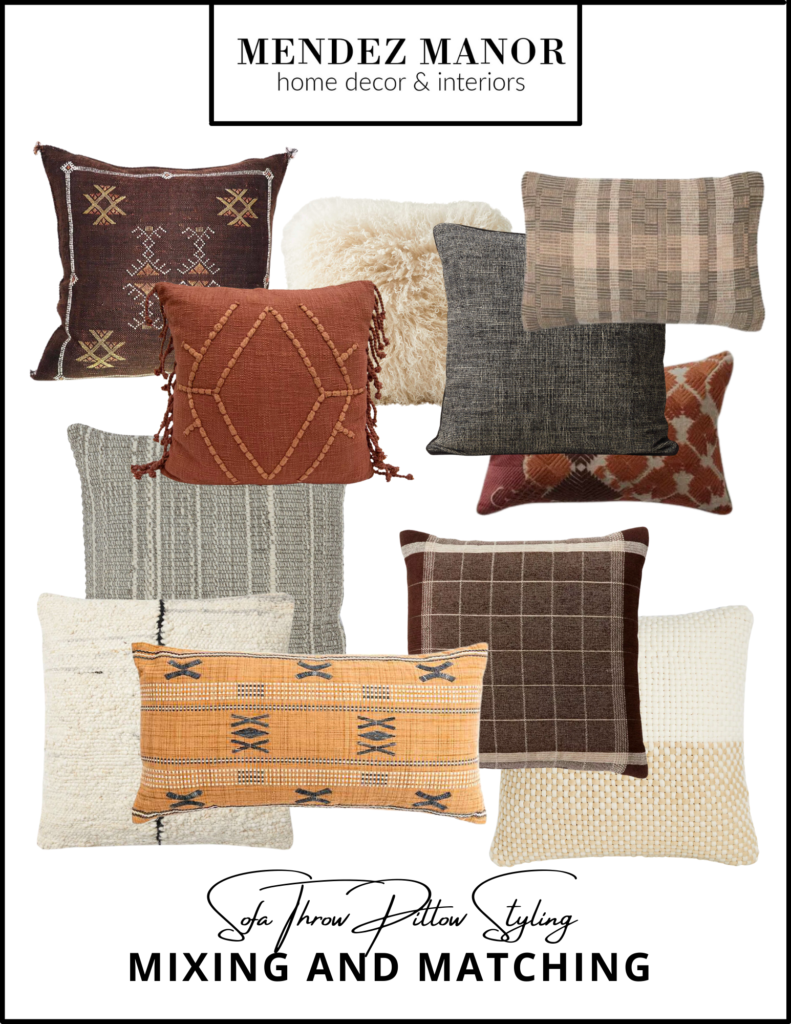 Mixing and Matching
Click the images above to shop each item. This post contains affiliate links.
When it comes throw pillow styling, mixing and matching patterns, textures, and colors can really make a design stand out. While it may seem intimidating at first, mixing different patterns is a simple way to create a unique and eye-catching look. One key to successfully combining different patterns is to make sure they have something in common. This could be a similar color palette, a shared theme, or a complementary texture.
Speaking of color coordination, there are no hard and fast rules. However, a good starting point is to choose one dominant color and then use other colors to complement it. For example, take a look at this patterned pillow in a strong red color. You could pull colors from within the pattern and surround it with softer solids that help it stand out.
Textures are another important element to consider when mixing and matching patterns. Personally, I love a mix of textures like leather, fur, and knitted materials to create a dynamic and interesting look. Just remember to keep it balanced – if you have heavily textured pillow, maybe pair it with some simpler accents to keep the design from becoming overwhelming.
Don't be afraid to experiment and have fun with your style. Mixing florals, geometrics, and solids can create a unique and visually design. So go ahead and try something new – you might be surprised at how great it looks!
Pillows with Personality
Click the images above to shop each item. This post contains affiliate links.
Throw pillows are one of the easiest places to showcase your personality within a space. By thoughtfully curating throw pillows, you can create an inviting and warm atmosphere that tells the story of who you are. I personally love the idea of using an equestrian themed pillow mixed within some solids and patterns. I've put a few examples above of fun novelty pillows that still look chic in a mix! Whether it's a fabric with sentimental value or patterns that showcase your hobbies, these details can contribute to a space that is uniquely yours.
Another easy way to add a personal touch would be to switch out pillows with the seasons! Lighter and brighter pillows in the spring and summer can make a space feel fresh and vibrant. Fall and winter call for warmer, cozier tones and textures. Swapping out pillows seasonally can also be a fun way to play with different color palettes in your space. Check out some of my favorite fall and winter seasonal pillows here, with selections to last you all season long!
Above all, remember that your home should be a reflection of your unique style and taste, so trust your instincts and enjoy the process of creating a space that truly feels like home.
Online Interior Design
With my online interior design (e-design) services I'm able to help my clients create a professional level of design throughout their home. My team and I will work within your budget & preferences to create a cohesive design plan tailored to your style. I will stick with you for guidance and consultation as you bring your design to life. Check out our Get Started page to learn more about our process.
You will have direct access to lead designer, Nicole Mendez throughout the whole process. Multiple revisions are included with each package to ensure you are completely happy with the end result!